Hearing the stories of Holocaust survivors is life changing. Seeing these people in the flesh, recounting their experience of one of the darkest chapters human history is not something you easily forget.
Survivor testimony is central to educating people about the horrors of the Holocaust and why we must never forget it.
But however inspiring and resilient Holocaust survivors may be, they won't live forever.
The dwindling number of survivors means the future of Holocaust remembrance will take on a more digital format.
This inevitable change has been catalysed by the coronavirus pandemic.
When face-to-face testimony is no longer possible and survivors are strongly advised to stay at home, this invaluable educational resource has had to adapt to the situation.
Survivors have delivered their testimony over Zoom to virtual classrooms full of young people in order to carry on remembrance, despite the circumstances.
For five years, Chloe Smith has been an Ambassador for the Holocaust Educational Trust, a charity that educates young people about the Holocaust.
The Trust puts survivor testimony at the centre of what they do and organises for survivors to go into schools and universities to share their stories with young people.
Throughout her time with the Trust, Chloe has heard the testimonies of roughly fifty Holocaust survivors.
As someone who has spent years listening to survivor testimony, I was interested to hear her thoughts on whether by going digital, the seriousness of the subject can be somewhat lost.
She said: "I think the message is so strong that it doesn't matter what medium testimonies are shared over. If anything, it can amplify the impression it made on someone when experienced alone.
"Sometimes young people feel peer pressure to act or react in a certain way in order to keep up appearances, especially in group settings.
"When you take out that element and young people hear these harrowing stories on a more individual basis, the impact on them might be stronger."
Rather than diluting the power that seeing a survivor in person has, virtual testimony is as equally as evocative and potent.
Often there is the assumption that the distance created by a screen removes from the solemnity of survivor testimony but instead it seems it can have the same, if not more of an impact.
Equally, the possibilities for expanding this educational tool so it can be made available to more people is a great advantage of virtual survivor testimony.
In practical terms, virtual listening has huge benefits in terms of outreach.
It opens up the testimony to a much greater number of people without compromising the safety of the public or the survivor.
Chloe says: "Zoom makes the message accessible for wider audiences and prioritises the safety of the survivor who can share their harrowing story in the comfort of their own home.
"I think we have even more opportunities with digital remembrance and we should see it as an opportunity."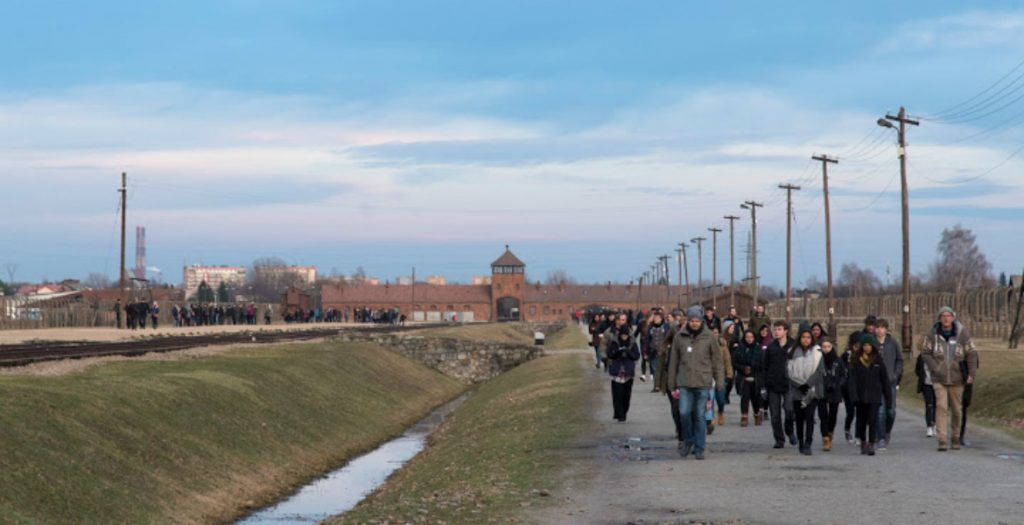 We should see it as an opportunity but not one that doesn't come with risks.
Future generations will be increasingly reliant on recordings of survivor testimony as well as videos and images that we have of the Holocaust.
In the digital era and an increasingly visual world, it seems obvious to use images and videos of the Holocaust for educational purposes.
However, this poses an ethical question, the same question that Chloe is exploring in her undergraduate dissertation: 'Should the absence of consent affect the use of Holocaust photography?'
It's a complicated question which pits the educational value of the documentation of these moments in history against the fact these images show incredibly traumatic events.
In contrast to survivor testimony, the survivors choose to share their story in order to educate people about the past.
They willingly relive their trauma to teach young people about the contemporary relevance of learning about the Holocaust.
The absence of consent in Holocaust imagery becomes even more problematic when you also consider its origin.
Chloe says: "Most of the images we have of the Holocaust were taken by the Nazis.
"A lot of these images are graphic, gory, they're shocking. They're very dehumanising.
"Real people are reduced to emaciated figures or a pile of bodies. The way they're shown in these images is exactly how the Nazis want you to remember them."
In an educational setting, using such images, in theory, shows young people the harsh reality of the Holocaust.
But, such imagery has less of an educational value than might be expected due to the reaction it can provoke.
As Chloe explains: "There's this idea that a picture paints a thousand words, but I've found that's not the case. It's not enough. It's not enough to show a young person horrific imagery and expect them to understand.
"I've found that because the imagery is so graphic that whoever's looking at it is so shocked that they don't engage in as much critical thinking as they would with something like survivor testimony."
Survivor testimony is ultimately about the survivor.
Their stories are ones of survival, resilience, life, hope and overcoming some of the worst things life can throw at you.
It rehumanises them and reminds you that they're more than a number or a statistic.
It reclaims the narrative and you hear a first-hand account of history from the perspective of the survivor rather than through the lens of the perpetrator.
When the last living survivors eventually leave us, we must ensure that their voices and the central role they play in remembrance is not lost.
As discussed earlier, the value of survivor testimony isn't lowered when delivered through a digital medium so we should embrace the opportunities presented by technology.
Rather than letting horrific imagery steal the focal point, remembrance should be about protecting the stories of survivors so that they can be heard for many years to come.