Iconic singers Billie Holiday, Ray Charles and Jackie Wilson revolutionised American blues and jazz and defined a generation.
These giants of the industry worked alongside a little-known but huge vocal powerhouse and Los Angeles native Mickey Champion.
She may never achieved the critical acclaim that some argue she ought to have but, in a career spanning more than fifty years, she has a talent for nurturing up-and-coming talent, including Manchester-based jazz and blues singer Kiki deVille.
The Australian-born burlesque belle, also known as Kristianne Robinson, appeared on on The Voice and wowed judges with her rendition of Paloma Faith's Stone Cold Sober.
As she belted out the final note of her song Will.i.am hit the button and spun round scooping her up for Team Will.
Kiki looked delighted and quipped: "You sure know how to keep a girl waiting!"
Tonight audiences will see her enter the ring and do battle with another contestant in the hope of securing a place on Team Will during the live rounds.
Kiki took time out from recording in the studio to sit down with MM and chat about performing for 'legendary' Tom Jones, raucous burlesque events and her decision to swap the sun-drenched shores of Australia for the grey skies of the North West.
"I didn't want to come here to England – I thought it was like Eastenders! It seemed miserable and it never appealed to me, and now here I am!" she laughed.
As Mancunians we're used to dealing with a bit, well a lot, of flack about the weather, but Kiki may have more wiggle room than most to complain as she's originally from South Australia.
"I lived in Melbourne, Victoria for a while and then moved to a small town in the area. I've always had a big voice and the town where I lived hosted a jazz festival once a year. 
"When I was 19 they asked if I wanted to sing with them, and I got into it like that."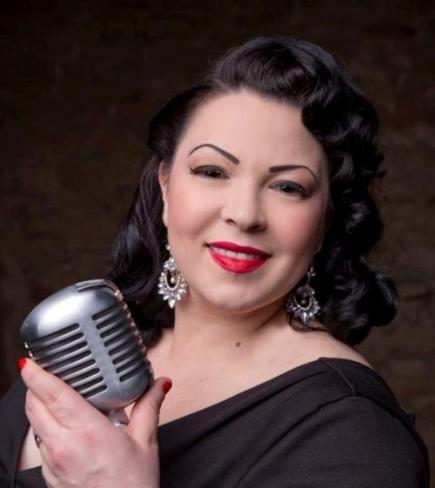 VINTAGE STARLET: Kiki embracing old-school glamour
She did commercials for television and radio and was a civilian singer for the Australian Army Band for 12 years.
"I sang at the Sydney 2000 Olympics and sang the national anthem at the World Masters Games," she explained.
"It was absolutely phenomenal; it was the best experience ever and was an incredible atmosphere."
After working the circuit as a successful big band singer and session vocalist Kiki decided to pack her bags and head to Hollywood Boulevard.
She explained: "I had the opportunity to go to Los Angeles and decided to learn the blues from the people who invented it.
"I lived in a hostel in West Hollywood and after we'd all performed on Hollywood Boulevard, regularly performing at the infamous Babes & Ricky's Inn in LA, we'd come back to the lobby and jam.
"Mickey Champion took me under her wing, who was in some really big bands back in the day, was quite incredible and called me her 'baby'."
It wasn't just Mickey's huge voice and kindness that Kiki learnt about but something she utilises to this day – her ability to work a crowd.
"She taught me all about walking around the crowd and interacting with them – that's what she used to do. She connected with people really well and would mix with the crowd."
So from the sunny shores of Australia to the bright lights of LA, Kiki then emigrated and settled down under the grey skies of the North West.
"When I was living in America I met lots of English people from the north and liked their sense of humour and that they were so down to earth.
"I also met an English man I quite liked and when it came to the decision about whether to stay in LA or move on I chose to move to England with him.
"In 2004 when I came over he made it snow for me on my first day which was very impressive! We eventually got married in 2006."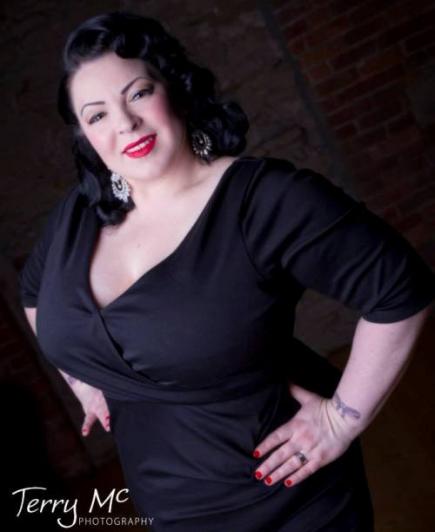 PROUD: Celebrating her curves and voice
Kiki lived in Manchester for 18 months before travelling to the Lancashire/Yorkshire border and settling down in the small town of Earby.
"I may be from Australia but I know enough about the War of Roses!" she laughed.
"I do a lot of compering work in Manchester but I also do things with the Hebden Bridge Burlesque Festival – I opened it last year and will be again this year."
But before Kiki embarked on her burlesque singing and compering career she took time out of the limelight to start a family.
In 2007 she fell pregnant with her first child with husband Chris and in September welcomed Dexter William Robinson.
The day after he was born they received the devastating news that little Dexter had the very rare genetic disorder Zellweger Syndrome and wouldn't live past six months.
Just over a month later they cradled him in their arms as he took his last breath at Derian House Children's Hospice.
Deciding to channel their grief into helping others in a similar situation they founded Dexter's Wish, a charity that raises funds for the hospice and St. Mary's Hospital Special Care Baby Unit in Manchester and also offers help and support to other families in a similar situation.
She later fell pregnant with Arlo, who is now five-and-a-half years old, and as she was thinking about going back to work realised that her office job wasn't fulfilling her ambitions and decided to go back into singing and start teaching.
"At this time I hadn't found the crowd that was right for me. In the USA it's much more American in style – people scream and yell in the middle of songs, people over here are much more reserved.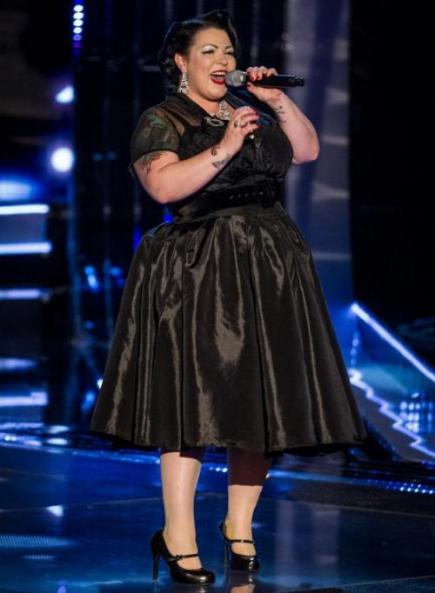 IN THE SPOTLIGHT: Kiki performing in front of the judging panel
"Then I discovered the burlesque scene, which is absolutely incredible, and realised this is where they've been hiding!
"I decided to really commit to the vintage scene, having only previously dabbled in it, I really felt I wanted to celebrate my curves."
Kiki embarked on her own compering show bringing burlesque-style music to the masses in Manchester and Yorkshire, but felt she had something more to offer, so decided to apply for BBC One Show The Voice.
"I turned 40 this year and I finally accepted that this is who I am, I'm good at what I do and it felt like the time was right.
"The Voice said it was really refreshing and told me to that confidence during my performance – on stage is where I am most comfortable."
Most people would have a wobble at the thought of performing in front of four of the country's leading musical artists, not to mention the ten million plus audiences that the show has been pulling in, but ever the professional Kiki tried to not let it deter her.
"When I walked towards the mic I felt so at home on the stage – I took a deep breath and thought to myself 'I can do this'.
"I felt in control while I was performing. It was a great song but not one I would have chosen for myself because we (Paloma Faith and I) don't sound too dissimilar."
Kiki described the whole experience as one she would treasure forever.
"To be on stage in front of four incredible coaches, regardless of the outcome, is an amazing opportunity that you don't come across that often in life – I felt so lucky!
"Kylie said my performance was beautiful, it can't get much better than that. It was amazing meeting her, I'm a huge fan and she's a showgirl and so am I!
"My step mum was going absolutely nuts for Tom Jones, he's an absolute legend. Will was so adorable – he's really cool and loved that I worked the crowd.
"And Ricky Wilson? Holy cow he looks amazing!"
"The production team that run The Voice are incredible, they make you feel so special and dignified.
"The BBC has that integrity built in and I just had the most wonderful time – and it's such a huge platform."
Alongside her work on The Voice Kiki also has a range of projects in the pipeline including going into the studio to record a jazz and blues album and working with vintage reproduction clothing company 20th Century Foxy. 
For more information about Kiki's latest performances visit http://www.kikideville.com/     
Picture courtesy of Terry Mc Photography, with thanks
Stage picture and video courtesy of BBC One