As the legendary Cornerhouse cinema and gallery prepares to depart its residence of nearly 30 years, three tech wizards have created a gizmo that lets people celebrate their memories of the building.
'The Scribbler' is the first project from London-based tech start-up Studio Audience Ltd who worked in tandem with the Oxford Road venue to harness nostalgic stories of the cinema before it closes its doors.
Isabelle Croissant, Creative Industries Programme Manager at the Cornerhouse, was in charge of the project, and said that the Scribbler felt like the perfect way to give the Manchester institution the send-off it deserves before it moves to the new £25m HOME complex.
"I had lots of conversations with our audiences and my friends since our move was announced, and what came across was a lot of really nice and sometimes crazy stories," she said.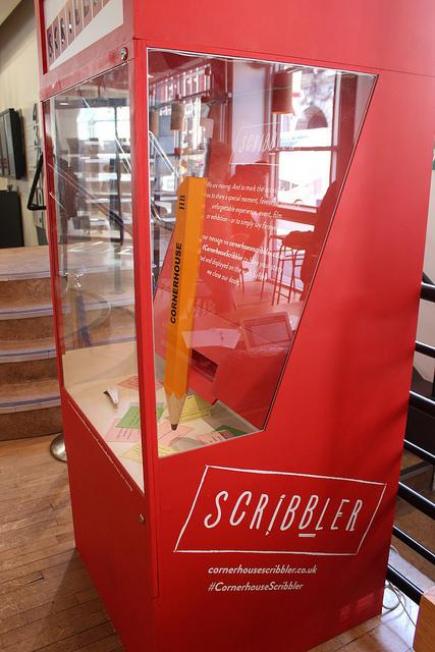 GET SCRIBBLING: Cornerhouse want to collect your favourite memories
Think I might be addicted to the #CornerhouseScribbler machine… pic.twitter.com/2pftUc3A2P

— Katy Carlisle (@thewheelexists) March 6, 2015
"People were enthusiastic about the arrival of HOME, but also already nostalgic about the building closing, and really wanted to share how much they had loved coming here and the part it had played in their lives.
"So we thought we must give them a chance to do so. And if it was in a playful way, all the better. Plus, I loved learning about everything that has happened here since it opened and thought there was no reason why other people shouldn't be able to hear about it too."
Longstanding visitors will have the chance to submit their memories online or through Twitter and every time the quirky machine receives a new one, their message magically appears in the cabinet on a piece of card.
The moving pencil concept was a hit with the team as soon as it came to mind, and aside from breaking the machine a few times in its test phase, Isabelle said that Studio Audience delivered their vision almost without a hitch.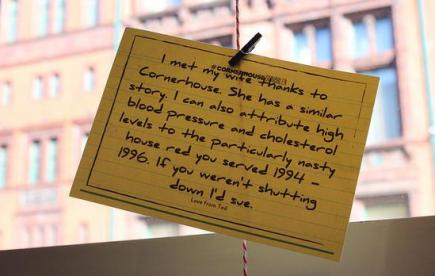 DEADLY RED: One customer attributes high blood pressure and cholesterol levels to the 'nasty red' served at the venue back in 1994
She said that the harmony between artistic expression and technology also embodies what the Cornerhouse is all about.
"I think as a creative space, the Cornerhouse is the perfect place to take a concept like this, give it a bit of a twist, and make it playful.
"As a project it's a mix of experiment, creativity and audience involvement and it can be used to convey emotion, thoughtfulness and reflection, a bit of fun, or just plain silliness.
"And it's not only the cinema.  I think it's the variety of what you can do here that makes Cornerhouse what it is. At the risk of sounding a bit cheesy, it was extremely important to us to do this, because we felt it was very important to our audiences. That's enough of a motivation."
Danny Blackman, one of the creatives at Studio Audience, said that their machine was influenced by the works of engineer and illustrator Tim Hunkin, and that the quirky, humanlike jerkiness of the way the pencil moves was a deliberate design decision – to avoid it feeling too slick and overproduced – and to reflect the Cornerhouse's artistic authenticity.
Yay it's alive! #cornerhousescribbler Collecting messages & memories at http://t.co/ypuBFqz9lN Make that pencil move! pic.twitter.com/36pN28JRXm

— misscroissant (@misscroissant) March 6, 2015
Speaking to MM with fellow creative Daniel Hall and programmer of the machine Dan Hett, he said: "Cornerhouse is an institution in Manchester – there's a lot of love for the place and it's played an important part in lots of people's lives.
"There were loads of ideas banded around; from projection mapping the toilets for people to scrawl on the walls, to setting up a giant answerphone that people could call and leave a voice message to be played out in the space.
"But it all felt too computerised and cold, which didn't really work with the sentiment of the piece. We wanted to create something that felt more analogue and human in nature.
"There are some genuinely moving and interesting messages being left; from people having met their wives there, to legendary punching of Mark Kermode in the bar. And we may potentially have already had a marriage proposal."
 The ambitious inventors have still to decide what to do with their technology next, but are looking at the possibility of installing a permanent Scribbler inside HOME when it opens, as well as a potential Dragons Den approach.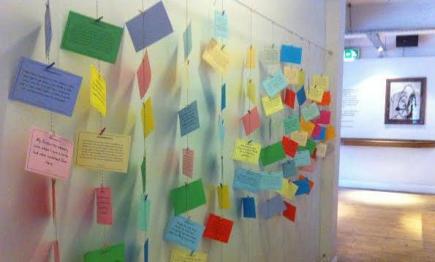 MEMORIES ON THE WALL: Colourful cards filled with fond memories of the venue brighten up the place
They said that they were able to build the machine without compromising any of their original plans, and can keep it running remotely to ensure everyone's messages make print.
"We were really concerned with keeping the daily running of the machine as autonomous as possible, so the whole machine is automated. Our start up and shut down processes are automated too, so the staff at Cornerhouse just have to fill the paper and take away the prints.
"As a group we're split across the country, so we've set up remote access so I can admin the machine from my desk in London, or on the move via an iPhone app – making a giant pencil move in a public space 250 miles away whilst watching in real time is immensely satisfying."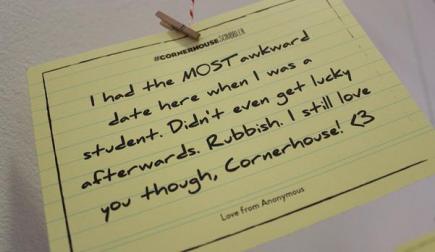 #AWKWARD: Anonymous customer reminisces about a student date at the much-loved venue
When it opened in 1985, the Cornerhouse became the first place that independent films and contemporary art could really be found accessibly in Manchester, and it has remained a cultural hotspot ever since.
It was the first place in the UK to show Quentin Tarantino's Reservoir Dogs – as well as a number of important British films – and still offers exhibitions that can't be found anywhere else in the city.
The cinema will be relocating to the purpose-built facility HOME in April, and farewell messages to its predecessor can be posted here, or via Twitter using the hastag #CornerhouseScribbler.
Loving the #CornerhouseScribbler display @CornerhouseMcr lots of @wittertainment fans it seems… pic.twitter.com/lELU1QfURD

— Curt Milner (@CurtMilner) March 9, 2015
Images courtesy of Cornerhouse, with thanks.