Most people's 21st birthdays are memorable but, thanks to alcohol consumption, seldom remembered.
As such, the Frog and Bucket comedy club's decision to celebrate their milestone by unveiling a memorial seems at first to be counter-intuitive.
But that's exactly what the iconic Northern Quarter laughter house did on Monday, when they unveiled a plaque saluting all of those whose comedy careers have capitulated upon inception at their popular weekly amateur nights.
The venue recently celebrated being named the best comedy club in the North by Chortle comedy magazine, and their 'Beat the Frog' amateur nights are perhaps their most renowned feature.
And owner Dave Perkin admitted to MM that the club has seen some unusual, and poor, attempts at stand-up over the course of its 21 years.
"The plaque is for all the comedians who've quietly died on the stage," he explained.
"There's plenty over the 21 years. Obviously the amateur night is a big night of ours and it's seen some interesting things!"
The Frog and Bucket has become a stalwart of the comedy scene since it opened in 1994 despite, or maybe because of, all those who have failed to impress the crowd and 'Beat the Frog'.
Originally though, the club's commitment to giving unproven talent a chance stemmed more from necessity than from a long-term plan to discover hidden comedy gems.
"I like comedy and I wanted to see some comedy in Manchester," Perkin stated.
"I couldn't afford comedians so I had to start the amateur night to get comedians on the stage.
"I used to compere the shows because I couldn't afford to hire one, but I was the worst compere in the world, so as soon as we could afford to hire a compere, we got one!"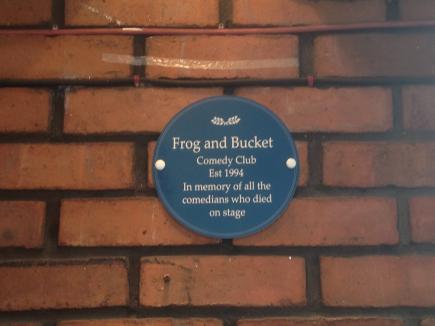 MEMORIAL: A last tribute outside the Frog and Bucket to all those failed amateur comics
Fortunately for him, Perkin's decision has seen the club unearth some of the finest comedians in the country, as well as picking up numerous accolades and awards.
A brief walk around the venue speaks volumes of its history, from the trophy cabinet next to the entrance, to the pictures of comedians performing at the club, from Jason Manford to Roy Walker.
"Pretty much every Northern comedian you see on the circuit honed their profession at the Frog," he said.
"Peter Kay did his first ever gig here on a Monday night and as soon as he came on the stage we knew he was going to be massive.
"John Bishop did his first gig here, Jonny Vegas, Chris Atherton, Dave Gorman, they go on and on."
With 21 years of comedy club ownership under his belt, Perkin would be forgiven for struggling to name his most memorable memory of his time with the Frog.
However, he was decisive when the question was put to him, and brought out two examples of just why his club has developed such a formidable reputation.
"The most memorable one for me has got to be Jonny Vegas doing a show from 8 o'clock at night till 1:30 in the morning, and just not wanting to go home.
"In second it'd be Smug Roberts doing the Wizard of Oz live in 45 minutes, with New Order as the backing band and Caroline Aherne as Dorothy."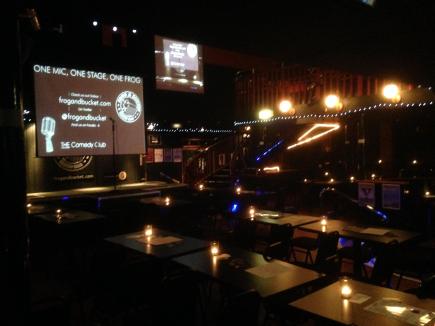 WHERE DREAMS ARE MADE: The Frog and Bucket in the Northern Quarter
It was fitting that the club's birthday fell on a Monday, the day on which 'Beat the Frog' is held.
Standing outside the club on Oldham Road, waiting for the unveiling of the plaque with Perkin, comedian Dan Nightingale and a man dressed as a frog, it was almost tempting to think that trying stand-up for oneself would be a good idea.
In reality, it takes a special kind of person to brave the wrath of any comedy crowd, even one as notoriously forgiving as that at the Frog.
Perkin shared some words of advice for any prospective Froggers.
"Just keep trying it, just keep going," he said.
"We've had over 13,500 comedians on a Monday night over the years so just get every gig that you can, go to every open mic night, really concentrate on it.
"We don't like negativity, we don't like booing or anything like that.
 "I mean, we don't like someone to come on with stolen material or racist or homophobic material – they'll get pulled off straight away.
 "But we're supportive, everybody gets a chance."
Of course that chance, and the crowd's patience, is only guaranteed to last two minutes. After that you just may find yourself consigned to the comedy graveyard that the club chose to commemorate on this most retrospective of 21st birthday parties.