To celebrate the release of the highly anticipated family title Hotel Transylvania 3: A Monster Vacation, Sony Pictures will be conducting a national tour visiting some of the UK's biggest shopping centres.
Hotel Transylvania 3: A Monster Vacation opens at cinemas nationwide on Friday July 27 and will be visiting the Arndale Centre on Thursday July 26.
But do more than just visit the tour – you can WIN a Sony 32″ TV by entering our giveaway…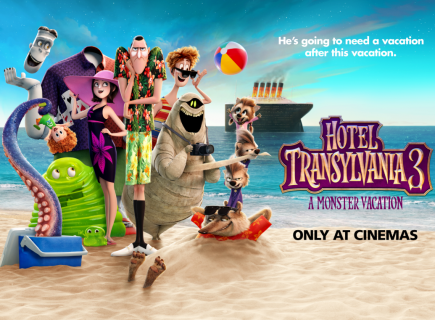 To enter the competition all you need to do is follow @mm_newsonline on Twitter and email your Twitter handle to newsdesk ( at ) mancunianmatters.co.uk
The competition closes on Wednesday July 25 at 5pm and is open to all movie fans, the winner receiving a 32″ Sony TV.
At the Arndale come and join the Drac Pack on their brand new adventure and experience a host of fun activities including the Wolf Pup Wind Chamber Challenge and the Blobby Golf Bonanza – you can even take your chances with our Unlucky Dip!
Children will also be given the opportunity to meet the costume characters and have their photos taken with Drac, Mavis, Johnny, Frank, Murray or Ericka from the film.
Families will receive their own photo keepsake to take away for free and there will be a chance to get your hands on some Fang-tastic prizes!
In Hotel Transylvania 3: A Monster Vacation, Mavis surprises Dracula with a family voyage on a luxury Monster Cruise Ship so he can take a vacation from providing everyone else's vacation at the hotel.
The rest of Drac's Pack cannot resist going along and once they leave port, romance zings Drac when he meets the mysterious ship captain Ericka. 
Now it's Mavis' turn to play the overprotective parent, keeping her dad and Ericka apart. Little do they know that his "too good to be true" love interest is actually a descendent of Van Helsing, arch nemesis to Dracula and all monsters!
© 2018 Sony Pictures Animation Inc. All Rights Reserved