A Wigan-born writer, artist and all-round creative is appealing for your help to get his crime thriller meets gritty reality graphic novel, featuring Sir Ian McKellen and Sir Roger Moore, off the ground.
Brian Gorman, a 41-year-old actor, playwright, graphic novelist and big brother to Julie and Mike, grew up on a rough council estate – not just a tough start in life but one that throws a lot of stereotyping and judgement at you.
But the 'shy kid' who spent his days cooped up inside drawing has worked hard, defied a lot of odds and pursued his dreams, releasing a pilot issue of his comic book series Borderliners in 2008.
Now Brian would like to continue the series with a 100 page graphic novel – about two double-crossed government agents fighting to recover their sanity, and hit back against a corrupt department of MI5, while uncovering an incredible multi-universe spanning conspiracy –  and he needs your help.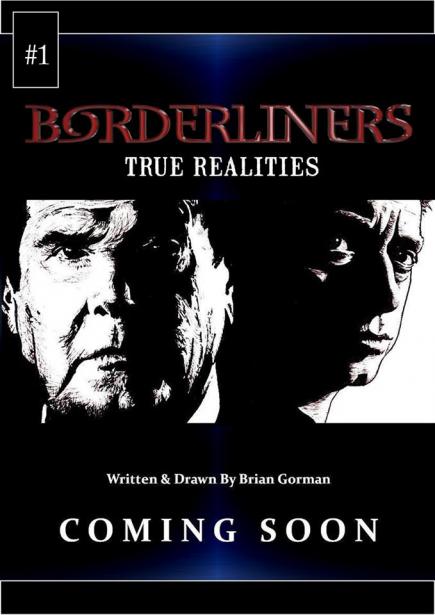 BORDERLINERS: Brian needs your help to get the next installment of his graphic novel series published
He has set up an Indiegogo campaign to get the funding he needs to write, illustrate and publish this fast-moving 21st century tale of espionage that draws inspiration from the likes of Spooks and Minority Report.
MM caught up with Brian to find out how he got from being told he'd never make it to having a top London literary agent, a top-selling play looking at a national tour next year, and a graphic novel in the pipelines.
He said: "I was the poorest kid on the block, wearing a patched-up school uniform, living on a rough council estate with unemployed/sick parents. What a start, eh?
"I left school at 16 and didn't know how you applied for college, so went to the careers office. Asked what I'd like to do, I answered 'a cartoonist'.
"And I will always remember what the young lady said – 'there's no cartoonists in Wigan'. Great! So I got a job in a greengrocer's.
"All the rubbish jobs – cutting up rotten melong, trying to avoid swarms of wasps around the bad fruit, and chasing rats out of the crumbling Victorian back of the chop."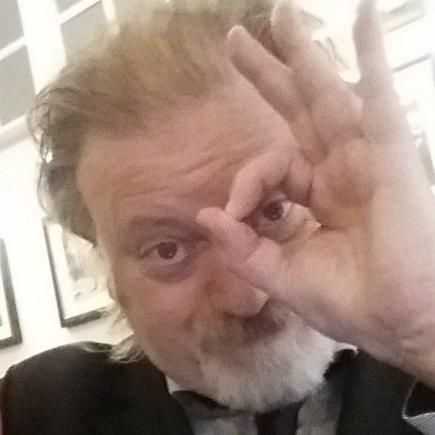 BROKEN DREAMS: Bad careers adivce saw the aspiring artist end up working at a greengrocer's for years
Having your dreams crushed at such a young age would have put most people off for life and it certainly affected Brian for a few years but he managed to pull himself out of an unfulfilling career.
"After six years on rubbish wages… six years of being exploited until I summoned up the courage to leave. I was an extremely shy kid," he said.
"But I joined an amateur drama group in 1985 and it changed my life. Two years later I was playing leading roles in Shakespeare, Noel Coward, Harold Pinter, and John Osborne plays.
"One of my fellow amateur actors was Stuart MaConie – now a famous journalist, radio and TV personality. Another was a girl called Kay Pope, nowadays known as Eva Pope – she starred in Coronation St, Silent Witness, and even co-starred with Steven Segal once.
"Self-confidence enhanced, I did A-level English Literature – got an 'A' advanced pass – and Theatre Studies."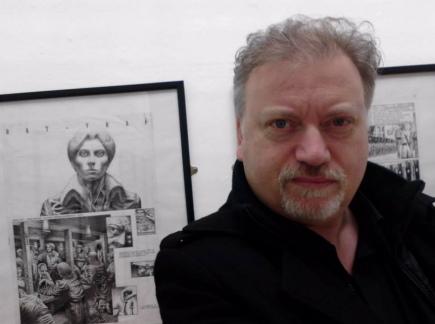 'SHY KID': Brian discovered his self-confidence when he joined an amateur drama group in 1985
Brian also got married on New Year's Eve at Gretna Green in 1986 and had a son, Peter, who is now 27-years-old. But the marriage wasn't meant to last and ended after two years.
He decided to leave Wigan to do an Art and English degree at Chester College in 1991 but his studies were abruptly disrupted when his mum passed away, his 4-year-old son fractured his skull falling from a balcony in a shopping centre, and he split up with a girlfriend of three years.
Peter made a full recovery from his fall.
The undoubtedly resilient creative described this phase of his life as 'not the best of times' and refused to be down-trodden, getting a job in the box office at Gateway Theatre where he worked for 12 years.
All the while he kept making his own short films, nabbing a few professional actors from various shows, and he acted in a play with a young unknown actor, Eddie Marsan, who is now a major star alongside Robert Downey Jr in Sherlock Holmes.
So Brian was starting to get his name out there in the film writing and acting world, fulfilling some of his aspirations, but his real love always truly lied with comic books – drawing and Spider-Man were his escapism as a kid.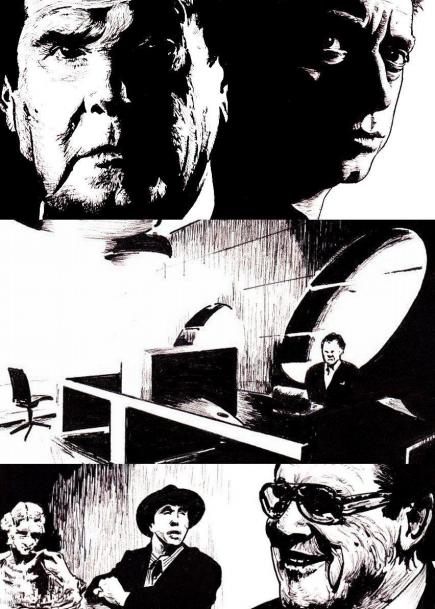 'PENNILESS UPBRINGING': Brian had to learn to entertain himself as a kid and he did so by drawing
He told MM: "As a shy kid, I stayed indoors a lot. With a penniless upbringing, I had to entertain myself, so I did a lot of drawing, and spent what little money I had on comics.
"My favourite was always Spider-Man. I dreamt of drawing comics for a living one day, but couldn't believe it would ever happen as a shy, poor kid in Wigan – and with a less-than-helpful careers office!
"I really identified with the character of Peter Parker, and the Marvel comics superheroes were a real breath of fresh air."
The Borderliners creator, who counts Judge Dredd 2000AD illustrator Arthur Randons, Batman artist and fellow Wiganer Bryan Talbot, and Dr Who's Richard Piers Rayner as his main inspirations, said this release from reality through art has continued into his adult life.
"I've always loved writing, drawing, acting, directing, etc. Maybe it's because there's so much madness in the 'real' world, it's nice to be able to create one of your own," he said.
But while taking a break from the madness of this world might come naturally, taking a serious step into the world of the arts is a feat renowned for its improbability.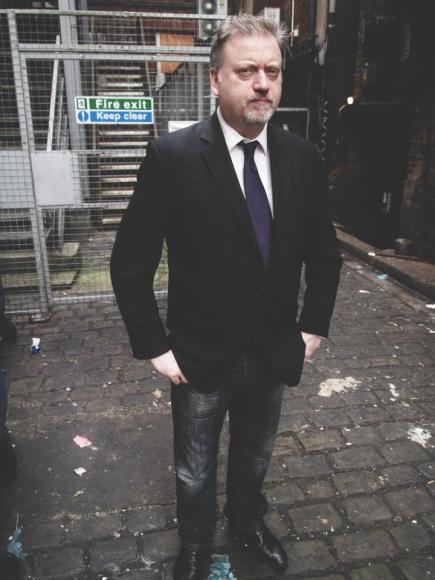 ESCAPISM: Brian says there's so much madness in the 'real' world it's nice to create his own
Brian said: "As for 'getting in', it's simple, yet complicated. Especially if you're poor! My philosophy is don't do what most people do, and knock on the front door with a CV. Try the side door.
"Start at square one like a detective. Case the joint. Ask the experts. Know your strengths.
"I hate the word 'network', but it's vital to get out and about, talk to people, discover how things work. Above all, have faith in yourself, and ALWAYS be optimistic.
"I'm a great believer in the power of positive thought. Wishes do come true."
And it's not just positive thinking on the graphic novelist's side, but fate too as he managed to get permission to use the likeness of two of his heroes and 'knights of the realm' to use in his series.
Sir Roger Moore and Sir Ian McKellen, who is also from Brian's hometown, are long-standing favourites of the artist and he's had very pleasant exchanges with both.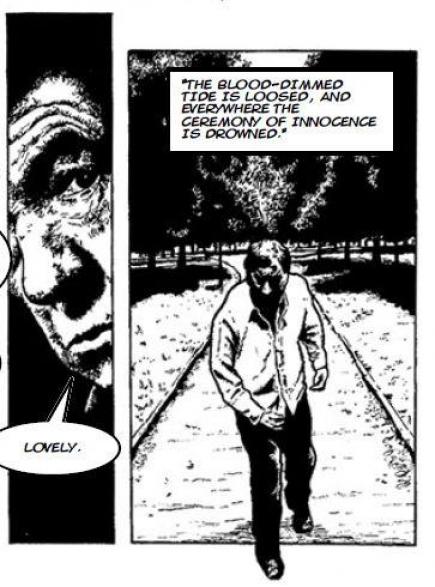 YOU SHALL PASS: Ian McKellen sent Brian a three-page hand-written letter to encourage him in his pursuits
"Ian McKellen has always been a favourite of mine, years before he did X-Men or Lord Of The Rings. He's also from my hometown, Wigan, and I wrote to him in 1986 about a play I was in," he said.
"He very kindly sent a 3 page hand-written letter back full of encouragement.
"When I started the Borderliners pilot in the early 90s, I wrote to a theatre he was appearing at to ask if he could be a character.
"He wrote again, gave permission, and apologised for not being able to pose for photos in person! Unfortunately, I still haven't met him."
But Brian has been lucky enough to meet the former James Bond star in one of those 'friend of a friend' scenarios.
He explained: "In 1992 I met a young guy in Chester at a Bond film screening. He had an amateur Bond fan magazine, and I did some illustrations for him.
"A few years later he had an office at Pinewood Studios, and I helped him with a film day there – I got to meet various famous actors, and got on the 007 stage.
"Now, he is Roger Moore's personal assistant, and travels the world with him! He invited me to meet Roger backstage at The Lowry recently, and Roger gave me permission to use his likeness in Borderliners."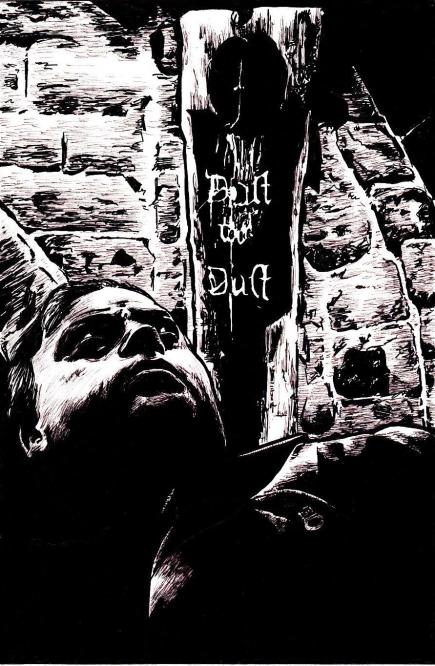 AMBITION: Brian hopes his graphic novel Borderliners will one day be adapted for either film or television
Brian would absolutely love Sir Ian and Sir Roger to star in the TV or film adaptation of Borderliners, he hopes will one day be a reality.
So we know all about the author and illustrator, who always carries a pen in case inspiration strikes and describes couples who are joined at the hip as 'the two-headed monster', but what about Borderliners?
What's in the name? And why does Brian opt for the gritty reality style of his graphic novels?
He said: "When I wrote the original TV script version nearly 20 years ago, it was about secret agents who were special kinds of people – they bordered on madness and genius. The tagline was 'They aren't ON the edge; They ARE the edge!'
"I've always liked downbeat stuff. Life is pretty miserable when you think about it seriously, and we are all used, abused, and exploited by the wealthy, the people in power, etc.
"I love TV shows like Spooks, The Prisoner, Callan, Edge Of Darkness – all about unravelling mysteries. People are never how you think they are." 
Although Borderliners' pilot was published seven years ago and received very high praise from critics and fellow graphic novelists, Brian says he has learnt a lot since then, especially in terms of marketing his work.
One of Brian's top marketing advisers and PR manager is Shi-Tzu, Oscar – yes a little, fluffy dog.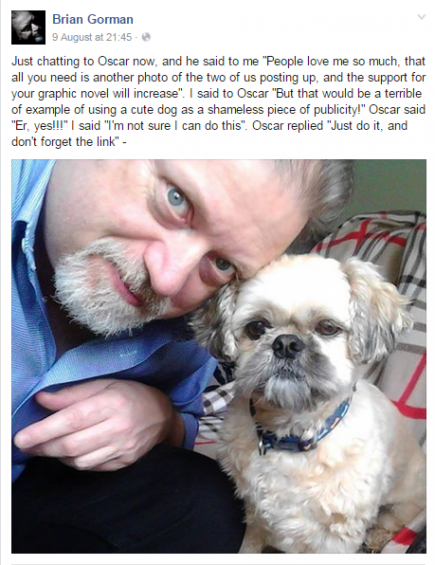 Brian said: "Oscar is actually a friend's dog, and I'm staying at their place at the moment as I am technically homeless right now. He's the softest dog ever! Sleeps all day, and hardly makes a sound.
"He's very intelligent, though, and will come up to you, and tap you with a paw whilst staring into your eyes, if he really needs something – usually a biscuit.
"He had a bad experience a few years ago when an angry cat swiped at him, and hit him in the eye with a claw. I think he looks just like one of the Ewoks from Star Wars: Return Of The Jedi.
"He'll be in the book, and he's an expert at eliciting favourable responses when he gets involved with the PR!"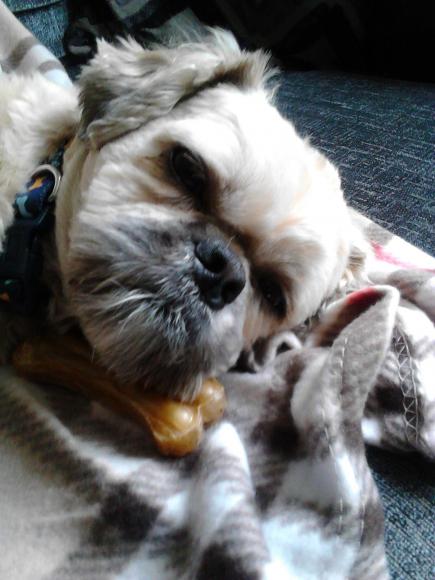 TOP DOG: Oscar's got barking mad marketing (and napping) skills and will make an appearance in Borderliners
With Oscar's barking mad marketing skills and just a little support each from all of you Brian could have Borderliners on the shelves in no time at all.
So far fundraising for the graphic novel is going really well – the project is 45% funded and it's only been running for a week but it won't get to where it needs to be without you.
"It was a shot in the dark when I set it up just last week, but I'm almost 50% funded in just days," Brian said.
"The campaign runs for 60 days, so it's fun to see how it's been growing. Complete strangers have contributed money, and it means the book should definitely go ahead."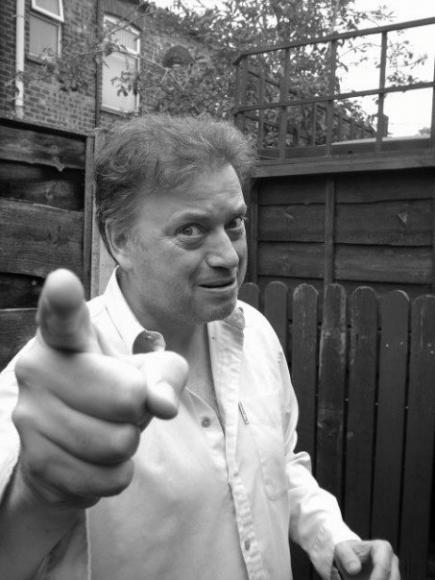 I WANT YOU! Brian needs your help to get his project fully funded fo Borderliners can be published
Not only could the series be the next big thing in the comic world, who doesn't want to see Gandalf and James Bond team up on the big screen to reveal government conspiracies?
Also, this could be the big break Brian has been working for his whole life, but this is something the actor, author and artist is very humble about.
He said: "Well, you have to know your own skill level, and have faith. The pilot tested the water, and got rave reviews.
"My recent play, New dawn Fades: A Play About Joy Division & Manchester, also got rave reviews so I'm hoping Borderliners will too. We shall see!"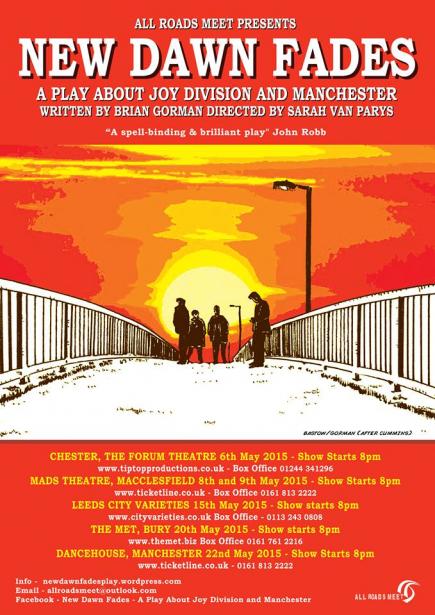 RAVE REVIEWS: Brian hopes Borderliners will share the same success as his latest play
To get donating so Brian Gorman can publish his fast-paced espionage/sci-fi graphic novel, Borderliners, click here.