To boldly go where no man has gone before: that's the mission for Manchester's Trackies…
Warning: graphic content below.
The number of ways to get your rocks off using the internet is as extensive as the day is long.
From porn sites to fetish forums, it seems there's a market out there for just about every sexual fantasy you can be brave enough to imagine. 
But forget latex, leather and whips because these lads are only interested about the size of your… tracksuit collection.
Welcome to Trackies: 'The place for guys who love trackies, trainers and scally gear.'
Users can browse profile pictures and bios of guys with names like 'ChavBitchBoi' and 'SpunkyTrainers' looking for fancy free and footloose (or in this case footwear) fun.
Although you would be forgiven for thinking most of them had spent some time in a Jeremy Kyle show green room, it seems the more Goldie Lookin Chain the better.
One user from Manchester, who goes by the name 'Vintagegear', joined the site six months ago with the intention to meet lads who were looking for a bit of 'fun in kit'.
"If a guy is in the right sort of kit I can get horny immediately," he said. "I met up with one guy I met on Trackies who had even more kit than me.
"We both brought a bag full of our favourite gear and spent a couple of hours trying each other's shorts and trackies on. As you can imagine by the end we were both very excited.
"I like to chat for a while first check out what gear the other person is into and what they enjoy.  I met a guy in a bar on neutral ground before we had our session. Always better to be safe.
 "In this case it was purely for fun in kit. For me, it's all about the gear."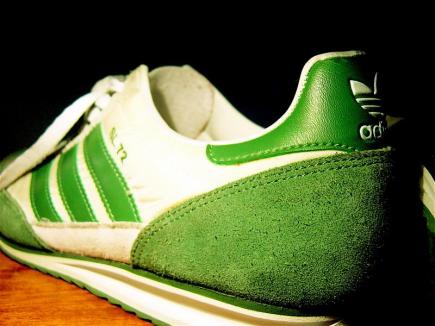 ALL DAY I DREAM ABOUT SEX: Adidas trainers are popular among Trackie users (Courtesy of Julia P)
Jason*, is just one of the men MM spoke to completely 'fascinated' by the 'scally lad' which has become so popular in recent months that it now has its own club night which is set to return to Manchester's Backdoor Club in March following its launch in November 2014.
'Addict' is a new sneaker and sports gear fetish night which promises to combine 'horny beats, fit lads and the hottest sneakers around'.
The event also has a live sneaker show 'from the hottest lads of the UK's horniest sneaker sex studio', a dark room and play area and a giant feet worship area.
DJ Scott Sniff Socks (presumably not his Christian name) will be taking to the decks and there will even be guest appearances from Mr Sportswear France candidates – Oh là là.
One Trackies user heading to the club night said he discovered his 'fetish' for sportswear when he was a teenager.
"I guess it has to go back to school days and adolescent interest in sex. I used to find the school changing rooms a place of awe and fascination because everybody was wearing short PE kits," he recalled.
"I think it comes back to the first stirrings of sexuality, but I have always had a bit of a fascination for all kinds of shorts. I wore grey short trousers to school which is where I think my fetish started.
 "I also received corporal punishment at school which usually meant me having to change into PE kit for the dreaded slipper— so short trousers are linked into some of my earliest sexual awakenings."
The self-confessed sportswear lover, who goes by the name 'Ad-didas' says he can be very 'selective' when it comes to hooking-up with other guys on the site and although looks and personality are important, so is the kit displayed on their profile picture.
"The guy has to have personality and there needs to be a spark but the kit is as important to me", he said. "If I am having fun with another guy in kit and pleasuring him, I would probably use a pair of shorts wrapped round their penis as I was doing it.
"I love to get a guy hard and hot in his trackie bottoms. I also like to see it poking out of a pair of shorts."
Along with profile pictures and bios, users are also asked to provide their height, race and body type and state they're preferences on things like 'safe sex'.
Vintage sportswear lover Jason told MM: "I would never cruise someone on the street or try to pick someone up just because they were dressed in trackies."
"On a website it's different because you can exchange ideas and fetishes and work out if you would have a fun time with that person and that's what it's all about – being safe and having fun in the gear you love.
"One guy wanted to have kit fun in a shower which I enjoy because it does go see through when wet, which makes me really horny."
Although open to a shower session once in a while, Jason revealed there are some activities that are personally off limits for him when meeting up with fellow sportswear lovers.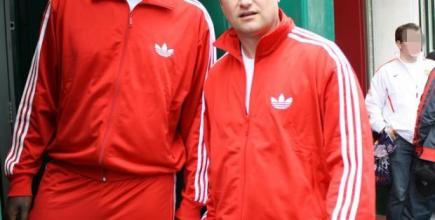 PUT A SOCK IN IT! Guys into trackies say the size of someone's kit is important (Courtesy of Kilted 1)
He said: "There is stuff I just wouldn't engage in. That's their bag so I would not pass judgment. That's why it's good to talk on sites like trackies so you can agree on some rules of engagement before you get started.
"For me, the kit most definitely has to stay on. There is something for me about not everything being on show, which creates a sense of mystery and exploration."
Jason went onto reveal that his fetish for shorts meant that he didn't only just wear them in the bedroom but also in the office – under his work trousers.
"I think when I open my wardrobe and see more than 150 pairs of shorts, it has to be a fetish of some sort," he said. "I tend to wear nylon shorts under my work pants too.
"Sometimes I find myself paying out a shed load of money for a pair of shorts on eBay. I am getting better nowadays as in that I know I already have enough pairs to last me several lifetimes so I am far more selective in what I buy.
"I guess I think what harm does it do? We have safe sex in kit which turns us both on big style."
*Names changed for purpose of the piece
Main image courtesy of Pea, with thanks.