Withington's music scene has the potential to develop and see growth similar to the Northern Quarter, according to the diverse duo who run a record shop entrenched in the community.
Deco Records was taken over by Esther Ford in July 2015, after she bought the shop from a family friend when she moved back to Manchester from London.
And James J Blake, the only other staff member besides Esther, believes the current vinyl revival is rekindling people's love for music as a craft, not just an art.   
"We're seeing a revitalisation of analogue gear at the moment because everything has just got a bit boring. CDs are dead, or dying," the 24-year-old from Stoke, who is the frontman for Manchester shoegaze band Demur, told MM.
"We sell blank tapes because we know that the occasional musician will come in and say 'I want to get my stuff onto tape, do you sell them?' We keep that stuff here just for those people. That's what matters.
"It's interesting that we're in the same place here that the Northern Quarter was 20 years ago, and look what happened to that. I can see that happening here with the right exposure.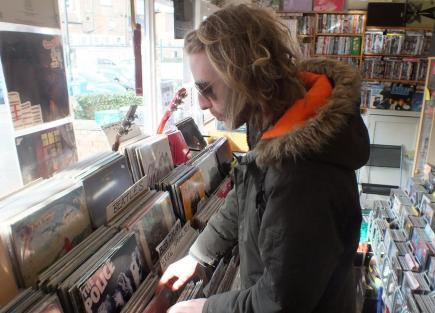 'CDs ARE DEAD': Deco Records' James J Blake sees the Withington music scene growing like the Northern Quarter
"There's a living scene here that people aren't seeing. Great music starts in the pubs, in the local places. I think that's where your scenes start. It needs a record store, something like that."
Something like Deco Records, coupled with the fact Esther and James care a great deal about local artists and the growth of Withington's music scene. 
So much so they're the only place in the area that sells sundries such as guitar strings and plectrums.
What's more, there are plans for a notice board in the front window to promote local pub gigs, and to have an entire section of the Egerton Crescent store dedicated to unsigned and local musicians.
"Manchester's got this rich musical heritage, and everyone's still trading off of it. But no one is helping to invest in the future of it," said Esther.
James agrees: "There are so many musicians in the area, and there are nowhere near enough places doing this for the musicians. Even the ones in town don't do it."
Esther's passion has clearly rubbed off on the community as she says their love for the shop inspired her to launch a Kickstarter campaign to fund improvements to the storefront.
The 36-year-old from Withington was working as a music promoter in London and worked with groups like The Wombats when she decided to relocate up north.
Having used all the remaining proceeds from her flat sale to make improvements to the shop, she turned to the crowdfunding website to raise £1,075 for a new awning.
The aim is to make full use of the area outside, even if Manchester's infamously bad weather rears its head.
"I've got this piece of land, but because it rains all the time, I can't use it," she said.

HEART OF GOLD: Owner Esther Ford wants to invest in Manchester's 'rich musical heritage'
"In the summer, the weather was so nice. Guys would come and sit and play their guitars. People would stop and chat.
"Everyone seems to want to help the shop, which is why I thought a Kickstarter campaign would be successful," she added, having admitted she was at first hesitant about asking for money for a business expense.
Scratch a little beneath the surface, and it's not hard to see why people want to help Deco Records out.
With The Christie NHS Foundation Trust a stone's throw away, many people visit the store while their relatives undergo chemotherapy.
James says there is something inherent about music that helps people cope in such a difficult time.
"Often, because their elders are passing away, we do get a lot of people coming in saying 'This is their favourite kind of music, could you help us out?'
"It's little things like music that are going to make someone's passing that bit easier. It's where it crosses the line – where music becomes not entertainment but a service as well."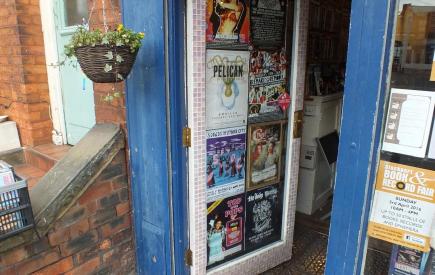 GOOD VIBRATIONS: The store opens doors for grieving families just around the corner at The Christie  
Other regular visitors include people who live in local sheltered accommodation, who come to the shop with their care workers.
James added: "A lot of shops are just 'shops.' But these kids want to come and talk about films and music, they get really excited about it."
The campaign's Kickstarter page even states: "The outside space also provides somewhere for these care workers to sit and have a coffee while their clients enjoy the shop."
One of their more quirky customers is a lady who often calls the store and hum songs she's heard on the radio but doesn't know the name of.
"I'll try and coax a lyric out of her," said Esther. "While she's singing it, I'll Google it then order the CDs."
The Kickstarter campaign – which has so far raised £473 of the £1,075 target – runs until April 9, and pledges can be made here: https://www.kickstarter.com/projects/1667694587/new-awning-for-deco-records-withington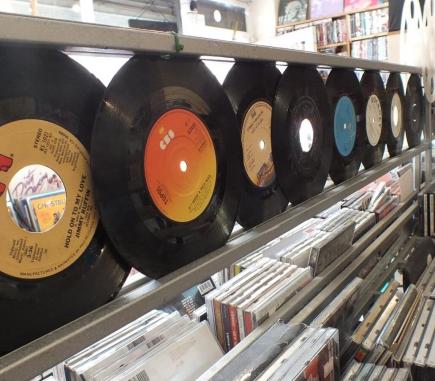 COMING SOON TO A RECORD STORE NEAR YOU: With your help Deco Records hopes to have an awning to encourage musicians to play outside