Beatnikz Republic is to be the newest craft beer microbrewery when it opens its Green Quarter doors to the public this weekend.
Paul Greetham, founder and head brewer, will welcome beer-lovers to the business' first ever permanent home from 4pm Thursday.
Bottled beer from previous brews will be on offer for the next few weekends before the Manchester-brewed beer is ready at the end of May.
Beatnikz Republic was formed whilst Paul was working in conference production, which he says was a cool job – but it wasn't beer.
Before moving into their Red Bank railway arch location, Paul was a 'cuckoo brewer' – brewing beer in other breweries' tanks in Bermondsey, Sunderland and Scotland – on the side of his full-time work.
Now, after a 10-year hiatus from Manchester, the experimental brewer has returned to try his hand in the ever-growing brewing scene in the north west.
"I am so nervous. Fluctuating between incredible nerves, and incredible excitement.
"I am pretty sure everything is in place. There is a lot of good people who have put a lot of time and effort in, so I think it will go well.
"Manchester has been very receptive to the idea, the residents close by have popped their heads round to say hello and see what we are doing. Hopefully that can translate into a solid start."
Eight beers will be on offer from the start, all of which Paul boasts will have only moved 20m from where the brewing process started to where the beer ends up in your glass.
Paul's brewing began by experimenting with home brew recipes, and he hopes to continue with that ethos, but now he will have the chance to brew 1000 litres at a time.
"I can play with recipes and idea, if I want to add coffee, if I want to add fruit, if I wanted to add some flavour, I can do whatever I want.
"You are using good ingredients so it will be a good quality beer. Even if it is not to your taste, it is small batch so you get a lot more flexibility than you do with a larger brewery who has to brew for commercial success without experimenting that much."
Paul's experimentation has resulted in four beers being available to customers from the off: Pale Ale with US citrus hops, Kolsch with Orange Peel, Coffee Stout with Colombian Suarez Cold Brew and American Red IPA.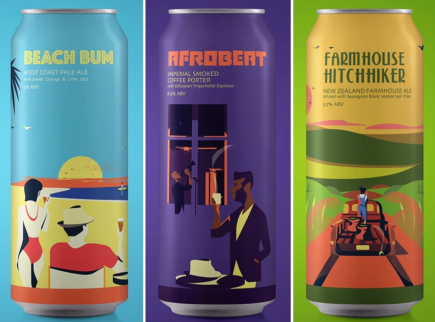 EXPERIMENTATION AND FLEXIBILITY: Paul Greetham's Beatnikz Republic beers have a lot of room for differing flavours
Another area for experimentation is the outside of the 440ml cans that the beer will eventually be served in.
Paul is hoping that, unlike books, you will be able to judge his beer by their eclectic covers.
"The covers are amazing. I feel like I can say it because I didn't design them.
"The guy that put them together – Marcus Martitt – has done an absolutely superb job. You just want something that you can really care about as it takes a lot of time to make. I want that reflected on the outside as well.
"As you can see from the artwork, there is always a theme or a story which can be easily translated from the beer into the translation. It just works really well."
Beatniks Republic joins a microbrewery community that is already in full swing, including the likes of Cloudwater Brew Co who were recently named the fifth best in the world at the RateBeer awards, but Paul doesn't see any problems with overcrowding the market.
"I think there is a lot more variety with craft beer now which is fantastic, both flavour and the number of breweries.
"As a whole scene in that sense, Manchester is just fantastic."
Beatnikz Republic will be open this Easter weekend at 15 Red Bank, Manchester M4 4HF. Opening hours: Thursday 4-10pm, Friday 12-8pm, Saturday 12-8pm, Sunday 12-8pm & Mon 12-5pm