Finding your next partner over that watercooler conversation might not be such a bad thing, if new research is correct in showing that office romances can boost employee productivity.
Risk assessment firm Protecting.co.uk found that almost two thirds (62%) felt a romance with a colleague actually benefitted their career, with seven in ten managers admitting that couples who knew each other in work were more productive.
Mark Hall, spokesperson for the company even said: "We know of at least one major banking organisation that allows office relationships to the point that they encourage marriage between staff members."
So, with this in mind, we hit the streets to find out how many Mancunians have had workplace relationships and whether they thought it was a good idea.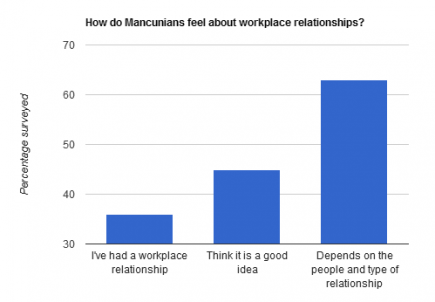 We spoke with students Nathan Hall, 21 from Bath, and Shaun Devroe, 22, from Newcastle, who both now live in Withington.
Neither Human Geography student Nathan or Shaun, who studies Marketing Management had been in a workplace relationship.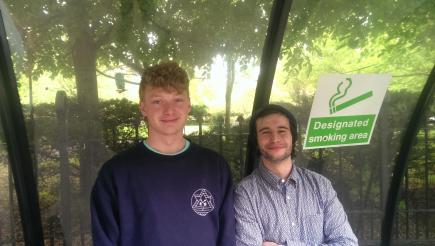 'THINGS COULD TURN SOUR': Uni mates Nathan and Shaun said there's a lot of potential for it to go wrong
Nathan wasn't sure if it would be a good idea, saying: "It would depend on the individuals. I could imagine things could arise if things got sour."
Shaun said: "What's a relationship nowadays? Is it going to be one-on-one or a mutual friendship thing that goes further than that? That differentiates it further."
He said that having your partner there may make work easier, adding: "Work's not going to be as grim if your girlfriend's there."
"If the lad is too up with the lads, being a bit of dick when they're with their boys, then obviously the girl wouldn't enjoy that either," said Shaun.
Nathan was also cautious, adding: "If it's a stable relationship I can see how it would have positives, but if it were to go sour it could end up with someone potentially out of a job if it really kicked off."
Hannah Marrow, a 27-year-old Project Manager living in Walsden had quite a story as she met her husband at work.
She said: "Yep, had an office romance, now five years together and two years married!
"It was frowned on by the majority, but a few were mature enough to know we were professional enough to not let it affect our work, and eventually everyone got on board with the idea."

BAD EXPERIENCE: Ex-care manager Joynul said the breakdown of his relationship made his job awkward
Joynul Miah's personal experience differed, with the ex-care manager from Didsbury saying his ex made it a bit awkward afterwards.
He added: "It was short term, but she wanted to take it more seriously. She wanted to get married; I couldn't do that to be honest."
Joynul, who currently studies Computer and Nanotechnology in Manchester, said that they hadn't been able to keep the relationship secret at the care home.
"Everyone pretty much new anyway because she was being a flirtatious little bitch. It was weird, she was just possessive and she was sexually motivated all the time," he said.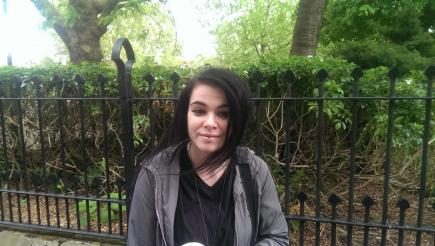 'BE DISCREET': Manc student Emma said it depends on the person
Manchester student Emma Messenger, 21, said she hasn't personally been in a workplace relationship, but she knows people who have been.
The East Midlands native, now studying English & Film in Manchester, said: "I think it depends on the people.
"There are lots of people who can sort keep their relationships and work separate, but then there are lots of people who find that really difficult. It does depend on the sort of person."
On whether relationships in work should be allowed, Emma said: "Yeah in general, I don't see why you shouldn't allow it, but you have to be discreet about it and keep it on a personal basis."
She also told us how having your significant other could benefit your attitude: "I suppose you would be happier to be there wouldn't you, because you'd be sharing your time with someone.
"Rather than waiting to get home to them, you'd be already with them."
Josh Lynn had a different opinion. The 31-year-old Chinese city centre retail worker who now lives in Middleton said that workplace relationships he'd seen had not ended well.
Although he had not known anyone who had to keep their relationship a secret, he simply added: "Work is work."
But he didn't feel that having a relationship in work would impact productivity, saying: "I think most people would remain professional in their job."
Harriet Watts, a 22-year-old Fashion Marketing student from Halifax also felt it wasn't a good idea.
Although Harriet hadn't known anyone who's had a workplace relationship, she felt that 'potentially you shouldn't mix business with pleasure'.
She added that dating someone at work may or may not be a good idea, adding: "It could be, it depends what kind of relationship it entails."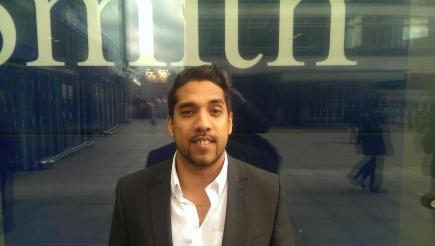 GOOD WHILE IT LASTS: City centre worker Ricky managed to keep his workplace relationship quiet for two years
Ricky Gupta, 35 from Bournemouth, lives in the city centre and works in Business Development.
He told MM that he managed to keep a workplace relationship quiet for two years, and never got caught.
Ricky said that sometimes it can be a good thing: "It can do, but there's also a negative to it. So, if it goes wrong then it can cause a lot of stress, but if it's an okay relationship then it does work out."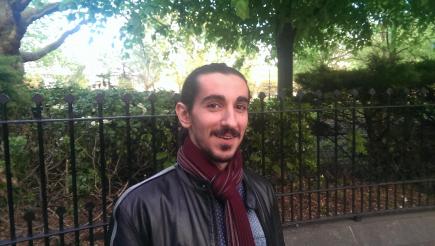 HOW ELSE?: Automotive student Mustafa thinks hooking up in the workplace makes the most sense
Mustafa Marcisi, 26, moved here from Turkey six years ago, and now studies Automotive Engineering in Manchester.
He said that he doesn't know anyone who had dated within the workplace, but thought the whole idea was pretty logical.
Mustafa told MM: "Thinking about it actually, grown people, where do they find match-ups? On the internet or work-place, we find them in the classroom.
"Wherever you interact with people, it's more of a possibility to catch someone."
Mustafa felt that the impact on someone's work would vary, saying: "It depends on the person, if they can divide their relationship and the workplace. It's completely personal."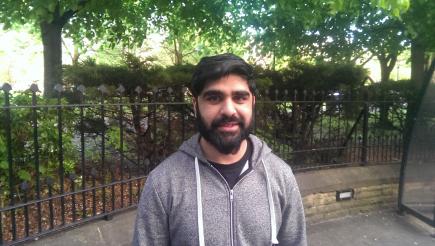 'FOCUS ON THE JOB IN HAND', says Faisal, who doesn't think an office romance is a good idea
Birmingham-based Faisal Begg, 26, also studies Automotive Engineering, but felt that it was not a good idea to date someone you work with.
"Personally, I don't think it would be a good idea, no," he said.
"I think it would be more of a distraction than you getting your work actually done, focusing on the job in hand."
Faisal could see that working with someone may have a positive impact on work, but he was dubious.
He said: "That all depends on the individual as a person and how their mind set is.
"If they can focus on the job in hand and get the work done, then fair enough.
"It all depends on the individual, if they're more distracted towards female attention, then obviously something's going to take an impact and usually it's your work if you're at work together."
Image courtesy of BBC, via YouTube, with thanks