The global success of Danny Boyle's Oscar winning Slumdog Millionaire is just one example of how everyone loves a good rags-to-riches story.
And if you were to translate the hit 2006 movie to Manchester, then the tale of Jane' Alam Sheik must be up there with the best.
The Indian student grew up in the slums of Kolkata, sharing one tap and two toilets between a population of 10,000 people and having to witness death on a regular basis.
He was the first person in his community to go to school, and today, Friday December 12, he will graduate from Manchester University with a Masters in Business Administration.
"As a young boy, growing up in the community where I did, I was very scared personally because I saw people dying at an early age and I didn't know whether that what was going to happen to me," the 23-year-old told MM.
"I saw babies dying of starvation, some of my friends died because their families could not afford medication and all around me people had no hope."

FROM SLUMS TO SUCCESS:  Jane' Alam grew up in Kolkata and said University wasn't even a 'distant ambition' 
Jane' Alam's life was put on a different path when his father Rabiul Alum registered him in a Compassion UK charity project at his local church, enabling him to go to school and eventually on to University in Kolkata before his move to Manchester.
Unfortunately, Rabiul Alum passed away when Jane' was 14 due to malaria.
"I remember I taught my father how to write his name and how different it was having an opportunity to go to school," he said.
"If they [Compassion] hadn't of intervened I'd probably have been dead or I'd be living the same life as most of my friends who are either drug addicts or struggling every day to live and feed their families.
"Going to school was more than a dream come true because I never dreamt it. Going to University wasn't even a distant ambition; it was not within the scope of reality."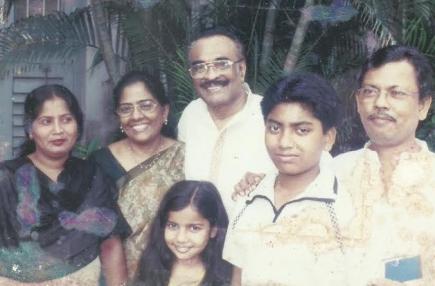 FAMILY GUIDANCE: Jane' Alam's life was put on a different path when his father registered him in a charity project
The 23-year-old admitted that he had a bit of a culture shock after arriving in Manchester.
"I remember in the first couple of days when I came to the western world, I couldn't sleep on the bed because it was too soft," he said.
"I'd slept on the floor all my life and then I'd come here. I grew up without having a bar of soap to use and now I had shower gel, so every little thing I definitely appreciated more."
After completing his Masters degree, Jane' is now setting up Pursuit – an organisation with a vision to see people trapped in physical and spiritual poverty empowered to pursue a life of hope and purpose.
He is using his business acumen to raise funds in support of a whole portfolio of projects to support more people from his home community.