A Manchester church is tackling the city's social problems head-on to give new hope to its most vulnerable people.
The Faith Life Centre church on Mary Street has launched the Manchester Life Centre, a series of projects aimed at combatting poverty in the area.
It operates Feed the 5000, a food bank launched last August, in addition to a range of programmes that look to offer a future to those most in need.
For its director Chris Anthony, the Manchester Life Centre is all about meeting the practical needs of the city.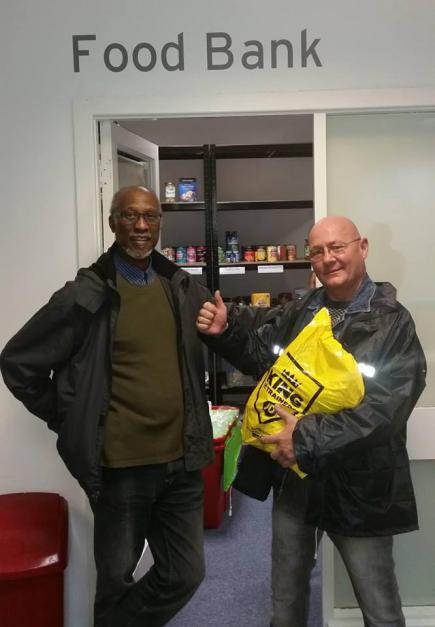 PRACTICAL NEEDS: The Life Centre works to help those most vulnerable
"Where we are in the city centre we can literally see homelessness around us," he told MM.
"We're in the red light district, the prison is over the road, and we just don't want to be the kind of people who sit there with this all around us and not do anything about it.
"So we started the Life Centre, which is a bunch of interconnected projects designed to meet the interconnected needs of the city."
One such need is to combat ever-increasing food poverty.
The Trussell Trust states that in 2014/15 over one million people were given three days emergency food in the UK, compared to around 340,000 two years earlier, while the North West has the most recipients of emergency food in the country.
To meet such high demand, the Manchester Life Centre took part in the Great Manchester Run last May, spreading awareness of Feed the 5000 and raising £7,500 for shelving, training and food supplies.
There's no doubting the centre's ambition.
Feed the 5000 delivered 142 Christmas hampers in December after setting an initial target of 100, while its Job Club and One Way Out programmes help those in poverty find work and – with the latter – a route away from reoffending for ex-prisoners.
Mr Anthony accepts that working with the Category A HM Prison Manchester (formerly known as Strangeways) is a 'serious business', but is confident the centre can make a positive impact.
"We'd like to do a number of things in connection with the prison, and One Way Out is the top end of that," he said.
"The Job Club is open to anybody, and there's a crossover between people who come to us for the food bank, people we know in the general community, and people who have been released from prison.
142 hampers delivered at the end of 2015 https://t.co/Ze3gKaTjxz pic.twitter.com/UpN1Nmvnpc

— ManchesterLifeCentre (@MCRLifeCentre) February 5, 2016
"If you can help people get back into work, it obviously reduces the need for a food bank, it reduces the chance for reoffending and it generally improves people's lives."
The centre was inspired to help reoffenders after the Government announced its Transforming Rehabilitation programme last February.
What particularly resonated with Mr Anthony was the criteria named that can contribute to a way out of reoffending for ex-prisoners – notably the feelings of hope, motivation, and being believed in.
"We want to create a community," he said.
"It's not just a bit of information or a bag of food, there's a community atmosphere.
"Some of the people who come to the food bank have started helping the other people, it's something they can get involved in, and give back in society.
"The Job Club can help them set up an identity that is separate to anything that may be criminal for anyone that's coming out of prison, and crucially for anyone to give hope moving towards employment."
The needs of Manchester are placed at the heart of everything the centre does.
Official estimates state that homelessness in the city has increased ten-fold since 2010, while around 38% of children in Manchester live in poverty.
Mr Anthony accepts that even with the help of organisations such as Christians Against Poverty, it won't be easy to reduce Manchester's poverty.
@MCRLifeCentre doing a great job keep it up guys pic.twitter.com/63SZu8GD6S

— Rainbow Surprise (@surpriserainbow) December 22, 2015
"We don't want to reinvent the wheel unless there's a gap, we don't want to start something over unless there's a need for it," he said.
"We're pretty enthusiastic but we're also realistic.
"We know that we can't do everything on our own and we know that we won't do everything overnight, but we do want to get stuck in."
With its Feed the 5000 food bank, the Manchester Life Centre is one of hundreds of Christian groups that are taking a lead on tackling food poverty in the UK.
For Mr Anthony, Christianity is now looking at its charitable past in order to take on modern social problems.
"Particularly in the 19th century, if you name a charity whether it's Barnardo's or the NSPCC or whatever, they were probably set up by Christians," he said.
"Churches are now realising that that's how it used to be and they're doing some more of that again.
"From our point of view it's much simpler – we can see the needs and do something about it."
Feed the 5000 runs a weekly food bank every Thursday from 4-6pm. For more information on the centre and its projects, click here. 
Image courtesy of Manchester Life Centre, with thanks