In a former Victorian fish and poultry market on a quiet Northern Quarter backstreet, a Man Met graduate is preparing to launch her debut exhibition.
Taking centre stage, Rosie Booth's mesmerising patterns on paper and aluminium won her Manchester Craft & Design Centre's prestigious MMU Graduate Solo Exhibition Award.
The works, lit from behind using a lightbox and natural light, feature hundreds of tiny holes created through a painstakingly slow and arduous process, which illuminate graceful, sweeping ethereal patterns of light and dark.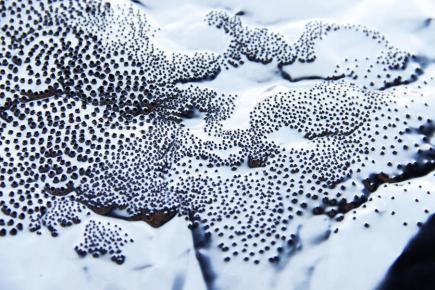 'INSPIRED BY NATURE': Rosie uses a tradtional woodworking tool called a bradawl and a hammer to create the embossed effect
Drawing her inspirations from nature, growth and 'ideas about meditations, distractions and craftsmanship', Rosie's artistic method is repetitive and detailed, requiring hours of commitment and effort.
"Each mark is made intuitively, in response to the one made before it," said Rosie.
"Every drawing represents an altered state of mind, a hypnotic state that I go into when I begin each piece and have an unlimited potential of where the results are often unexpected.
"As I work, I force myself to slow down and consider each moment in the present."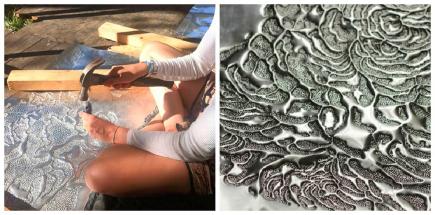 NAIL ON THE HEAD: The process Rosie has to go through to make her aluminium works is time-consuming and intricate
Awarded the prize based on her stunning 'Textiles in Practice' degree show work last year, judges said they were drawn to the way Rosie's work played with natural and artificial light sources using its intricate patterns.
Having spotted Rosie's Attracted to the Light collection at Manchester School of Art's 2014 graduate show, Creative Review's Vicki Smith described it as 'painstakingly delicate' and 'intricate, beyond what some of us might care to believe'.
"Her work uses the simplest of elements; paper and light, and literally does to the viewer exactly what it says on the tin. Like a moth to a flame, you are drawn towards her work," Vicki wrote.

'LIKE A MOTH TO A FLAME': The hundreds of tiny dots give the work its heavenly, ethereal quality when put in front of light
Rosie's prize win included professional development support from the Craft & Design Centre team, promotion of her work through their artistic channels, and the culmination of the project in this final solo exhibition a year after graduation.
Mesmerised by Rosie Booth exhibits at Manchester Craft & Design Centre from tonight until August 30 and will also showcase a selection of Rosie's ink drawings.
A free launch event, part of the one night only Manchester After Hours cultural programme of drinks, live music and 'unusual couplings', will take place at the venue tonight from 6-9pm.
Images courtesy of Ike Walker, Rosie Booth and MCDC, with thanks