As part of Refugee Week, HOME and Community Arts North West (CAN) have collaborated to present Horizons Festival, a full programme celebrating global arts and culture.
Launched as Refugee Week Arts Festival last year, the rebranded festival will showcase the best international talent, challenge stereotypes and unite the diverse communities in Manchester.
According to the study Multilingual Manchester, Greater Manchester is the most linguistically diverse area in Western Europe with up to 200 languages spoken by long-term residents.
The inclusive festival features exhibitions, films, theatre shows, workshops, panel discussions, DJ sets and a club night, as well as free events every night in the bar.
"Both myself, and CAN, wanted to respond to the refugee situation that is always in the news. We set up Horizons as a positive, celebratory and artistic way of responding to that situation," Anne Louise Kershaw, Community and Outreach Producer at HOME, told MM.
"Arts is absolutely intrinsic to social change, which underpins this festival.
"Through the arts, people's eyes are opened to all sorts of ideas and they connect with different experiences.
"All the teams work hard to make sure that the artists we support really do reflect the diverse make-up of Greater Manchester," she said.
Both organisations have a long history of working with global artists based in Manchester. The festival will showcase existing projects and feature several new commissions after a successful call-out to local artists.
"The programming process is a mixture of trying to pick projects that are specifically topical right now –  highlighting a particular issue, practice or culture – and supporting artists with whom we already have established relationships," Anne said.
With a mix of ticketed and free events, the programme matches the paid-for content with a connected free event. The premiere of Sir Pe Talwar, performed by Pakistani dancer Fiza on Monday 13 June, is followed by a free African dance class in the bar.
Sir Pe Talwar, or 'Sword Above My Head,' explores Fiza's personal story of abusive marriages, conservative family life and Yarl's Wood detention centre through dance.
"It could be very sorrowful but it is very tender and joyful – she goes through a lot of emotions and it's wonderful to see her development as a dancer," Anne said.
"It's amazing that people come out the other side of traumatic experiences wanting to make art."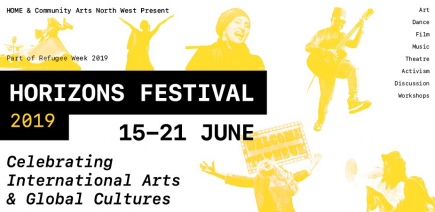 The festival is in support of 'Lift The Ban,' a campaign by Refugee Action to allow people to work while they seek refugee status in the UK. Interactive workshops invite visitors to write postcards to the Foreign Secretary in support of the campaign.
"It's a real balance – the festival is highlighting all the issues around migration but it's also a massive celebration of all the great creativity in this city," Anne said.
"I think that people getting together to celebrate and break down cultural barriers is actually very political in itself.
"Some events at Horizons are just beautiful, celebratory, music events while others are very on the nose and direct.
"It is still political and in support of Refugee Week but it's celebrating international arts and global cultures."
Despite remaining an inherently political festival, Horizons has rebranded to a celebration event after an artist consultation last year.
"Some people feel like they are just artists and they do not necessarily identify as a 'refugee' artist – I wanted to respect that," Anne said.
"While the festival is still running as part of Refugee Week, it is a bit more encapsulating."
One of the highlights will be 'The Free Association Discussion Group,' a free-flowing discussion on subjects such as home, identity and belonging.
Held last year as part of the Celebrating Syria event, the group provides a safe space for open conversation.
"If you hinge the discussion around the idea of home, you realise how universal that idea is regardless of context. Whether you have fled from a traumatic situation or lived in the same place all your life, everyone has a way of connecting with it," Anne said.
The festival closes with a 'global rave' on Friday June 21, which coincides with the summer solstice.
"It's a nice synergy as Horizons Festival is about political, global and artistic horizons," Anne said.
Horizons Festival will be at HOME from 15 to 21 June.
Image courtesy of Paul McLean, with thanks.