Over the last decade the game of poker has gone from a niche game played in the backrooms of casinos and bars to a global phenomenon.
In fact, today, the game's finest exponents are celebrities in their own right and they regularly win millions of pounds every year at events such as the World Series of Poker.
Part of the reason for the growth of poker over the last few years is the advent of online poker. Giving players an easily accessible, highly lucrative way to experience the joys of bluffing, online poker sites have introduced millions of players to the fold since 2003.
Thanks to new regulated online poker operators offering sign-up bonuses (basically free cash for creating an account) worth thousands, more and more people, including the rich and famous, have been tempted to ante-up in the virtual arena.
Could poker lure Neymar to United?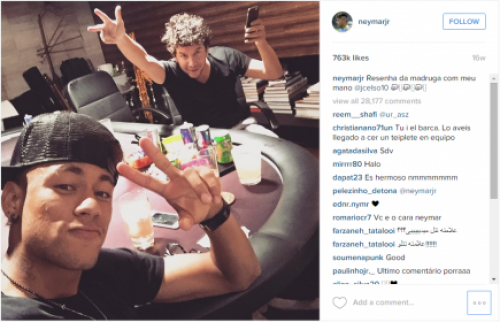 One of the latest figures to join this movement and put his poker face to the test is potential Manchester United target Neymar Jr.
Although the Reds missed out on securing this Brazilian's services before the latest transfer window closed, he will likely remain a target for Louis Van Gaal in the coming months if he continues to bang in goals for Barcelona as he has been doing.
Aside from joining the biggest club in world, why else would the young striker fancy a move to Manchester? Well, if Neymar Jr does ever size up his options and consider a move to Manchester United, he'll obviously have a wealth of cultural sites to tempt him.
However, it could be the city's affinity with poker that ultimately leads him to make a move from the Med. Neymar Jr recently shared his love for the game with the world via his Instagram account and now he's become something of a poster boy for poker/football relations.
Poker, Manchester and United's finest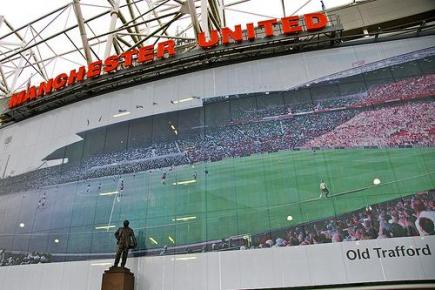 LEGENDS: United stars past and present enjoy a game of poker (Pic: Paolo Camera, with thanks)
So why is Manchester a hive of poker activity? Through a combination of live and online exploits, Cottonopolis has become something of a home for poker in the UK in recent years and, because of this, many of United's greatest players have fallen in love with the game.
From defensive stalwarts such as Dennis Irwin and midfield maestros such as Lee Sharpe, to striking sensations such as Teddy Sheringham, United's finest have all ante-up in the name of fun and profit.
Anyone with an interest in football will know that many teams have tales of away day games of cards on the bus journey home.
Acting as a distraction from the game and a way to get one up on teammates, impromptu games, including poker, have long been a staple of the football world.
However, some of the sport's leading players have gone above and beyond these friendly games and taken their interest in poker to a whole new level.
Sheringham takes on the poker world
Of the trio named, it's Sheringham that's had the most success at the felt. In between the end of his football career and his new role as a coach, Sheringham actually sat down alongside some of the leading poker players in the world on the professional circuit.
Travelling around the UK, Europe and the US in search of success, Sheringham found he had a knack for the game.
Sheringham's competitive spirit combined with his understanding of body language allowed the former Red Devil to gain an edge over opponents and go deep in a number of tournaments. Indeed, regardless of whether it was the European Poker Tour (EPT) or the WSOP, the former United striker managed to outlast many of the world's top players and bank some serious cash.
Arguably Sheringham's biggest win was at the 2010 EPT Vilamoura event. Risking €5,300 (£4,000) to compete against the best in Portugal, Sheringham was able to outlast more than 375 players to earn a place at the final table.
Although he was unable to win the event outright, he did bank €93,121 (£67,850) for his fifth place finish.
A budding poker pro
As we've mentioned, anyone that follows Neymar Jr's life on social media will know he's also something of a poker player. Like Sheringham before him, Neymar Jr appears to be a footballer that's been bitten by the poker bug.
If this is the case, then it could be yet another reason for the forward to leave Spain and head over to the UK.
Aside from joining the long established trident of tradition between Manchester, football and poker, the city could be ready to welcome a new casino. Recent reports have suggested that Israeli billionaire, Teddy Sagi, the man behind online poker developer, Playtech, could be looking towards Manchester for his next development, after recently opening of a new UK-only regulated poker room.
A history of football to poker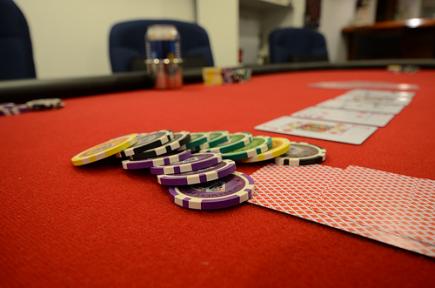 HIGH STAKES: Footballers have always been keen on the poker table (Pic: Slgckgc, with thanks)
Aside from Sheringham showing that footballers make solid poker players, a slew of additional stars have carved out reputations for themselves in the world of betting and cards.
Former United forward Cristiano Ronaldo is a keen poker player, as is Jan Molby, Thomas Brolin and Tony Cascarino.
Each managing to take on some of the finest bluffers in the world and hold their own, the football-to-poker converts have certainly shown that the competition doesn't end when they leave the pitch.
However, when it comes to poker greats from the football world, Sheringham is by far the most accomplished. In fact, such is his prowess that he still plays in some of the biggest cash games in the UK.
Although kept away from the prying eyes of the general public, these games aren't easy to beat; however, if reports are to be believed, then Sheringham has thousands of pounds at the felt.
Manchester's thriving live and online poker scene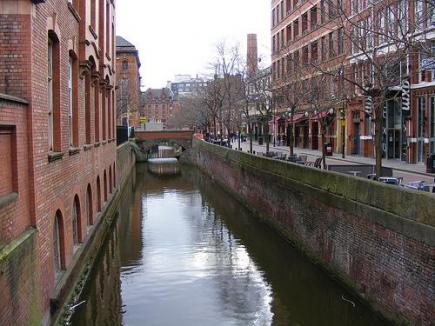 SCENE: Manchester has a thriving poker scene (Pic: Pimlico Badger, with thanks)
Although nothing more than speculation at this point, Sagi is supposedly looking at the development of a new land based casino in Manchester. If this turns out to be true then Neymar Jr would have a shiny new place to test his poker skills.
Obviously, even if Sagi doesn't make a move to Manchester, Neymar Jr would still have the pick of local casinos, including the famous Manchester235, but a new complex built by casino magnate Sagi could be another incentive for the talented striker to join United's setup.
Naturally, for any of this to happen Barcelona would need to agree terms with United and the player himself would have to commit to the deal. However, if he does decide to make the move, then it would certainly add another wrinkle to the poker/football tapestry Manchester has woven over the years.