It was announced yesterday that Alan Rickman died of cancer at his home in London surrounded by his family, aged 69.
Born in Hammersmith, London in 1946, he was a late-comer to acting. He attended Royal Academy Dramatic Art (RADA) in 1972/74 and worked minor rolls with the Royal Shakespeare Company (RSC) in the late 70s.
By the mid-80s he was a stalwart of the RSC, and then a legend of cinema with his performance as Hans Gruber in 1988's Die Hard.
His work in theatre in the 1990s was outstanding, particularly in Hamlet in 1992 and Anthony and Cleopatra in 1998, yet they are largely forgotten, due to the poor reviews of the shows overall.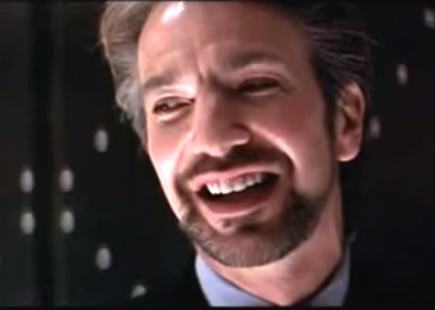 HANS GRUBER: Rickman's famous antagonist in Die Hard (© 20th Century Fox)
Similarities can be drawn between Rickman and David Bowie who died earlier this week. Both were 69 at the time of their death, both fell victim to a dreadful disease, and both will inspire many generations to come.
Just as Ziggy Stardust is timeless, so too is one of Rickman's characters, Professor Snape. The professor from Harry Potter has become a transcendent role which endeared him to a new generation and will keep his legacy alive.
There is a meme doing the rounds on social media that has Motorhead frontman Lemmy, Bowie and Rickman with their middle finger in the air. Three irreplaceable talents, all killed by one terrible disease.
He was the anti-hero to end all anti-heroes, the perennial bad guy, with an ability to turn the audience against him in whatever film he was in, be it Rasputin or Love Actually, and he will be sorely missed.
Yet it isn't just his talent which was praised.
Tributes poured in for the actor and director from those who worked with him.
Emma Thompson, who played his wife who he nearly cheated on in Love Actually, said: "What I remember most is his humour, intelligence, wisdom and kindness.
"He was the ultimate ally. In life, art and politics. I trusted him absolutely."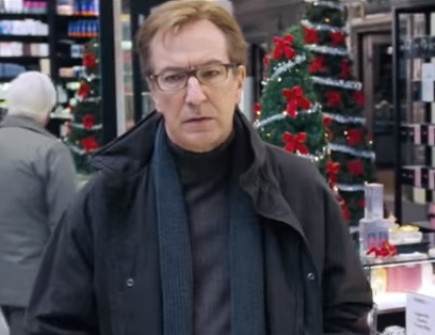 DIRTY HARRY: Love gets in the way for Alan in this Christmas cracker (© Universal Pictures)
Ian McKellen, who played Tsar Nicholas in Rasputin, regaled a story of the film saying that Alan successfully protested for the film crew to get the same lunch as the actors, such was his concern that everyone was equal.
Patrick Stewart, who worked with him at the RSC's production of Anthony and Cleopatra in 1978 said:  "Perhaps our most distinctive and unique stage and film performer.
"His world-weary tolerance of those around him stays with me vividly. He is irreplaceable."
Perhaps the most touching was Danielle Radcliffe's tribute that described Rickman as 'extremely kind, generous, self-deprecating and funny'.
"Film sets and theatre stages are all far poorer for the loss of this great actor and man," he said.
To celebrate his life, MM decided to choose our five favourite films that he appeared in. It was a tough call, but here's what we came up with.
 5. Sweeney Todd
A curveball choice, perhaps, but this is the best chance to see Rickman in a musical.
In this film Rickman plays Judge Turpin, and sings the best song in the whole musical in 'Pretty Women' with Johnny Depp.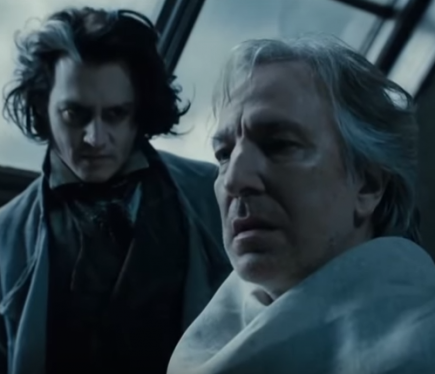 JUDGE TURPIN: Rickman with Johnny Depp, getting a shave (© Warner Bros)
The scene is excruciatingly brilliant, with Todd wiping a blade dangerously close to Turpin's neck during the shave.
4. Rasputin
"He could preach the bible like a preacher, full of ecstasy and fire, but he was also the kind of teacher, women would desire."
So said Rickman's character in the film, but The Golden Globes obviously agreed, and in 1996 he won the Best Actor for playing the imperious Russian monk.
 He also won a Primetime Emmy Award, Screen Actors Guild Award, Satellite Award for the role.
 In short, he was really, really good in it.
3. Harry Potter
The role that added a new generation of fans to Rickman's CV, as the stern potions master who is in love with Harry's mum the whole time. "Always."
Find someone in this world who didn't well up when they watched that for the first time.
He won an MTV Movie award for favourite fan portrayal for Snape in Deathly Hallows Part Two in 2011.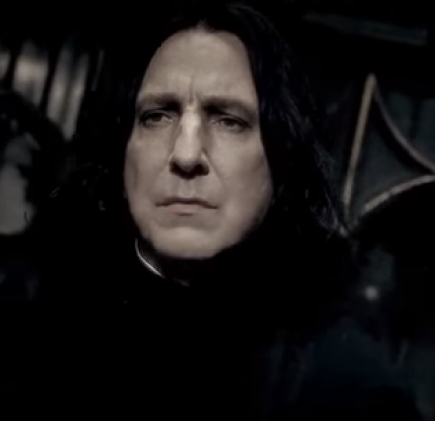 PROFESSOR SEVERUS SNAPE: The antihero/antagonist/hero/legend himself (© Warner Bros)
2. Love Actually
How could you, Alan? How could you possible do that to Emma Thompson?
I don't think anyone was able to listen to Joni Mitchell in the same way after that scene.
Still, it showed Rickman in the similar vain to Snape – a bad guy who makes the right choice in the end.
1. Die Hard
Don't pretend you don't like Die Hard. I don't want to hear it. Everyone loves Die Hard.
The dialogue may not be great, the accents are frankly ridiculous, but you love it for all those faults.
There's a moment in the film when Hans Gruber says: "And when Alexander saw the breadth of his domain, he wept, for there were no more worlds to conquer."
A fitting tribute to Rickman. The man who conquered stage and screen, period and fantasy and adult's and children's hearts alike. 
Image courtesy of The Tonight Show, via Youtube, with thanks