The idea that 'a woman's work is never done' is a concept that I'm sure many can relate to.
In this day and age perhaps it's more appropriate to say that a person's work, regardless of gender, is never done as men don their aprons and chip in with the housework.
And now a female artist and former care worker has responded to the notion that so-called 'women's work' is light and easy by stitching callouses, lines and rough patches into her hand.
Eliza Bennett, 33, has breathed new life into the term 'hand embroidery' with her eye-watering project  A woman's work is never done.
Listing the component parts of her work as flesh and thread Eliza painstakingly highlighted rough patches onto the palm of her hand and her fingers using an embroidery needle and silk threads to create the appearance of a work-worn hand.
"The title of the piece is meant ironically, to highlight our tendency to ascribe genders to particular roles and activities," the London-based artist explained.
"Some viewers mistake the piece for a feminist protest, but I don't think of it like that, it's about human value.
"After all, there are many men employed in caring, catering and cleaning – all jobs which is invisible in wider society and traditionally considered to be women's work."

EYE-WATERING: Eliza stitching into her hand using embroidery silks
Eliza created the piece back in 2011 but it's only now, three years on, that her piece is being recognised, with emails of support flooding in from across the globe.
She said: "When I left university I was very disillusioned by the fashion industry and, because I did my degree in art, I was a bit stuck about where to take things.
"I worked in the care sector for two-and-a-half years as a gap between leaving university and what I was doing next and that experience left an impression on me.
"I am aware that families put relations in care for all sorts of reasons and I'm not criticising them for making that difficult and often necessary decision.
"But I get so frustrated when I hear one-sided reports demonising carers for the incredibly emotionally and physically-challenging work they do.
"If there is truth in the saying 'you get what you pay for' then is it any wonder that there are people employed in caring roles that are not fit for it?
"We would do well to remember the countless others providing the best support and care they can under the exhausting circumstances of understaffing and low pay.
This experience, coupled with reading the Polly Toynbee book Hard Work: Life in Low-Pay Britain, reinforced the disparity between people working in those kinds of jobs, the pressures and the dreadful pay rates and compelled her to undertake the work.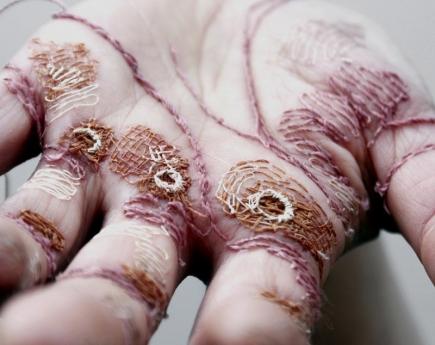 OUCH! Sore-looking callouses, rough patches and lines sewn into skin
The process itself took many hours and was completed over two days in order to produce the attention to detail.
"I hadn't felt squeamish while doing it, it's not painful as it's just under the couple of layers of skin, it was only when I finished and it was done that I thought 'actually this feels really horrible', the Midlands-born artist revealed.
"It was very frustrating, simple things like washing my hands became really difficult. I couldn't wait to get it out and spent hours unpicking it using a very thin embroidery needle."
Her family and friends had mixed responses to the work, but Eliza insists that she didn't do it for shock value – merely to create a dialogue with the viewer.  
She said: "I'm aware that often my intention for the piece is overlooked, that of applying a 'feminine' technique to create a work-worn unsettling piece, and it appears to have been received by some as a form of egocentric self-harm.
"This troubles me, as much as it makes me laugh. In terms of self-harm I wonder why when we modify ourselves to fit an idea of accepted beauty it's ok, but such strong reactions abound when a modification that is outside of accepted norms occurs.
"Why do people feel the need to validate their reactions by making assumptions, rather than questioning why they are reacting that way?"
Eliza admitted she gets uncomfortable talking about these issues as she's not qualified to, either within the care or art industry, but feels she can respond to things that move her and things she wants to talk about through her artwork.
"It makes a really bold statement and it's nice to see that the piece has opened up that dialogue that I was just having with myself.
"I've had comments from as far away as Palestine which have all been really encouraging. I'm sure there are negative comments out there but I haven't spent any time looking for them, saying that I'm sure some people will think it's pointless!"