Manchester certainly seems to have the monopoly on the cutest pets in Britain.
Here in the MM office we've been going weak at the knees for the city's most adorable animals.
We've 'awwed' over the prettiest pooches, the cutest kitties and every other conceivably gorgeous animal in between.
But now the wait is over – the votes have been cast and totted up and we can now announce that the winner of Manchester's Cutest Pet 2014 is… Frank!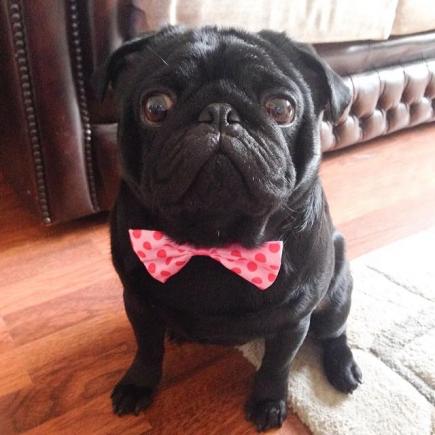 WINNER TAKES IT ALL! Frank scoops cutest pet accolade
This debonair dog snatched victory from the jaws of defeat and represented all pug-kind with his dashing good looks, mischievous personality and heat-warming tale.
Frank beat off stiff competition from the likes of ball-fanatic Misty, dubbed Mistyano, super pooch Karl and French Bulldog Maurice.
Not to mention Manchester's own Grumpy Cat Nelson, fluffy-faced guinea pig Burt and city-living rabbit William.
Three-year-old 'cheeky chappy' Frank who sports a glossy mane, and the occasional bowtie, raised the spirits of owner Nicola Sharrock who bought him while she recovered from a heart attack at the tender age of 23.
And just like Woody is Andy's faithful companion in the Toy Story trilogy, so too is Frank to Nicola.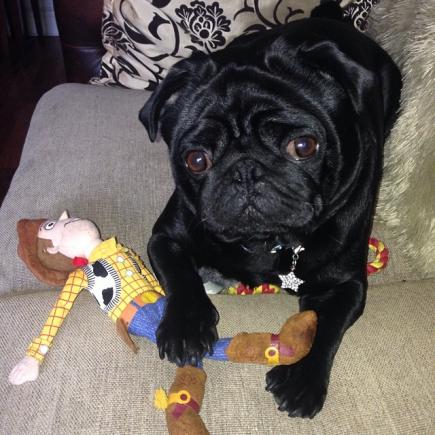 YOU'VE GOT A FRIEND IN ME: Frank's personality matches his looks
He loves attention, is a huge fan of kisses, 'tickly bellies' and, of course, chomping on treats, though that's when he's not sneezing in your cup of tea when you're not looking!
Frank has managed to bag a photo shoot and a free large canvas courtesy of Robert Ashton Photography who specialise in 'capturing memorable portraits of your beloved pets'.
The Manchester snapper produces 'wonderful mementos to cherish forever', ensuring your pet's character shines through.