Ahead of plans to force slaughterhouses across the country to install CCTV cameras, the campaign leader of the UK's largest Animal Rights group has spoken out on the issue.
WARNING: Graphic images and video content below.
Kate Fowler, from Animal Aid, started a petition on the government's Number 10 website supporting the proposal after the group obtained footage of workers kicking, punching and beating animals, burning them with cigarettes, and cruelly mishandling them.
A total of 36,000 signatures have already been obtained, and the issue will be considered for debate by the Backbench Business Committee if that figure reaches 100,000 by June next year.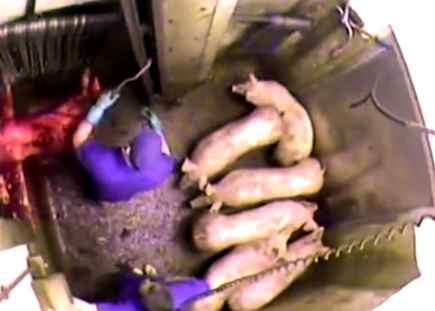 'SADISTIC ATTACKS': Footage caught slaughterhouse workers kicking, punching, beating and burning animals
"Anyone caught abusing animals should be fired, have their license revoked permanently and be charged with a criminal offence," Kate told MM.
"We found that abuse and cruelty inside slaughterhouses is rife and it is up to all of us to speak out and demand better protection.
"We must insist our elected representatives act on behalf of vulnerable animals. Signing the petition will help end deliberate sadistic attacks inside slaughterhouses."
The campaign group also recorded barbaric footage of animals being improperly stunned, coming round again and suffering painful electrocution instead of being sedated.
Between 2009 and 2011, the group secretly filmed inside nine randomly chosen UK slaughterhouses and found eight of them were breaking animal welfare laws.
The on-site vets did not see or report any of the breaches.
"Initially, the Government did not know what was going on because the current regulatory regime does not work, but now they do know the level of illegality and cruelty, there is no excuse for not acting," Kate added.
"The problem may lie in the fact that the same government department is charged with promoting the industry as well as regulating it, which is a real conflict of interest."
John Leech is one of 159 MPs supporting the initiative after the three-year investigation by Animal Aid, which revealed widespread breaches of welfare laws.
The Withington Lib Dem MP Leech said: "I support Animal Aid's campaign for mandatory CCTV in slaughterhouses.
"Big supermarkets insist on it, the Food Standards Agency supports it and it is absolutely necessary to ensure the highest standard of animal welfare and protection."
In a 2014 YouGov poll commissioned by Animal Aid, 76% of British adults supported CCTV being made mandatory in all UK slaughterhouses (with independent monitoring of the footage).
When taking into consideration only those who expressed a view, that figure rose to 87%.
In response to the petition, the Government said: "The Government encourages the highest standards of welfare at slaughter.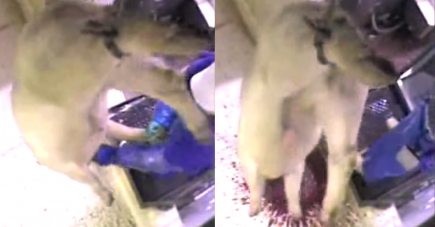 VERIFICATION TOOL: CCTV may not be enough to prevent animal cruelty in slaughterhouses
"Some of the undercover evidence has been gathered in premises which already had CCTV which implies CCTV may not be an effective monitoring tool though it could be helpful as a verification tool for audit purposes after a welfare breach has taken place in a particular slaughterhouse.
"The Government is not convinced of the need for further legislation at this time but will be keeping the need for CCTV under review in the context of the new monitoring requirements required under Regulation 1099/2009 which came into direct effect in January 2013."
You can visit the petition here.
Images and video courtesy of Animal Aid, via YouTube, with thanks.