Most of us will find any excuse not to exercise, be it we're tired, we don't have time or simply can't be bothered.
But for 39-year-old Ben Wimbush – the brains behind the #20isplenty campaign now trending on social media – nothing will stop him from a daily work out. Not even a spinal cord injury that has left him paralysed from the chest down.
Ben, who is originally from Sussex but now lives in Manchester, loved football and cross country growing up, and remained fit and active as an adult.
That was until one day in 2011 when he broke his neck in a devastating trampoline accident that left him with life-changing injuries – only 12 months after getting married and hoping to start a family.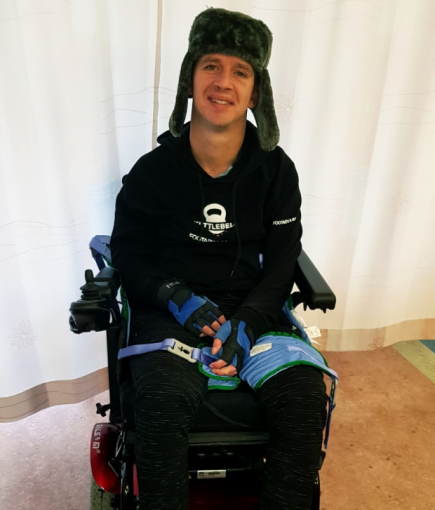 A 'CALLING': Ben Wimbush says he feels empowered by raising awareness about the benefits of exercise, calling the NHS winter crisis 'scary stuff'
Despite losing all independence and being told he would never walk again, Ben considers himself to be 'really lucky'.
He told MM: "Every spinal cord injury is different, so [the hardest challenge] was not knowing what was going to happen next. You lose all of your independence, you have to just accept people are going to be doing everything for you.
"But when you've sat in a spinal unit and looked at other people who can't breathe on their own, itch their face or blow their nose and you can… I can't justify not being grateful.
"Eventually you've just got to deal with it head on."
Determined to stay fit and healthy, Ben fought for three years to get funding for a Functional Electronic Stimulation (FES) bike – a vital piece of equipment that would allow him to do cardiovascular work outs.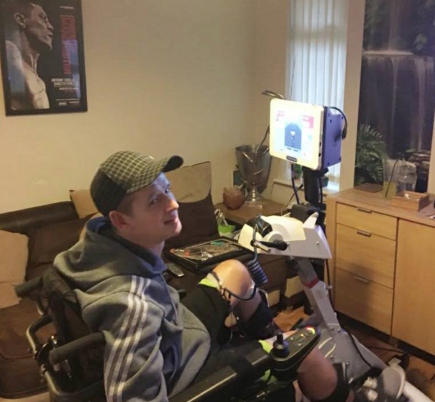 PURE GRIT: Ben broke his neck in 2011 in a trampoline accident but has fought hard since to get a £20,000 bike to keep him active
It was the struggle to get his bike that inspired Ben to launch 20isplenty – a social media campaign to encourage people to exercise at least 20 minutes a day to improve their mental and physical health.
He said: "I have to go and get strapped to a bike that cost £20,000 and took three years to get funding,  just to do something everyone else can do by just going, 'I'm going to get up and go for a walk.'
"You don't walk around every day as a human being going 'Thank God I'm alive, thank God I can breathe, thank God I can walk'. You just take it for granted.
"When it's taken away from you, that's when you realise we don't know what we've got until we haven't got it."
Ben explained 20isplenty is not only about exercise, but also includes taking 20 minutes a day to relax and 20 minutes a day to eat well and socialise with other people.
Although he started using the hashtag last year it's really taken off this month, with people all over the world from Texas to Singapore using it as a way of sticking to their New Year goals of being more active.
Exercise and a little run today. Not quite fit so my muscles are #FeelingTheBurn however so worth it!!  #20isplenty #ExerciseIsMedicine @benwimbushSCORD pic.twitter.com/9qWIMkWcf7

— Jenna Miles (@JennabeanMiles) January 14, 2018
#20IsPlenty #PhysicalActivity & #MentalHealth  #HerveyBay #Queensland #Australia @benwimbushSCORD #Sailing #beach pic.twitter.com/5tUPEpP9bg

— Nichola L Stephenson (@nickystevo) January 12, 2018
Ben, whose own battle with depression has been eased through exercise, says the campaign has allowed him to connect with other disabled people to share work out tips, and has also motivated others with mental health problems to get moving.
One woman who suffered from Agoraphobia told Ben she decided to go to the shops after reading about the campaign, whilst another with similar injuries to Ben said it motivated her to continue with physiotherapy after feeling like giving up.
"It started as a way of inspiring myself," Ben said.
"But from doing 20isplenty I've realised there are people all over the world who need a little motivation and a little community spirit.
Ben in life we all have hard&difficult times;my mom and I were born in a favela in Brazil a poor dangerous place without hope no opportunities no future if we did the impossible you can do it .
you inspire us keep fighting give up is not a choice . https://t.co/aAkwNiXZo7

— DiegoCosta™ (@DynamiteCosta) January 15, 2018
​"What I try and show is that any life changing situation is the same. It doesn't matter whether that's losing your legs or your Mum passing away. If anything in life happens where from that second it will never be the same again, you've got to understand that that's a life changing situation, not a life ending one and you've got a choice.
"Are you just going to lie down and let it take you or bite back and realise that nothing's forever and in your head? Although I'm physically disabled forever every day I'm finding ways round that."
Since his injury, Ben, an avid boxer, has met and trained with famous sports stars including the Smith brothers, Anthony Crolla (main picture, left) and Tasha Jonas. He has also has been swimming in Barcelona and has taken up obstacle course racing.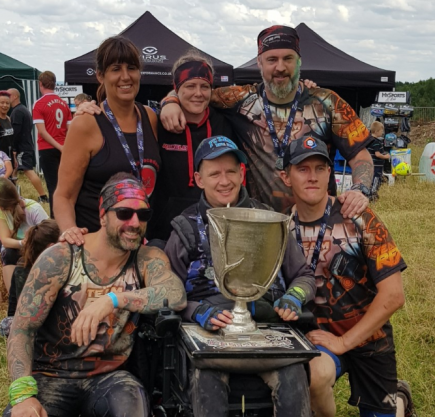 MAN OF MANY TALENTS: Aside from campaigning for #20isplenty, Ben has also taken to events such as obstacle course racing
He said: "There are some people in the world who make things happen. I've been forced to put myself in that bracket otherwise I'd just be sat in my bed doing nothing."
Despite the international success of 20isplenty, Ben says what he really wants is for the campaign to go national, believing it could ease pressure on the NHS by encouraging others to see exercise as a form of medicine.
Ben, who faced a four-year battle to get a new wheelchair after the one provided to him gave him pressure sores, said that up until recently he didn't mention politics in his public speaking, but that the NHS winter crisis was 'scary stuff' which he had 'no choice' but to address.
For him, as well as 'consistent underfunding,' one of the biggest problems with the NHS is that mental and physical pain aren't being taken into consideration by patients who experience long waits for counselling and cancelled operations.
He said he hoped 20isplenty could offer some condolence to those people, as well as providing a solution for how we, as a society, could help make the system 'run as smoothly as possible'.
He added: "We should be taking an hour on average a day to make sure physically we're right and mentally we're right. That helps us in the short term and in the long term releases pressure on the NHS."
20 may be plenty for exercise but there's no limit to Ben's positivity and inspiring campaign work.
As well as 20isplenty he runs a Facebook page and Vlog to raise awareness about Spinal Cord Injuries and issues faced by people with disabilities.
He's also running a Gofundme page to raise funds for a new wheelchair that will allow him to stand, and intends to write a book documenting his life since his accident.
"I just feel fortunate that I've not got the head injury and I've got an education. I'm the type of person who should be raising awareness – it feels like it's a calling," he said.
"I have a much more interesting life than I ever had before."
Find out more about #20isplenty by following Ben on Twitter or liking his Facebook page Ben Wimbush SCORD