Ask a random person to describe burlesque dancing, and after a short giggle, they'd probably come up with a mangled picture of musical theatre and stripping.
In many ways, burlesque might be one of the most misunderstood forms of entertainment.
It has come a long way from grotty smoke-filled underground clubs, and Manchester is now set to further inspire that revival as it hosts Burlesque Idol.
As the UK's biggest burlesque competition, it seeks to discover the new Queen of Burlesque, and for the first time, Manchester will host a heat at the Dancehouse on July 30.
Tempest Rose runs House of Burlesque, the UK's foremost burlesque company which produces the competition, and for her, this tour marks another important step.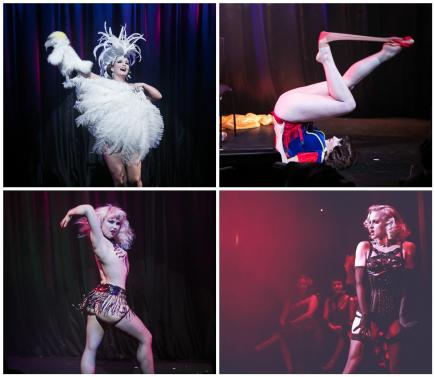 ART FORM: Tempest describes burlesque performance as 'liberating'
"For a long time, the perception was that burlesque was a better dressed version of what went on in a strip club," Tempest told MM.
"It's really important to remind people that this is an art form with its own rules and its own techniques.
"When I started nine and a half years ago, with no competitions like this, it was a constant battle to justify why burlesque should be considered artistic entertainment.
"Now, very rarely does someone expect me to justify why burlesque should be in a theatrical context, and that is really wonderful."
Burlesque Idol, now into its seventh year, is being taken on the road for the first time, with heats in Glasgow, Manchester, Southampton and Cardiff before November's grand final in London. 
With around eight acts per heat, and very few stipulations, it all adds to the sense that this is an organic industry that is moving with the times.
In much of the promotional literature, and indeed, during the course of our chat, the word 'empowerment' comes up a lot. Burlesque? Empowering? Really?
"It's one of the only spaces where women are allowed to dictate how they present themselves as sensual beings," explained Tempest, who produces, judges and comperes the show.
"The individual performer is their own director, their own producer and creator, and that's quite liberating.
"The fact that it tends to be mostly performed by women, and there is the striptease aspect to burlesque bringing it all together, is why people use that word a lot."
While Tempest is practically burlesque royalty, having performed at the Burlesque Hall of Fame in Las Vegas, Cheshire's Carmen Mi Amor is just starting to scale the ladder.
Carmen, who will perform in the Manchester heat, has been in performing arts for 20 years, but only took the plunge and tried burlesque in late 2014.
"My manager where I used to work was putting on a cabaret night – I'd always been interested in burlesque, and I decided let's do it, let's bite the bullet," Carmen, 28, told MM.
"Before I did it, I was absolutely petrified, but it is the most empowering feeling I've ever felt.
"The audience are electric, they're cheering you on, they love what you do, it's something you've created, you've done the routine and you've picked the costume.
"You're taking your clothes off but you've never felt more powerful – it's a great feeling.
"I felt like I'd found where I belonged, I was trying to find an avenue that accepted me for who I was, physically and in terms of my crazy ideas.
"Burlesque had both doors open, the kettle was on and it was saying 'come on in honey, you're welcome here!'"
To the uninitiated, burlesque might still seem like posh stripping, with very few nuances to differentiate each act, something that Burlesque Idol seemingly dispels immediately.
Whilst Tempest's new act involves intricacies of UV light, Carmen's act – called 'She's All Man' – takes inspiration from the popular era of classic Hollywood.
"Basically I start off dressed as a man – I'm a smooth guy wearing a trilby and a pin-striped suit, and I'm trying to woo Marilyn," she said.
"But then, lo and behold, she's not interested, so I think there's only one thing else I can do – I'll show her my best bits!
"Without spoiling the act, the more I get into it, the more items come off, the more it becomes apparent that things aren't quite what they seem!
"I wish people would give burlesque shows a chance, because you would walk out with the biggest smile on your face saying that is the best night I've ever had."
Images courtesy of Photostorm Photography, with thanks