No woman looks forward to their period, period. Tampon advertisements that suggest women have the time of their life whilst menstruating are selling a warped fantasy – periods are something to be endured not enjoyed.
You grit your teeth through the cramps, try not to snap at everyone around you as your temper gets increasingly shorter, curl up with a hot water bottle and curse your womb's existence.
No period is good. But for women who sleep rough, the homeless period is exceptionally grim.
Give a few coins to a rough sleeper and you assume you're helping them get the bare essentials, food and shelter.
It might not occur to you that for women the bare essentials include sanitary products and if it's their dreaded time of the month, they might have to choose between food and tampons.
Shelters are given a government allowance to buy items like condoms, but still receive no funding for sanitary products.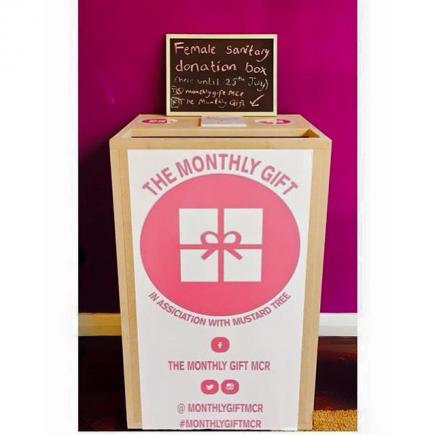 BARE NECCESSITIES: For a woman on her period sanitary items are essential just like food, water and shelte
Charities routinely hand out razors and condoms, but the supply of sanitary products for women is limited as few people think to give these essential supplies when they make a donation.
The reality of menstruation for homeless women is desperate, demeaning and de-humanising.
It was thinking about the practicalities of homeless women's situation that prompted Christina Ward, 22, to start The Monthly Gift, a Manchester campaign that seeks to raise awareness of the issue and increase donations of sanitary products to the homeless and those in need.
Christina told MM: "I was having a bizarre conversation with my friend about girls' time of the month etc and it just came up – what do homeless people do?
"There's obviously a bit of a stigma talking about periods, it can be a bit embarrassing, but I just thought if you don't try and break the taboo of talking about it and you don't bring it up then you never going to solve the issue."
The campaign is being run in conjunction with Manchester charity The Mustard Tree which helps homeless and marginalised people by providing them with food, clothing, training, work experience and enterprise skills.
The Monthly Gift was partly inspired by a national campaign called The Homeless Period, which also seeks to increase donations of sanitary products and is running a petition that has over 100,00 signatures – enough to take the issue to parliament.
Christina contacted shops and businesses across the Northern Quarter about the project and was surprised by the enthusiasm she encountered.
"I literally just talked to them about it, I emailed them, I went in to speak to them I was quite overwhelmed, a lot of the people really wanted to get involved," she said.
"All it takes is one box of sanitary products donated to make a much more pleasant month for one person, a small change can really make a big difference to somebody's day and somebody's month."
Northern Quarter icons such as Bizarre, COW and Nexus Art Café are hosting donation drop off boxes across July and are offering store discounts in exchange for a donation on certain days.
Manchester favourite, Night and Day café is also hosting a charity gig as part of The Monthly Gift campaign, with performances from live bands including Acoustica, Quaintest Show on Earth and The Hotspur Press. Entry to the gig is free if you bring a sanitary donation.
"It's been great to have such a good response from the Northern Quarter, all the bands that are playing at the gig night have volunteered to do it and they're not going to have any financial gain they just really appreciate the cause want to come down and play," Christina said.
Homelessness is a growing problem across the UK according to government statistics released by Homeless link, with a 24% rise across the North West alone.
In Manchester the numbers of recorded rough sleepers rose from 24 in 2013, to 46 in 2014, but the numbers of 'hidden homeless' are estimated to be much higher. 
Christina said: "I've noticed a lot more homeless young people in Manchester and it does affect all ages and that's why the campaign's got so many different layers, the cafe ,the clothes, the music gig to target different ages and different interests to try and get as many people as possible interested in some way.
"It could happen to anyone, it really could. One person I spoke to was telling me he inherited a family business and didn't know how to run it and ended up bankrupt.
"You never know what life's going to throw at you and I think it really will make such a big difference, just people making little changes."
Mostly the people you see around the city sitting on cardboard or wrapped in sleeping bags are men, but charities are reporting that the number of women who are temporarily or permanently homeless is on the rise, with the gender split approximately 50/50 across rough sleepers aged 16-21.
Manchester Action on Street Health which supports female sex workers in Greater Manchester found that 80% of their service users had had no fixed abode at some point, with some women having no fixed accommodation (NFA) for up to 12 years.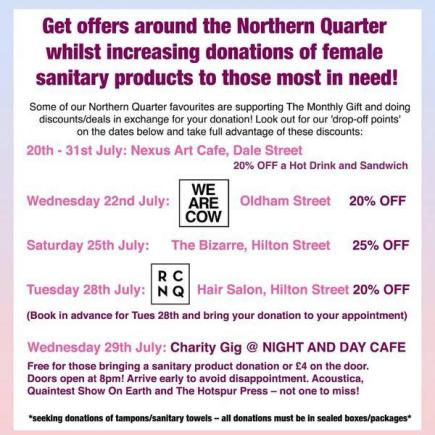 GIVE A LITTLE GET A LITTLE: Venues are Northern Quarter are offering deals if you bring along a sanitary donation
In 2014 a Manchester City Council report highlighted a recent increase in the number of women who are NFA and sofa surfing or rough sleeping in the streets where they work, and identified them as being at an increased risk of harm because of their lack of accommodation.
Although periods have predominantly been an established women's issue, ultimately Christina has hopes the Monthly Gift will inspire an enduring response from all people
"I've been really happy with the male response as well as the female, so it's definitely not a one gender thing," she said.
"The charity helps people in need as well as the homeless and the marginalised, so hopefully it's not just targeting one are or one group of people, one gender.
"Even though obviously the donations are for women and the problem of sanitary products I'm hoping it has a knock on effect in different areas as well."
You can follow and support The Monthly Gift campaign by visiting their Facebook page or following them on Twitter. And you can sign The Homeless Period Petition here.
Main image courtesy of 欠我兩千塊, with thanks.