As the property sector booms, we've been seeing dozens of brand new buildings breathe fresh life into the Manchester skyline.
You can't seem to walk further than a few metres without seeing a shiny new structure slowly taking shape in the distance.
But whilst the likes of Castlefield, Spinningfields and Deansgate have their own set of high-rises creeping up into the clouds, Northern Quarter remains a region that's somewhat adverse to redevelopment. At least, in the conventional sense.
The timeworn buildings in this cultured corner of Manchester might not be making way for glossy new-builds, but they are regularly revamped in their own Northern Quarter-style way.
This is a region that's reinvigorated by artists with spray paint cans rather than builders with cement mixers – and is home to some of the city's most spectacular street art.
New murals are splashed across grubby, forgotten buildings every few weeks, giving NQ a fluid, rich aesthetic that sets it apart from the expanding metropolis on its doorstep.
These paintings can appear or vanish at any given moment, so MM took the chance to venture into town and snap some of the current murals brightening NQ brickwork.
Tony Wilson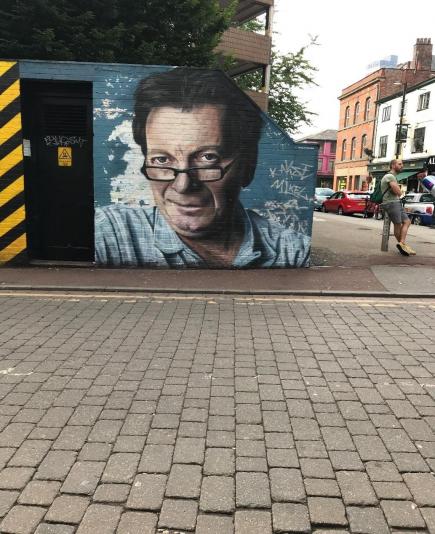 The corner where Tib Street meets Thomas Street has served as a blank canvas for street artists over the past few years, from flamboyant funk superstar Prince to fictional drug kingpin Walter White. But the latest occupant to move in is Mr Manchester himself – Factory Records and Hacienda founder Tony Wilson.
The portrait, etched onto the wall by street artist Akse, appeared earlier this summer, and features the Manchester music mogul gently smiling out onto the street from behind a pair of black glasses.
Serenity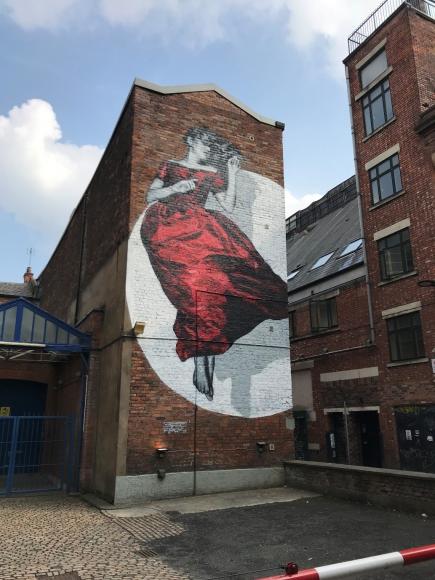 Just off Stevenson Square is the hypnotic work known as "Serenity" – a towering and remarkably beautiful tribute to the Suffragettes, who once occupied the same space a century ago as part of their revolutionary campaign for women's rights.
Created by artistic duo SNIK, "Serenity" is pasted onto the brickwork by Little Lever Street. Featuring a woman standing tall in a crimson dress, it functions as a poignant reminder of how injustice can be fought and overcome.
Blindfolded Child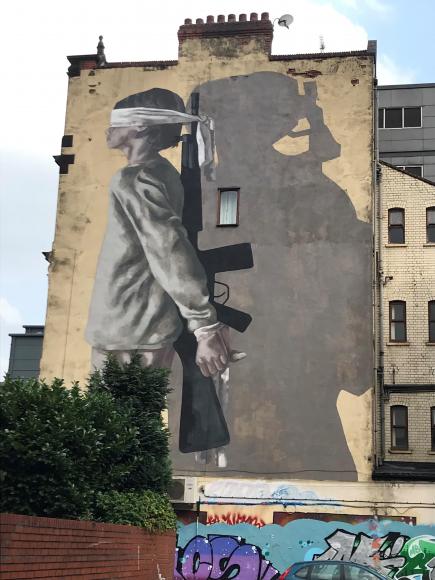 One of the most striking, thought-provoking and affecting pieces of artwork in the entire city, this massive mural is tucked away inside a tiny car park just off Brightwell Walk, and never fails to stop passers-by in their tracks.
The enormous painting covers almost the entire side of one building, and features a blindfolded, handcuffed child, with a machine gun wedged between his wrists and head. Behind the youngster is a menacing, dwarfing dark shadow – indicative of the persistent peril surroundings children in war zones.
The gulp-inducing mural was carved by Argentinian artist Hyuro.
Anthony Burgess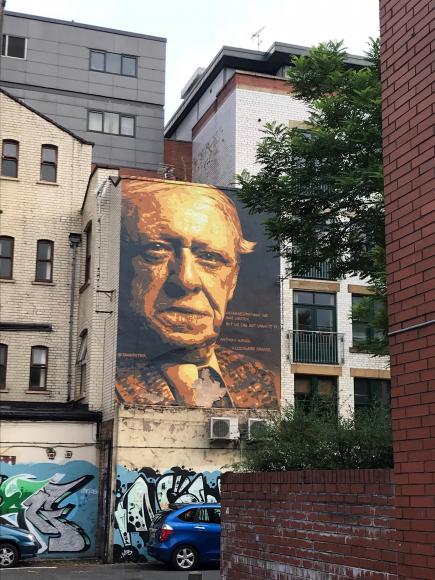 Right next door to Hyuro's masterpiece is another gem – a colossal portrait of A Clockwork Orange author Anthony Burgess.
One of the writer's most famous and inspiring quotes – "We can destroy what we have written, but can we cannot unwrite it" – is scrawled right beside him.
The piece was created by Polish street artist Tank Petrol, who has a number of works running through the spine of Stevenson Square, including the one below: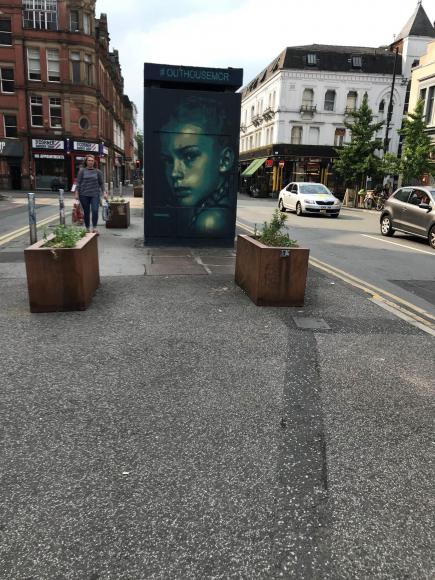 Man on Bar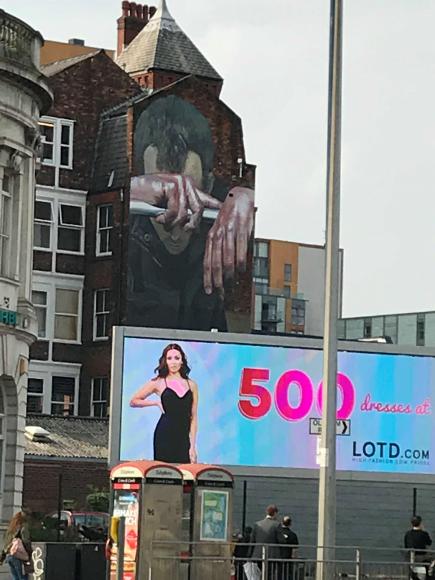 Staring down from the brickwork of Swan Buildings is an emotionally-drained figure, his head resting on top of one hand that grasps a metal bar.
His left wrist hangs limply to one side, and the result is a titanic picture of utter exhaustion.
This moving mural was mocked up by German artist Case and was inspired by a real person – one of the many disadvantaged adults the illustrator is working with charities to help.
Koffee Pot Bees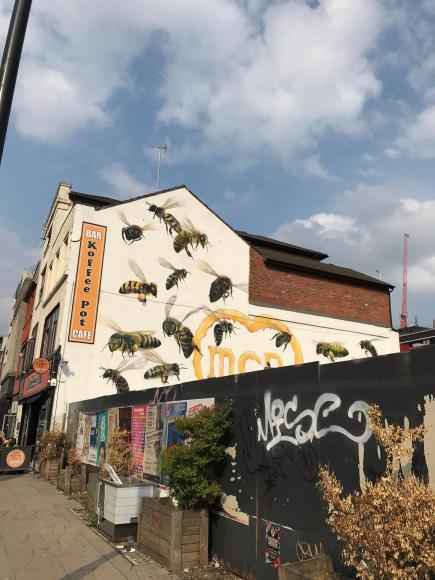 The buzzing gold-and-black insect has become a world-famous symbol for our great city, with bee statutes, paintings and posters sprinkled across Manchester.
But one of the most impressive bee murals of all is plastered on the side of breakfast hot-spot Koffee Pot – with giant lifelike bugs hovering above a honey-dripping heart with "MCR" inside.
The work was created by street artist Qubek and features 22 bees in total – a tribute to those who lost their lives in The Manchester Arena attack.
City In A Bottle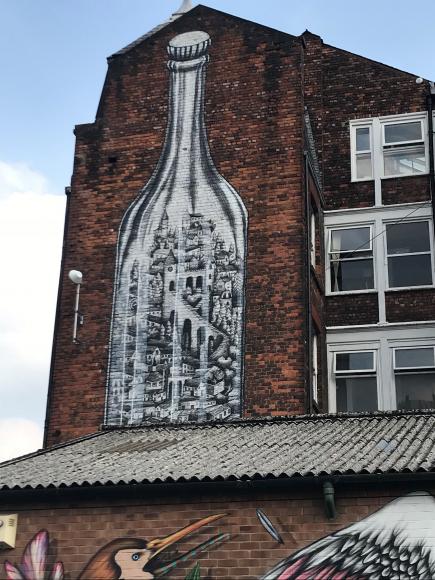 Over the other side of Swan Street is a cryptic but intriguing piece featuring a city in a bottle.
Painted with beautiful black and white strokes, the monochromatic design gives this head-scratching mural extra aesthetic effect against the browny-red brickwork bed on which it lies.
The mural was painted by Sheffield artist Phlegm, and has continued to generate plenty of debate with regards to its motive and meaning.
Tariff Street Man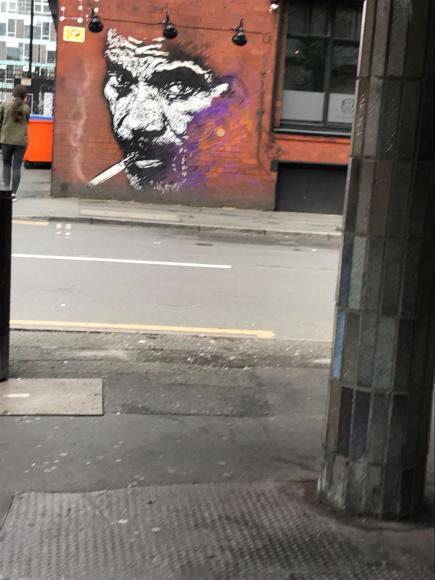 French artist C215 has painted his way across Manchester with a particular message in mind – and one of his most stylish works sits on Tariff Street.
This intense piece is based on an image of a homeless man, his face peeling away into purple strokes as he stares vacantly out from the brickwork with a cigarette dangling from his lips.  
The painting forms part of a larger body of work by C215, who wanted to raise awareness of the destitution still rife in the UK.
Learn more about the Northern Quarter art scene by visiting https://www.citiesofhope.net/.