Elizabeth McKenna's self-proclaimed 'bonkers' mannerisms certainly got her noticed on The Apprentice last year.
With 'feet as big as (her) mouth' Elizabeth became notorious for her madcap antics on the reality TV show. 
As well as her TV popularity, she recently experienced floristry fame as she provided the Duchess of Sussex with a posy on the first public engagement of Prince Harry and Miss Markle in Nottingham.
MM caught up with Elizabeth for insight into her life pre and post The Apprentice, as the 'potty' character reveals the pivotal moments in her life and career that have shaped her success.
"Having an adventure!"
Q: What is your fondest childhood memory of Australia?
Sitting on the balcony, legs dangling with her dog by her side peering out at Lake Macquarie through the Australian heat.
"It's the largest saltwater lake in the southern hemisphere!" she recalls, adding her childhood adventures were all about "roaming out" with nothing but a ball and string along with her pocket knife until the age of 13.
"I fell into it"
Q. When did you know you wanted to be a florist?
"I'll give you the honest answer, I fell into it," she said, adding she dropped out of her veterinary science course and chose to enrol in floristry instead. Then in September 1995 she "fell in love with it" from the very moment she made her first bundle (of joy).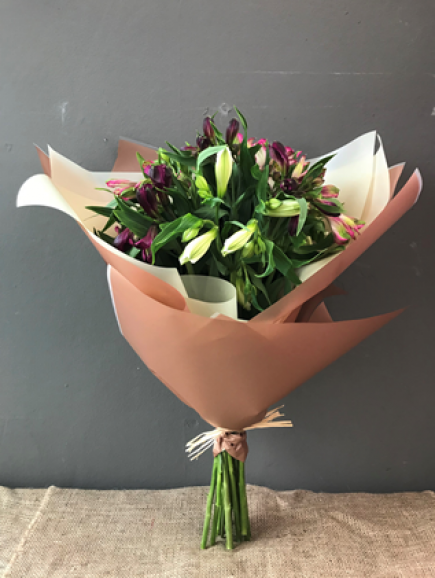 "Oh my God what is happening?"
Q. What is the craziest experience you've encountered at your flower shop?
Surprising as it may seem, Elizabeth couldn't name just one crazy experience in her flower shop Elizabeth McKenna Flowers. 
Elizabeth claims her co-workers make the environment: "When you're under a lot of pressure, you're up to your ankles in flower cuttings and God knows what else, and somebody turns round and says something hilarious… they're probably the best moments."
Elizabeth emphasised the importance of staying grounded, especially under such relentless conditions.
"They literally just blow the place up in hysterics," she said of her co-workers' sense of humour.
"I got the gig! I got the gig!"
Q. Tell us about the moment you found out your flowers were going to be used by Meghan Markle.
"I was actually in London on the Tuesday. I was meeting up with James and Sarah Lynn from The Apprentice. We were walking down the street when I got the call and I just started jumping up and down going 'Yes! Yes!' in the middle of the street. (Sarah) was looking at me like 'Oh my god'. I just kept saying 'I got the gig! I got the gig!'"
"Life is a bit unexpected at the moment"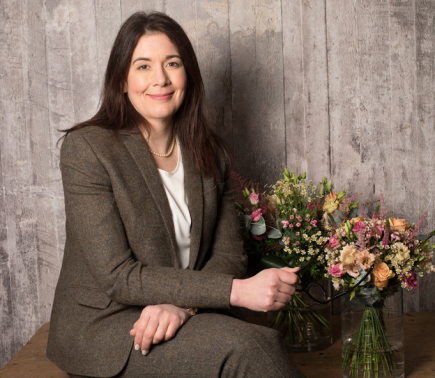 Q. Do you have any future goals, or are you content right now?
The Nottingham-based florist replies: "There are always goals. Building businesses is a key one, continue to build online on Lizzie's Bundles which is doing very well."
Elizabeth's recognizable free and creative approach has also manifested in adulthood.
"Life can be a bit unexpected at the moment and things come up. Things can come along and it's about exploring whatever options come to me as they do and making the most out of every opportunity.
"Then really start to reap the rewards of all the hard work I've been putting out over the past 10 to 15 years."
'Motivational speaker and business woman'
Q. In your opinion, what are the three attributes one must possess in order to become successful?
"Drive and determination, a positive outlook even when facing setbacks and a work ethic."
"It made me look at my life in a very different way"
Q. How do you think your experience on the apprentice has influenced your life?
"It has changed my point of reference for me: 18 months ago I was a very different person than I am now. The Apprentice actually took me out of my life completely, put me into a completely different environment and completely detached me from my normal day-to-day life.
Summer has arrived and we all want some fruit and flowers in our lovely living rooms. But, beware of squabbling children. #toptip flowers and fruit do not always mix. #floristtips #lizziesbundles #lizziestoptips #tradesecrets https://t.co/LrIh7iRHeI https://t.co/N1IdzymCQz pic.twitter.com/m5cQzQAzeW

— Elizabeth McKenna (@Lizzie_McKenna1) June 6, 2018
"When I came back I was very changed. It allowed me to understand what I wanted for my life, my career, my businesses, my family. It actually changed my point of reference. It made me look at my life in a very different way."
Main image courtesy of Ursula Kelly, with thanks.