Viv Anderson, the first black footballer to represent England on an international stage, shares his hope for greater black representation.
In front of 92,000 people, 22-year-old Viv Anderson made history when he became the first black player to represent England in a full international game on 29 November 1978.
The former Manchester United, Arsenal, Sheffield Wednesday, and Nottingham Forest player won his first cap in the 1-0 win against Czechoslovakia at Wembley stadium.
The defender commented modestly about being selected for the starting 11.
He told MM: "It was a matter of being in the squad first and then, if I managed to get picked, that was another achievement.
"I was just happy to be playing with my peers and people I had watched on the television, and now I'm mingling with them, training with them, and they're my teammates!
"It was a great privilege to be involved in the England squad; I didn't think for one minute they were going to pick me!
"There was lots of speculation at the time about whether I [was] going to be, or not going to be, and I was delighted when they said I was going to play.
"I'd been in the under-21s, I'd been in the England B, so it was a natural progression that I go into the A."

FIRST BLACK PLAYER: Viv Anderson playing for England
Brian Clough, Anderson's manager at the time, broke the news that he had been selected, and the club subsequently gave him the letter that they had received from the FA.
Anderson praised the fact that we have now bridged the gap between the number of white and black players.
He said: "When I started, there was only Clyde Best on the television, and then I came along, then Laurie [Cunningham] came along, then Cyrille [Regis], and now we've got to the stage where there are lots of black faces.
"Up and down the country in most teams, there's more than one black face; [that] we've achieved.
"I think the next big goal is to get more managers in senior positions, and I think we have to achieve that [in] the next 20 years so that we see young kids these days saying they can inspire to whatever it may be."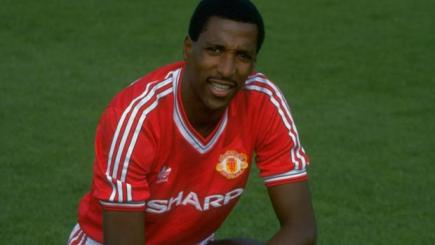 MAN UNITED HERO: Viv Anderson donning the Red Devils' shirt
Anderson did not encounter racism during his childhood and schooling, despite growing up in Nottingham when there were few black faces.
Anderson first came up against this hostility in a reserve match when he was targeted with verbal abuse.
He said: "I had other teammates around me who heard it and dismissed it very quickly, and made me dismiss it very quickly, and just went on with the game.
"It was a matter of getting on with it and making your football do the talk.
"I'd never had discrimination when I was growing up as a youngster; it was only when I went into football and you go to Carlisle, which is right at the top end of the country, and they hadn't seen many black faces.
"It was something new to me that I'd not experienced before."
In his autobiography, First Among Unequals, Anderson recalls home fans throwing bananas and pears at him as he warmed up for a match, playing for Nottingham Forest against Carlisle United, in the mid-70s.
He explained his experience at the time of this incident: "Obviously you are disappointed. First and foremost, my manager at the time made me go back out there.
"Afterwards, he said 'if you're going to let people like that influence you, and what you want to do, you're not going to make yourself a career in football', which I wanted to do, so I took on board what he said and I took that throughout my career.
"It was always about the football and I let my football do the talking, and it turned out to be the case.
"My manager at the time was fundamental in everything; he was the one who picked the team, and if he thought I would be influenced by what people were saying, he wasn't going to pick me.
"So I made sure that things like that never bothered me at all when I was playing."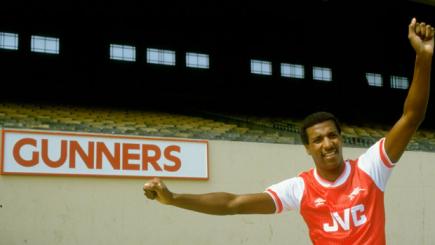 THE GUNNERS: Viv Anderson in a Gunners shirt
Anderson became the second black manager in English football when he was appointed as player-manager of Barnsley in June 1993.
With only three black managers today, the issue of black representation in managerial and senior roles within football remains at large.
When asked why he thought this gap between players and managers remains, Anderson said: "I don't actually know to tell you the truth.
"If you've got the qualifications you need to become a manager, I don't think the colour of your skin should have any bearing on the matter.
"I think it's the owners, it's the people who run football clubs; I think they have to be more enlightened about this multi-racial country we live in.
"And I think we need more role models in senior positions, like managers, to say to other players playing in their league, 'you can go on to achieve this if you dedicate yourself to wherever you want to be'."
He added: "I think nothing's changed. When myself and Keith [Alexander] were managers, there were only two of us, and there's only three now.
"So, in the 20 years since I became a manager, I don't think we've moved on significantly to warrant the state of affairs we're in now.
"You'll have to talk to individual clubs, and individual owners, but I think we haven't moved on in 20 years, and I think it's important that we highlight that problem."
Anderson, who was representing his city and country by the age of 15, was awarded an MBE by the Queen for his services to football in 2000.
He is due to speak in a Q&A session at People's History Museum on Thursday October 15.
Images courtesy of the FA, with thanks.