The first ever hot air balloon flight from Manchester is being commemorated with the display of lyrics from an 18th century ballad at the Central Library.
The 'broadside' is a musical recounting of English balloonist James Sadler's famous flight from Long Millgate to Radcliffe in 1785 – the song lyrics also highlight the danger posed by French soldiers attacking Britain using hot air balloons.
The document is on display in the Wolfson Reading Room as part of an exhibition that includes numerous other artefacts from the archives of the Henry Watson Music Library.
Richard O. Smith, biographer of James Sadler, told MM more about the extraordinary British aeronaut.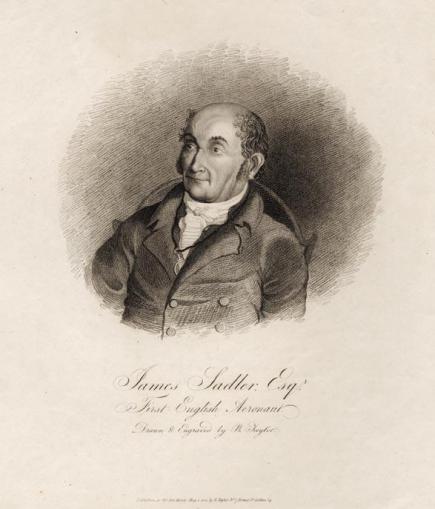 FELINE FINE: It is said eccentric Sadler was joined on his first balloon flight by a cat [courtesy of Richard O. Smith, with thanks]
He said: "Sadler was the very first Englishman to fly. He was a celebrity for fully 50 years and was commemorated in poems and songs fairly frequently.
"He was adored – to the extent that 20-30,000 people would regularly turn up whenever he announced a balloon flight.
"Places such as Bristol and Cheltenham closed every school, factory and shop on the day he did an ascent. It's hard to imagine any visiting celebrity having the importance to do that today."
Sadler was a pastry chef by trade, but experimented as a chemist and holds the honour of being the first ever English balloonist.
The song of Sadler's balloon celebrates his flight between a spot near, what is now known as, Balloon Street in Manchester City Centre and the town of Radcliffe – roughly seven miles north.
"The Manchester flights were significant as they were very early in the history of flight," said Mr Smith.
"It's worth recalling that humans had only cracked flight in 1783 for the first time when the French flew a balloon (without working out the correct science).
"The French pioneers thought it was smoke, not hot air, which caused their balloon to become airborne.
"Astonishingly, Sadler was manufacturing his own hydrogen – not bad for an uneducated pastry chef!"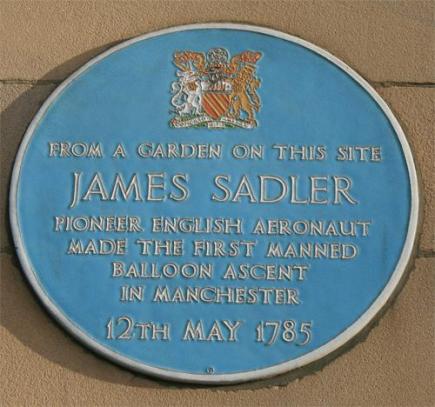 JAMES SADLER: The man with his head in the clouds [courtesy of Diane Griffiths, with thanks]
Cheered on by a crowd of spectators, it is thought that the eccentric Sadler was accompanied on his first Manchester flight by a cat, although the feline cannot be seen in the artwork.
"Sadler took off from Haworth Gardens, and returned to the same spot 25 years later for another ascent," said Mr Smith.
"The mansion house at the site, lived in by a wealthy Mancunian who paid for Sadler's ascents in the hope of receiving vast gate money from the public, was finally demolished in 1980.
"The building has spent its last decades as the Manchester Arms pub, while the thoroughfare that led to the launch site was named Balloon Street as a direct tribute to James Sadler."
Sadler later attempted a second balloon flight from Manchester, but crashed upon landing near Pontefract and was dragged along the ground for around two miles, before the balloon threw him clear and took off again.
The song about Sadler's first flight alludes to fears that the French army could harness the new technology to launch a balloon invasion of England.
"Should war again break out as it is not a doubt,
With fome is may happen foom;
The French all invade us, their troops all parade us,
Brought o'er in the Air Balloon.
Their ships will appear, not in water but air,
And come in a twinkling down;"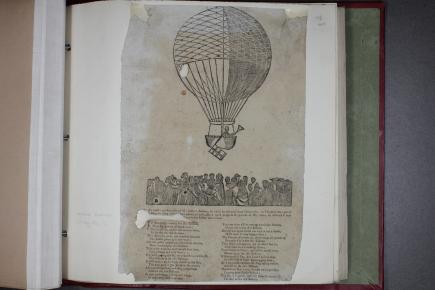 BALLOON BALLAD: The 'broadside' is a musical recounting of English balloonist James Sadler's famous flight [Courtesy of Manchester Central Library, with thanks]
Mr Smith added: "There was terrible paranoia that Britain would be invaded by the French.
"A plan was activated that church bells would ring to signal the invasion across the land. Everyone was terrified of French spies.
"Sadler's balloon was welcomed by the military because they knew Napoleon had access to balloons. Amazingly, Napoleon had started the French Army Balloon Corps."
The first ever manned balloon ascent was carried out by Frenchmen Jean-Francois Pilatre de Rozier and Francois Laurent d'Arlandes on November 21 1783 – a year before Sadler achieved his first flight from Oxford.
Unfortunately for Sadler, he was not the first man to fly from British soil either – that title belongs to Italian aeronaut Vincenzo Lunardi, who flew from the grounds of the Honourable Artillery Company at Moorfields on September 15 1784.
However, these records should not diminish the Englishman's achievements with Mr Smith crediting Sadler as being the first man to calculate the correct science behind balloon flight.
Mr Smith said: "He was a democratic success in an undemocratic age – a rare example of celebrity that all classes adored. It was unheard of in the age for an uneducated cook without breeding to become so famous."
Richard O. Smith's biography, The Man With His Head in the Clouds, goes into greater detail concerning Sadler's life and exploits.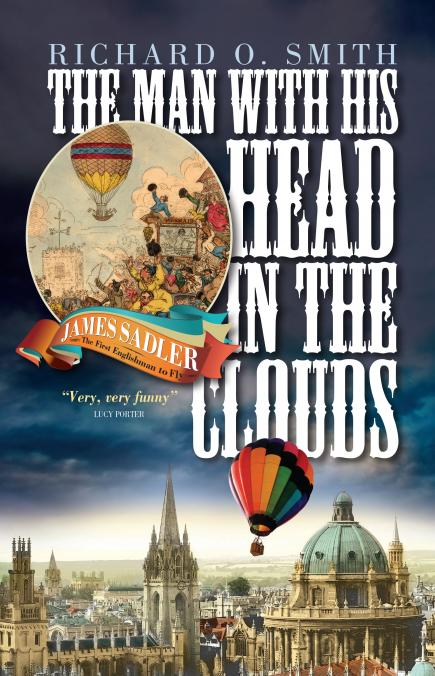 ADORED BY ALL CLASSES: Richard O. Smith described Sadler as a 'democratic success in an undemocratic age' [courtesy of Richard O. Smith, with thanks]
Other unusual artefacts on display from the Music Library archives include items from Manchester's extensive Handel collection and Vivaldi's Manchester Sonatas, uncovered by Professor Michael Talbot in 1973.
There is also the 1878 Manchester Town Hall Waltz, with a detailed accompanying illustration of the building.
Executive Member for Culture and Leisure, Councillor Rosa Battle, said: "Our display cases allow us to demonstrate some of the wonderful array of documents and books we look after at Central Library.
"With everything from some of the earliest English printed music right through to modern computer recording technology, the Henry Watson Music Library is a treasure trove for anybody with an interest in playing, listening to or studying any kind of music."
Main image courtesy of Paul Townsend, with thanks.