Colourful parakeets could add a splash of colour to an otherwise white winter this year, as Manchester twitchers are reporting a surge in the unusual bird population across the region.
The non-native ringed-necked parakeet population – once only a domestic bird – is increasing year on year.
The population explosion has caused confusion for animal rescue teams, with speculation ranging from domestic animals that have gone missing finding their way in the wild to stemming from a pair bred by Jimi Hendrix in the '60s.
Jamie Dunning is a research student and avid twitcher who works in Manchester.
He explains that the Manchester population is a 'closed' one, which means that all of the birds were born and bred in Manchester. He estimates numbers in Manchester at around 100 this year, but predicts that this could well rise to 150 in the coming year.
"I think that in a decades' time they will be very common indeed in South Manchester. They are a very hardy bunch of birds," he said.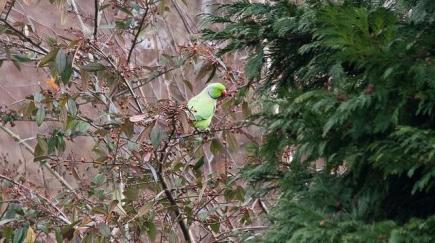 PARA-TWEET! Parakeets have caused a flap on Twitter
However the parakeets have not won over some ornithologists, who claim they pose a threat to native birds.
Dunning believes this reputation might come from the fact that the birds are 'secondary cavity nesters' (i.e. birds which inhabit cavities that were excavated by other birds, or naturally occurring holes in trees).
"The big threat is to other birds like woodpeckers or nut hatches which have a good population in South Manchester," he said.
But he is quick to add that this is only a potential threat: "At the moment they seem to get on perfectly fine."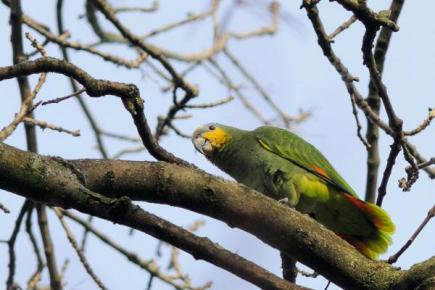 RUFFLING FEATHERS: Parakeets are deemed a 'threat' to regular birds by some
Steve Dolan is a nature photographer working around the Manchester area.
He believes that reports of an invasion are overblown and should be viewed in context of long term biodiversity issues.
He said: "It's like all media discussion of 'migration'. It may sound daft but why not birds too? Species are up and down [in population size] anyway.
"Some 'invading' species do have a detrimental effect, for example crayfish in rivers – and bull finches do a lot of damage to fruit trees. But in general there is enough room for everything! And the parakeets seem to get on well with the others."
Dunning emphasises that the Manchester population should be treated as a separate entity to that of the London one, which, urban legend asserts, first entered the wild after Bob Dylan released a flock at an outdoor concert in a London park.
While not as much is known about how the Manchester population first came about, there are recorded sightings of the birds in Chat Moss in Salford in the 1980s.
This population is believed to have died out over a few years, but then more sightings came in the 1990s. The latest group of birds is believed to have arrived in the 2000s.
Dunning said: "We have a completely different landscape up here [in Manchester], in every sense. And the big problem here is the lack of any research about them. All of our current research is based on London figures. We are not going to get that level of monitoring for decades."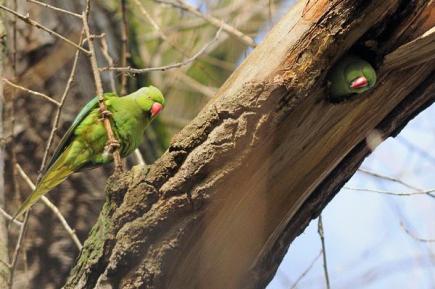 POPPING UP EVERYWHERE: Parakeets populations have emerged in Manchester, Birmingham and Oxford
However Dunning describes the sense of community among Manchester's twitching scene as 'pretty good as far as urban areas go'.
Dunning cites the Black Redstart population as another one to watch as far as city dwelling birds go – a species which is on the Schedule 1 list of the rarest birds in Britain, and also calls Manchester its home.
Asked about his feelings about media coverage of the 'threat' of parakeets and the suggestion that their population needs 'culling', Dunning prefers to do as a parakeet might and is remaining perched firmly on the fence.
"There is a big split between people who think they look good and those who are dead against. The problem I have with everyone involved with parakeet research is that they have all made their mind up before they even start," he said.
"Having said that, I admit they are so clever and nice to watch, so I can see the appeal." 
All pictures courtesy of Ian Keith, apart from second one, courtesy of Jandhands, with thanks.