There can be few days in the year when you feel your single status more keenly than on Valentine's Day – the day when we're all "supposed" to be loved-up.
If you spent February 14 on your own and don't want a repeat performance in 2018, make some changes in your life and see if you can find love.
Boost your confidence
There could be all kinds of reasons why you're single at the moment. One thing that often prevents people getting out there on the dating scene is a lack of confidence.
If that sounds familiar, do something about it. For instance, being in good shape often improves self-esteem.
Find a gym that offers you a range of classes that you'll actually want to do and also includes other facilities such as a swimming pool, so you can do a variety of exercises all in one place.
Make a commitment to improve your fitness and you'll notice other benefits too – exercise can help you unwind after work and can put you in a positive frame of mind.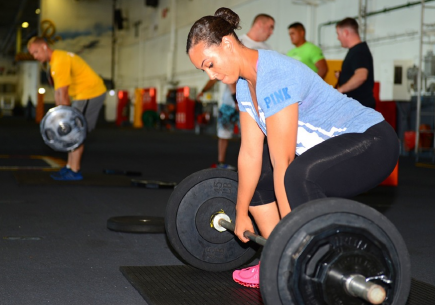 FEEL THE POWER: Boosting your self-esteem through working out can be a sure fire way to finding love (image courtesy of Pixabay, with thanks)
Other ways you can improve your confidence could include getting a new hairstyle and updating your wardrobe. Be bold and have fun with it, and other people are going to start taking notice.
Make finding a partner easier
Of course you know that there are plenty of potential dating partners out there for you. You just have to find the one that works for you.
What's the best solution to find the kind of person you're looking for?
Join an online dating site and as you fill in your profile, with all your likes, dislikes and personality quirks, be as open as you can, so that people can get a clear picture of what you're like.
With over 1400 dating sites targeted at those looking for love in the UK, you may be wondering which site to join.
It's good to remember that although there are lots of dating services online, each one of them tends to cater to a specific audience or offer something unique to them – a unique selling point, if you will. Using a dating comparison site can help you determine which service is right for you.
For instance, Elite singles specialises in over 40s, while eHarmony provides a sophisticated compatibility algorithm that promises to match you with those you share similar interests and attitudes.
You can start off by reading detailed reviews of the most popular dating websites and make your choice from there.
Whichever dating website or app you choose, don't forget to make good use of the filter features – age, geographic location, marital status, hobbies, profession – to narrow down the results. Also, be sure to take part in any personality quizzes on the site you join, so your profile becomes more accurate.
Meet new people
As well as joining a dating website, think about widening your social circle too. You don't know where you might meet "the one".
Many people meet their partner through a friend of a friend – in fact, the vast majority according to research from Google: 38.6%, but if it hasn't happened yet, it might not ever happen.
So meet some new people to do some fun things with. If you don't know where to start, look at joining a social events website like Social Circle Manchester where trips to the cinema, theatre or nights out to the pub are organised.  
Alternatively, join a cycling, climbing or running club or a local sports team. These groups are often as much about the social side as they are about the sport!
Focus on others
In reality, you shouldn't really spend all of your time thinking about how to find love. If you're not successful, looking for a partner can become an obsession and you can risk becoming a relationship (or lack of relationship) bore.
It's likely that as a single person you'll have more spare time than you might if you were in a relationship. Spend some of that time volunteering.
You only need to give a small amount of time each week and there are numerous different ways to volunteer. You might befriend an older person or help children on a learn-to-read scheme, or work on a community project.
Not only will you be contributing to society, but volunteering can be good for you too. It can reduce stress, fill you with a sense of purpose and make you feel happier.
Feeling happier could actually have a knock-on effect and make you more attractive to others – thus indirectly increasing your chances of finding a partner.
Find out about local volunteering opps at Volunteer Centre Manchester. Plus, you never know: you may actually find your new significant other there!
Finally, try and relax about the whole single status thing. Take some constructive steps to finding a new partner so that you can feel loved up next Valentine's Day, but remember you can't force the situation.
Love will come to you when the time is right: be open to the idea, but get on with simply enjoying life at the same time.
Image courtesy of Yogesh Mhatre via Flickr, with thanks.