There can't be many jobs that can inspire joy in most of the people they meet, but wide-eyed terror in others.
Teachers, perhaps, maybe dog handlers at a push, but clowns? Clowns certainly fit that bracket.
Chaplin, Keaton, Ronald McDonald – even Krusty the Clown – are all seared into the public consciousness, but what about the infantry of the profession, the day-to-day warriors?
MM spoke to Paul Malpas – better known as Rumple the Clown – to find out what life is like on the front-line of clowning around.
I'm now listed on @MumsnetPreston!http://t.co/NXfxNSGglB #mbloggers #parenting #lancashire #merseyside #manchester pic.twitter.com/QVZKgnV0ta

— Rumple The Clown (@Rumple_Clown) 15 January 2015
"It wasn't something I grew up wanting to be, I kind of fell into it," said Paul, who, at the age of 56, has been a full-time clown in the north-west for 30 years.
"I used to be a DJ – I was travelling and working abroad for a few years, and when I came back, I got a job as a compere at a holiday park.
"I had to be able to fill in while they're setting the stage, things like that.
"I couldn't sing or dance, so I learned some magic.
"At the end of the season I got reasonably proficient doing it – working at night, I realised I could do something in the day, children's parties and the like.
"From my very first show, I realised that was what I preferred doing.
"Entertaining children was far more rewarding than adults, they don't need to drink or anything, they just laugh."
That was a different time for clowns, who played a friendly 'uncle' persona – Uncle Spotty, Uncle Stripey – and indeed, Uncle Rumple followed suit.
It wasn't until Paul realised that this wasn't really his on-stage persona that he broke rank, and he has been plain old Rumple ever since.
"I just thought this doesn't suit me, because I'm more like the children's friend than their uncle, but I had a good reputation, so I just became Rumple," he said.
"I don't talk to the children in a funny voice or talk down to them, I treat them with respect.
"It's not like 'oh if you're not sitting down you don't get a sweet', it's 'would you do me a favour kids, would you sit nicely?', and they do."
They do? It's not like kids' parties that most of us remember where the clown – and the child's parents – would get increasingly exasperated at the lone irritating child.
"Yeah, children are much better behaved than they used to be, unless my shows just go a bit better now!" he insisted.
"I'll try and give them a bit of a message about being nice, being positive.
"When a trick goes wrong, it doesn't matter, because if at first you don't succeed, what do you do? You try again."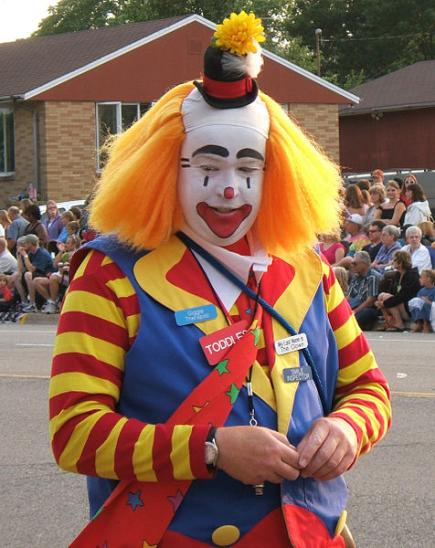 COULROPHOBIA: Paul insists his lack of make-up means he isn't scary – but the same can't be said for all clowns
Paul insists that, despite specialising in magic, he doesn't try to reinvent the wheel – the key to being a great clown is still the ability to make people laugh.
For most of us, clowning for your supper, no matter what mood you're in, would be a daunting task, but it isn't something that fazes Paul.
However, he does admit that there are some who see clowns as a terrifying prospect – the famous 'coulrophobia'.
"I don't wear make-up, so I'm not scary," he said.
"If anyone asks 'oh why don't you wear make-up', I say 'I've got a funny enough face anyway!'
"I quite often get bookings from people saying 'our daughter saw you at a friend's birthday, you didn't frighten her in the slightest'.
"I let the scared ones sit at the back, but after a few minutes they come forward and sit with the rest.
"Admittedly, some of the other clowns on the circuit scare me! But it's a bit like when you see clowns at a distance, it's funny, but up close they're daunting.
"You have to be positive whatever's happening, because the moment you arrive, you're on show.
"I love my job though – I don't wake up in the morning 'oh I've got to go to work today', I really look forward to it."
While the job has hardly changed, circumstances inevitably have, and, hit by the recession, many full-time children's entertainers are not so full-time anymore.
Despite his longevity and sterling reputation, Paul is no exception to these cutbacks, but there are still plenty of moments that make the long hours worthwhile.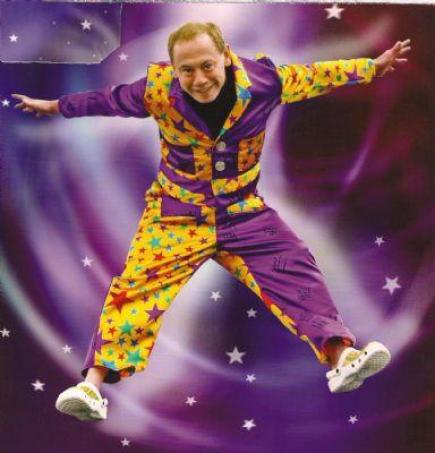 I LOVE MY JOB: Rumple has 30 years of experience as a clown
"There's no such thing as a typical week anymore, since the recession," he said.
"In the old days it would be school holidays, seven days a week, but not now.
"It would be shopping centres, hotels, pubs, galas, council work, fun days, but most of those things have finished now, it's mainly private parties that I do.
"I was in a supermarket a couple of years ago, in my civvies – waiting in the queue, a child was crying, and her mother, who didn't know I was there, said 'don't cry, remember what Rumple said, you can do anything'.
"It just gave me such a buzz – I didn't reveal myself to them, but it made me feel quite proud.
"If you took a seven-year-old child on a round-the-world trip, 20 years later they might remember seeing a big metal thing in Paris, or a pyramid in Egypt.
"By and large they wouldn't remember most of what they see, but they can still remember that birthday party.
"That, for me, is fantastic."
To book Rumple the Clown, click here.