The life of a film-set extra might usually be fairly mundane and aside from occasionally standing next to Hollywood stars, the extras go home to their normal lives after work.
But for those extras who worked on one of the biggest movie phenomenons of cinema history, live would never be the same again.
We mean Star Wars, of course.
Whether it be their only line 'Rebel scum!' becoming a fan favourite to shout at them in the street or going on to work as a stunt man, getting mauled by both tigers and Bob Hoskins, the life of an extra in Star Wars brought a cult celebrity status that never seemed to go away.
MM caught with some of the extras, make-up artists and prosthetics masters who attended the Star Wars Galactic Gala at The Printworks earlier this month.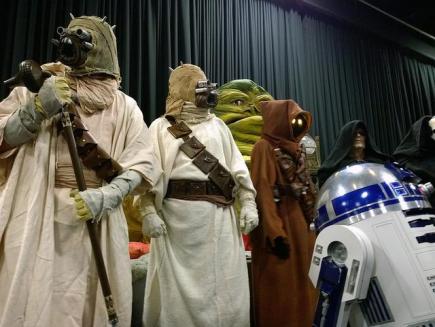 ALL IN A DAY'S WORK: Star Wars cosplayers enjoy day out (image courtesy of Andy Ihnatko, with thanks)
The event featured stalls of galactic goodies, a cosplay contest and appearances from several memorable Star Wars extras, including Femi Taylor who became an alien sex symbol when she played Jabba's green slavegirl Oola.
Also in attendance were Barrie Holland, who played Lieutenant Renz, and Derek Lyons, who carried the medals Leia presented to Han Solo and Luke Skywalker in A New Hope.
MM grabbed exclusive interviews with Barrie and Derek, who are old friends having worked on several films together – and both were eager to share stories of life on the edge of Hollywood.
Barrie's line 'Rebel scum!' shot to fame and quoteability after Return of the Jedi.
But Barrie appeared prouder by far of his extensive A-list address book, having rubbed shoulders with the likes of Joan Collins and, on one memorable occasion, Sofia Loren.
His eyes actually glazed over as he recalled that, of all the Hollywood actresses he's met, Sofia Loren truly lived up to his expectations of a true screen siren.
But when asked how it felt to spend a day and a half talking down to Harrison Ford, Barrie laughed and said that having the opportunity to work with the Indiana Jones star never really made an impression.
"I know fans are going to hate me for saying this," he said, "but the buzz for me was always meeting those actors I grew up with – the real class acts."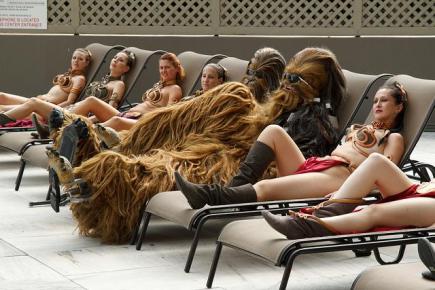 WOOK-ING GOOD, LEI-ING BACK: A pair of Chewbaccas catch some rays with Princess Leia cosplayers (image courtesy of Ethan Trewhitt, with thanks)
Derek Lyons, as well as having featured in dozens of films including Bond and Indiana Jones, has also taken part this year in a documentary about the many extras of Star Wars.
Elstree 1976 looks at how the original movies changed the lives of many small-time actors – including Derek, for whom it was his first on-screen appearance at the age of 18.
He has since trained as a stuntman, nearly been mauled by a tiger, actually been mauled by Bob Hoskins, and even claims credit for creating a new martial art.
But Derek claimed his background appearances in the original trilogy have 'followed him' ever since.
The pair were happy to share their words of wisdom on breaking into the film industry – but these words did not go hand-in-hand.
"I would say never give up on your interests," Barrie said simply.
Derek completely disagreed.
"I think that you either have or you haven't got it.  Some people are just naturally able to get on stage and sing or dance or act," he said.
"But I do think it's a good idea to have some kind of formal training.  It gives you a grounding, you know."
Also on the guestlist was high-flying Hollywood makeup artist and prosthetician Shaune Harrison, who is now opening a prosthetics school in Manchester.
As well as helping to create numerous alien beings for Star Wars, Shaune has also worked on all the Harry Potter movies, World War Z, the latest series of Game of Thrones, Captain America and, most recently, the upcoming Avengers: Age of Ultron.
Shaune originally left his Northwest roots to pursue his career in the Big Smoke, but is pleased to be a northerner once again.
He is starting up a new prosthetics school for Manchester's Hollywood hopefuls.
Keep an eye out for more of MM's exclusive interview with Shaune Harrison soon.
As well as a dazzling parade of professional costumes, many fans showed up fully decked out in their best galactic get-up for a Best Dressed Contest.
Manchester cosplayer Allie came dressed as a 'jawa' – a native of Luke Skywalker's sand-strewn home planet – and he brought baby daughter Harriet along for the ride.
Main image courtesy of Nathan Rupert, with thanks.