The summer of 2018 was all about the World Cup in Russia, but the winter wasn't so bad for sport either.
For Team GB, one of the highlights of the record-breaking Winter Olympic Games in PyeongChang came in snowboarding where Billy Morgan won bronze in the Big Air event, and the man from Southampton hopes to inspire future Team GB athletes in winter sports.
Billy's career in snowboarding began at Southampton Alpine Centre when he was 14, but 15 years later he visited Manchester's Chill Factore – the UK's longest indoor slope – to launch Terrain Challenges.
Running from Thursday to Saturday most weeks, Terrain Challenges allows individuals to test their freestyle skills on the slope, and Billy believes it is something which can encourage more people to snowboard.
"I think more people need to just go and try snow sports," Billy told MM.
"You've got this facility [Chill Factore] here – the slope here is amazing, the snow's really good, and it's a perfect opportunity to go and learn freestyle with these sessions on.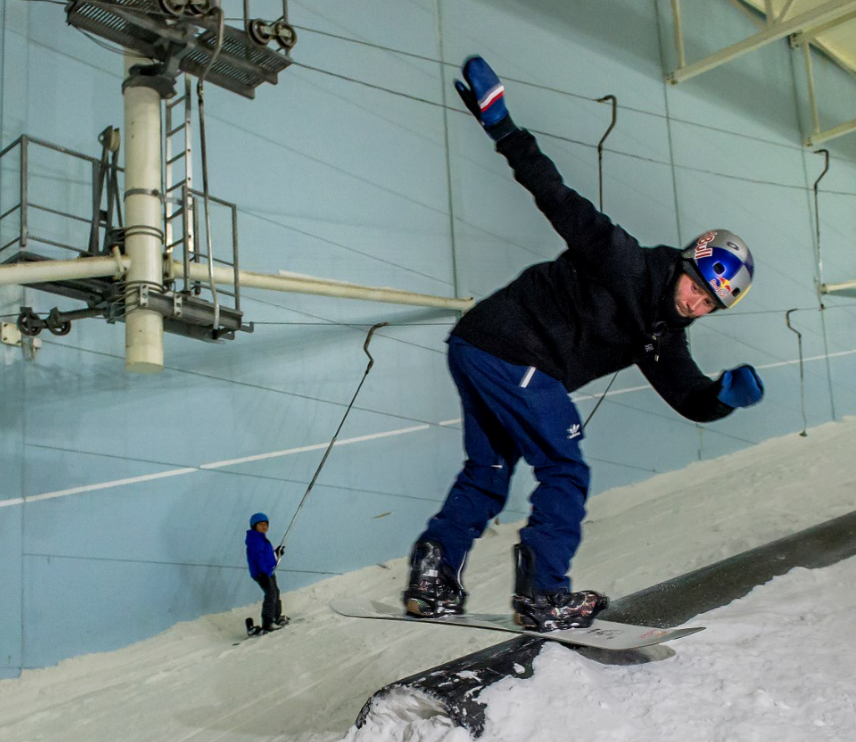 INSPIRE A GENERATION: A youngster looks on as Billy performs a trick at Manchester's Chill Factore
"So, it would be good if people were more aware.
"Lots of people don't know that you can do winter sports here so hopefully with me here and the facilities that can inspire more people to come and try snowboarding because it's fun. Everyone should do it.
"People always have a good time snowboarding, it's a laugh – especially if you're with your mates. What's not to like?!"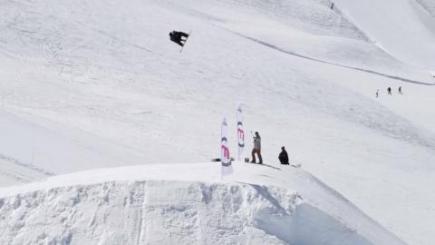 Billy is the face of British snowboarding right now after his performance in PyeongChang, and as the name behind Terrain Challenges he's certainly no stranger to freestyling – he completed the world's first triple rodeo in 2011 and performed the first ever backside quad cork in 2015.
Snowboarding is one of the most adrenaline-fuelled sports in the world, but Billy relishes this when on the slope.
"I wouldn't call myself an entertainer, I do it for myself – I like pushing my personal boundaries," said Billy, who starred in a short film earlier this year during the 'Beast from the East' when he snowboarded through an Essex park (see video below).
"I've always thought: 'If I can do one flip, how can I do two? If I can do one spin, how can I do more?'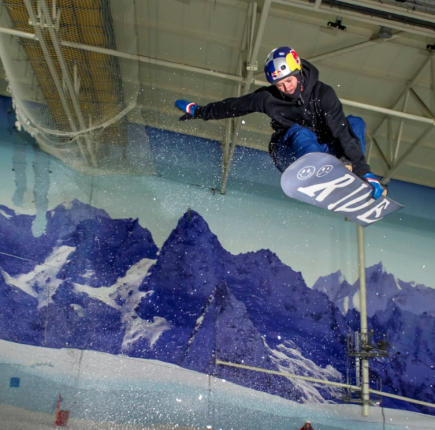 BIG GAMBLE: Billy had a choice to make about which tricks to perform in PyeongChang but he came up trumps with bronze in the Big Air 
"It's the best feeling when you do something like that, especially if it's not been done before because you don't know if it's possible.
"Doing something you're scared of and overcoming that fear is awesome!"
This was certainly Billy's attitude in PyeongChang, as his success in South Korea represented years of practice and pushing himself to the limit.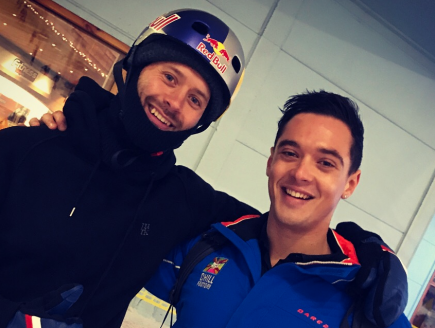 SPORTING ICON: Billy told MM's Dane (right) he's no 'entertainer' but following his Winter Olympics heroics he's a British sporting treasure
"It basically came down to the preparation of that front side triple – the second trick that I did.
"I was working a lot on my front side rotations before the Olympics because I knew that was the most important thing – me having a second trick for bigger.
"I wish I could just put it down to one thing that made me perform better at that event, but it was an accumulation of lots of different things: decisions that we made with the coach, what tricks to do that day and what tricks to be preparing for in the practices, which is always a gamble and always a juggle.
"Everyone pushed the limits of what they could do at that event, so it was weighing up what would be the right tricks to do. I think that's what allowed me to do well, the fact we managed that well."
Billy has been a snowboarding revelation over the past couple of years, and as an icon of the sport in Britain, his presence at the Chill Factore is likely to draw more visitors.
Of the tickets bought, 10% of the money received will be donated to the Ellie Soutter Foundation, a charity set up by the father of the snowboarder who last month committed suicide due to mental health issues.
"I think mental health is important. I don't think it is addressed properly," said Billy.
"I know it's a different thing but even dealing with anxiety and things like that in contest, it's not really spoken about. When it comes down to Ellie, people should have people that they can speak to about things like that.
"I think it's an issue that's obviously apparent and probably needs addressing."