Since becoming the last to be rescued from the devastating Manchester Dogs' Home fire, in which 58 dogs lost their lives, Pluto has had his fair share of ups and downs.
The tan and white Staffordshire Bull Terrier cross was just five months old when he was brought into the home with a broken and dislocated leg in July 2014.
After the catastrophic fire – the anniversary of which was last week – Pluto was transferred to Cheshire Dogs' Home.
He was treated for smoke inhalation and undertaken hydrotherapy to fix his leg but in November 2014, at just nine months old, his leg was removed.
He was subsequently adopted and returned to the home several times, including when one owner claimed that he was too fast, despite having just three legs.
However, one year on from the blaze Pluto is doing great,after plenty of media attention, this adorable pooch has finally found his forever home with Joanna and Neil Gibbs, both 32, from Warrington.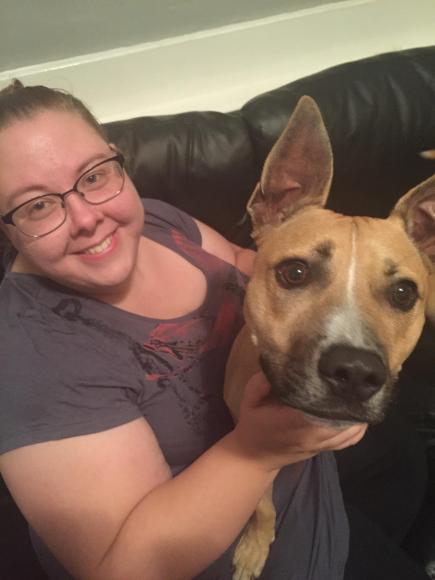 FOREVER HOME: Pluto with new owner, Joanna Gibbs
Joanna told MM that she was instantly smitten with 'tri-pawed' and 'mischievous' pup when her and her husband visited Cheshire Dogs' Home after reading about the tragedy on social media.
And Pluto is loving life in his new home – enjoying a lavish lifestyle, with peanut butter, strawberries and bananas amongst his favourite treats – and growing in confidence after his traumatic start to life.
"I wouldn't change him for the world… Well, I would make him quieter," Joanna said as Pluto barked in the background.
"He's completely different, if anything he's better than when we got him. He's just bonkers, potty Pluto.
"To think 12 months ago, he was sat in a kennel with four legs, one of them was causing him a bit of pain and he didn't know when he was going to get a home.
"Nobody at the home knew if he was going to keep his leg or if he wouldn't keep his leg.
"Then 12 months on, for him to be in a loving home with a big garden, we go for long walks, you can't even compare it. I could not imagine my life without him."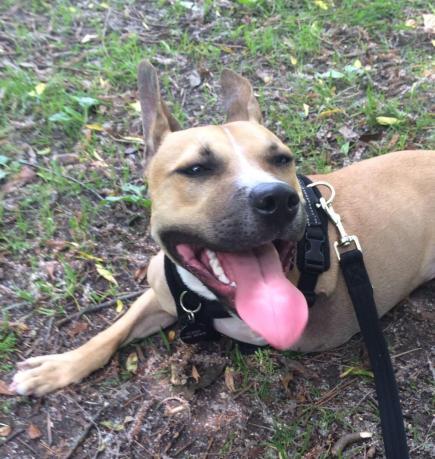 POTTY PLUTO: The Staffy was described as 'bonkers' and 'mischievous' 
The blaze sparked frenzy in the nation's hearts with public donations topping £2million and people travelling in their hundreds to foster dogs.
The investigation into the fire is still ongoing and the police have issued a new appeal for information.
And Joanna was effusive in her praise for the 'amazing' staff at the dogs home, and thanked them for uniting her with the newest member of her family.
"It was amazing to see how much the staff really cared for him," she said.
"They were amazing, I can't credit them enough for how great they were considering how busy they were and how many dogs that they had, they really cared about Pluto getting a new home and it was quite touching to be honest.
"Manchester and Cheshire Dogs' Home realise that families want an extra person for their family and they're allowing people to add that experience and that extra bit of love to their family.
"People should at least look into [adopting] because there's nothing more satisfying than knowing that when we got him, that night he wasn't sleeping in a kennel."