It is difficult to think of a show that embodies 80s' Britain more than Only Fools and Horses.
Arguably the single greatest British sitcom off all time, few shows conceived in the UK can claim to be as iconic and influential as Only Fools.
Running for 15 years, spanning seven series and numerous Christmas specials, the influence of the series on popular culture simply cannot be measured.
Del Boy, Rodney, Trigger and Boycie are names that are forever ingrained in the minds of millions around the globe and their legacies will undoubtedly live on for many generations to come.
One of the show's most iconic characters, played by John Challis, is dropping into the Stockport Plaza on October 18, for an Evening with Boycie.
MM caught up with the star to discuss his 33-year association with Britain's best ever sitcom.
Challis revealed to MM the beginnings of Boycie – a smarmy, cock-sure car salesman – came about when he linked up with John Sullivan, the creator and writer, for Citizen Smith.
"It really came from the fact that I did an episode of John Sullivan's first series of Citizen Smith, starring Robert Lindsay," he said.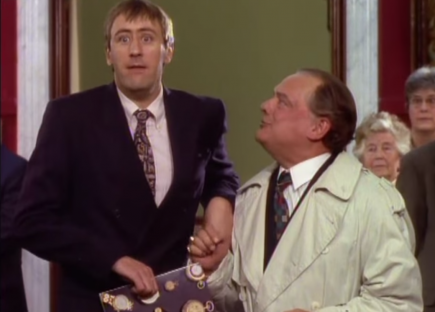 TROTTERS' GOLD: Bel Boy and Rodney are famed for their one-liners (Image courtesy of BBCWorldwide, via YouTube, with thanks)
"I played a sort of slightly bent policeman in that, and I'd played so many policeman I just thought, 'what could I do that was different'?
"So I borrowed the characteristics of a character I used to know in a pub in the 70s, and he had this curious way of talking, he thought rather much of himself and that goes quite well with a policeman."
Sullivan was impressed with what Challis did with the character, and had him in mind when it came to his next project , the show that would shape Challis' career.
He told MM: "I didn't think any more of it at all but a year later Only Fools and Horses started and I got the script in the post and he said 'would you like to come and play this second hand car salesman'?
"It made me laugh straight away, and I knew it was funny but then it just grew from there and it went up and up and up and it got more and more popular.
"By the end of the 80s it was the highest watched comedy programme in the history of the BBC.
"And when we finished in 1996, with the trilogy where they won the money, it had 24.5milion viewers. You know, it's amazing."
It's difficult to specifically pin-point what made the show such a big hit.
While the writing was incredibly sharp, it was the performances of the cast, specifically David Jason (Derek 'Del Boy' Trotter) and Nicholas Lyndhurst (Rodney Trotter), that elevated the show to such stratospheric levels.
"It was a great team," Challis told MM. "Sullivan was a brilliant writer but he also had the write people in the right parts and that's the rare combination I think.
"And the characters were universal. Every town in the country has their own Trigger, their own Del Boy, their own Boycie, so everybody sort of identified with it and it just become enormous.
"And abroad as well. They love it in Serbia, in Croatia and places like that. They recognise the characters, and have even got their own versions.
"And all those people who started off being fans, they have introduced their children to it, and in some cases they've had children and now I'm talking to six or seven year olds who are potty for it."
Roger Lloyd-Pack, who played one of the show's most loved characters, Trigger, sadly passed away in January of this year.
Roger's death brought the cast together once again, under unwanted circumstances, to remember their friend and colleague of more than 30 years.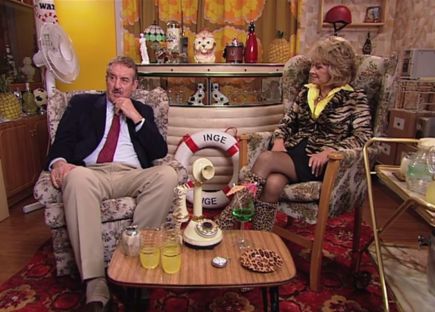 MARLE-EENE: Fans often think John and Sue are really married (Image courtesy of GOLDTV channel, via YouTube, with thanks)
"It was a big shock. We'd lost our writer John Sullivan a couple of years before and I knew Roger was not well, but I had no idea the extent of it, it was a big shock when it happened.
"We all standing their just not really knowing what to say at the funeral and you suddenly realise this is 30 years of your life, and you've know this guy all this time, and done charity shows with him."
Aside from Only Fools, Challis has worked on numerous TV and film projects, spanning 50 years, including The Sweeney, Doctor Who, Coronation Street, The Bill, One Foot in the Grave, Open All Hours and The New Statesman.
But while he has enjoyed a career that many actors could only dream of, he is almost certainly defined by Boycie.
"It's both a gift and a curse really," he told MM. "It opens as many doors as it closes really. You find yourself in the most extraordinary situations and meet the most extraordinary people simply because of it.
"But on the other hand it closes a few doors because you're so well known for that particular character that a lot of people know so well.
"The think 'we can't have this old face coming on in a serious drama series because people are just going to say it's him from bad situation comedy.
"But I should be so lucky to be involved in something that means so much to people, and the fact that it caught on and so many people like it's amazing.
"It's the sort of thing you dream about when you start really."
While Only Fools bowed out in 1996, Boycie was revived some 11 years later for the spin-off, The Green Green Grass, focusing on the former car salesman and his wife Marlene, played by Sue Holderness, after they moved from Peckham to live in rural Shropshire.
For Challis it was a fabulous opportunity to dust the cobwebs of his most iconic character, as well as link up with his long-time friend.
"We've been chums ever since she started in the series," he said. "We've done theatre shows together and we've remained chums ever since and so for us to be asked to do our won series was very flattering I have to say."
The pair is so well known on and off screen that Challis revealed they have often been mistaken for being married in real life – much to their dismay.
He said: "There was one famous occasion when we were doing the studio work for The Green Green Grass and we just went out shopping together and this little old lady came along and said 'oh isn't it nice to see you on the television, and you're married in real life'.
"So we went 'no we're not, we are married but we're married to different people, so we're actually not married in real life, ok?', and she just took her moment and paused and just looked and said 'well you should be', and she walked off in a bit of a huff."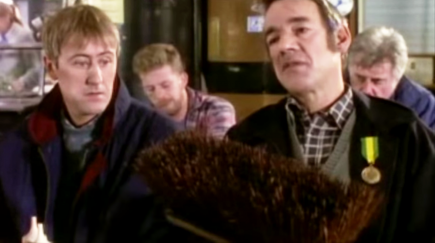 TRAGIC LOSS: Roger Lloyd-Pack, Trigger, sadly passed away in January (Third inset image courtesy of Woody Kane, via YouTube, with thanks)
The Green Green Grass ran for four series and three Christmas specials, with the last episode aring in 2009.
Since then Challis has taken on a number of projects, including penning two volumes of autobiography, Being Boycie and Boycie & Beyond, covering his life and career.
And the veteran actor is even on tour, performing his show, An Evening with Boycie.
After the tour is over, at 72, is it perhaps time to walk away from showbiz and retire into the sunset, much like the Trotters at the end of their journey?
"Oh no, I can't afford to do that no! No, no. I've got my wife to support, to manners in which she has become accustomed," he laughed.
"But no, it sort of runs in your blood and it's very difficult to sort of stop, and it's very difficult to realise that you're getting older so the demand isn't quite there.
"But you've got to kind of sort of reinventing yourself because the work changes so fast."
Challis will be performing at the Stockport Plaza on October, 18. For more information, click here.
Main image courtesy of Harry Bewley Music, via YouTube, with thanks.