Former substance abusers from across Manchester are gearing up to show off their creative works in an exhibition studying the emotions involved in their recovery.
MM caught up with 39-year-old Nathan Sassen, one of the participants in the Typecast project to find out how getting his hands dirty is helping him get clean.
"The project has allowed me to explore an area of my life that previously would have resolved in substance misuse," he said.
"Clay has been one of the materials I have most wanted to use. As an addict, respect is lost and now this respect is coming back. People are coming back out of the woodwork."
Opening today at Manchester School of Art, the exhibition of the EU-funded Typecast project will see creative work from local participants like Nathan celebrated for being a positive step forwards in their recovery from substance misuse.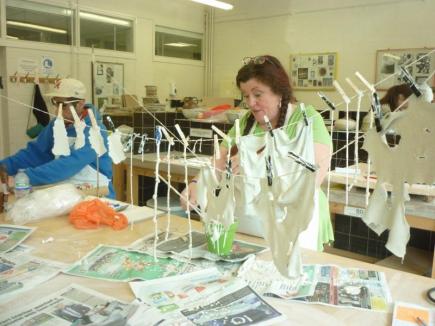 'THE RESPECT IS COMING BACK': Nathan said that Typecast has allowed him to explore an area of his life that previously would have ended in drugs
Speaking about his past, Nathan, from Whalley Range, said: "My drug habit began at an early age. I started smoking cannabis when I was nine, and carried on till I was 21.
"I then got involved with amphetamine, ecstasy, pills, and found that they enabled me to go back and draw.
"So instead of just taking amphetamines at the weekend, it became every day because I was just getting right in the zone.
"A few years later, I sorted myself out, got off a few drugs but I was still really heavily involved in drink.
"My missus, she left me, and I ended up meeting a girl who was into heroin, and crack became involved in my life.
"I've somehow always clawed myself out of the real deep pits of the barrel, but anything pharmaceutical – codeine, tramadol – if it was legal, I just wanted it, every drug that was out there.
"I've done them all, basically. Sometimes it's just been purely for the addiction, other times it's been artistic – with heroin it took me to the next level creatively, but the health effects on me were noticeable within a few months.
"So yeah, there wasn't one single drug to which I could say I was addicted – I was addicted to them all."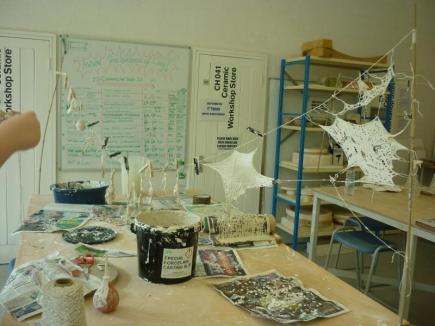 NOT A BEGINNER: Nathan's father's skill was his introduction into the art world
Unlike some of the other members of the project, Nathan wasn't new to the art world.
"I've always been into art since I was a kid. My father illustrated bird of prey books, and he was the one who taught me how to draw more effectively from the age of six or seven," he said.
"But when I was in school, I was never great at English, maths and science; I'd always skip school apart from art class."
Leaving school with a B in art, Nathan went on to do his A-levels, a BTEC Art & Design course and an HND in Graphic Design.
Most recently he's been doing community projects and large murals on commission up and down the country.
He said: "I've got about ten banana boxes full of sketchpads, paintings, everything, so I'm a full-on artist.
"One guy tried to take a sketchbook off me a few years back and I just told him straight – I will die for my art, so it might be wise that you give me my book back."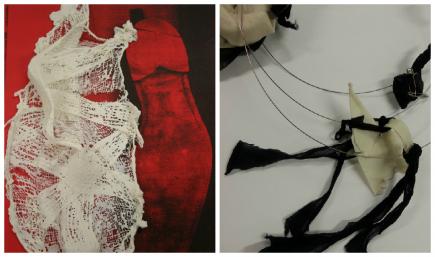 'I WILL DIE FOR MY ART': Nathan said he's proud to be turning negatives into a positive
For Nathan, through his art he's had the chance to work with a number of underprivileged groups in Manchester and he's proud to be 'putting people on a positive path'.
"Art has been a way of focusing away from the negatives, and a way to turn those negatives into a positive outcome.
"Making art on the recovery scene, it's good to be working with like-minded people.
"I get the benefits out of being in art, I get the benefit of being involved with recovery services, and hopefully – actually, it's not even hopefully – in the next two or three months, I'll be running art classes for addicts like me who are in recovery.
"You know, if you've got 20 people and you can turn around 15 peoples' lives, it demonstrates that creativity is beneficial."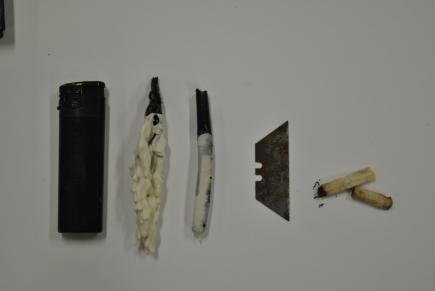 CANNABIS HAS NO USE IN CREATIVITY: While Nathan admitted that heroin had previously played a part in his creativity, cannabis wasn't quite so helpful
Nathan has been unemployed since 2006, and said that while he used to suffer from severe post-traumatic stress disorder, his 'isolation' from the community has been helped by Typecast, which has enabled him to explore his art further.
Despite his admission that certain drugs had helped his creativity in the past, Nathan confessed that cannabis has no use for creativity.
"No benefits at all. It just makes me and most people like 'oh, I'll do it tomorrow'. I gave up cannabis and am living an abstinent life.
"I've noticed that my artwork is just as creative, I'm more positive and I'm getting a lot more things done.
"Without substances, I've got a lot more going on now. I've got some artwork going to America, making communications with people in Japan and Australia.
"For me it was always a case of not being happy showing my work just in England.
"My work has to be worldwide and I think it was through substance use any financial gains that I could make from being an internationally-known artist would go to waste.
"So by being straight now I'm actually going to see the benefits of earning and the success. I see a great future now, especially working within the recovery scene, and hopefully giving other people opportunities.
"I was always told, 'sort your life out, get a job as a postman', but I've always said, 'no, I'm an artist, this is what I do, and one day I'll make it'. It's great to now be at that point.
"After all, I'm only 39 now. Don't they say life begins at 40?"
The exhibition, free to view by the public between 9am-5pm, opens today, Monday 18 at Manchester School of Art and runs until May 29. 
Images courtesy of student volunteers Elizabeth Davis, Verity Howard, Tamsin Williams and Rose Clayton, with thanks