As Mayfield closes its doors again ahead of renovation in the New Year, the next chapter for the industrious depot-cum-art space remains unclear… but definitely not unexciting.
Globetrotting producers Bicep sold out Mayfield Depot last Saturday night, ending a weeklong run of Special Edition events as a part of Manchester International Festival (MIF).
The November 3-10 Special Edition series breathed a much-needed dose of life into the former train station, with an eclectic mix of unique shows from the likes of Bugzy Malone and Bonobo.
This isn't the first time that the 1970s parcel depot has reared its head as an entertainment venue though. In 2014, displeased neighbours forced Warehouse Project founders Sacha Lord and Sam Kendal to withdraw planning proposals to turn the 24-acre site into their new base.
Talks were put to bed and Mayfield continued to lie dormant.
Fast-forward to now and the situation looks to have changed. In June, Mayfield's doors were opened once again by the successful street food market GRUB.
Building upon the success of weekly daytime attendees, these Special Edition events weren't just a one-off collaboration between MIF and the Warehouse Project, but perhaps serve more as a rehearsal for the latter's potential move to the depot next winter.
The peace between developers and residents appeared to have been negotiated last year as a 10-year plan to regenerate the Mayfield area into a bustling city neighbourhood were announced.
Over 1,350 new homes, 155,000 sq. feet of office space and a 6.5 acre green space will surround the rejuvenated Victorian depot and all of its original redbrick character.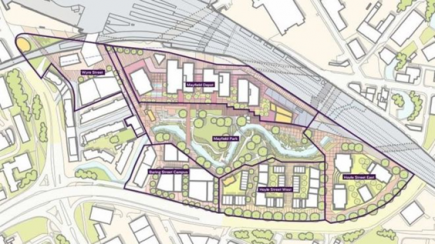 BACK TO THE FUTURE: Urban developers U + I will be the ones driving things forward, partnered with London & Continental Railways and Transport for Greater Manchester
The Victorian arches will be given one last swansong in their original shape, though, as the depot will be home to the city's largest ever experimental cinema over the festive period.
Mayfield will be showing classics like Elf and Home Alone on the other side of a Narnia-inspired wardrobe and a wintered indoor forest.
However "the new and imaginative ways" in which the main building's hallowed walls will be used from there on in have yet to be released.
But that's where Parklife boss and Mancunian success-story Lord may come back into the picture. 
Lord was appointed as Greater Manchester's inaugural 'nightime tsar' earlier this year by mayor Andy Burnham, a position that now might just give him the leverage to finally house the Warehouse Project upon the banks of the River Medlock.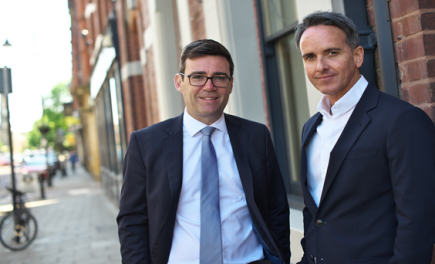 THRIVING NIGHTLIFE: Building on the success of its introduction in London, Amsterdam and Berlin, nightime economy adviser Lord (right) will champion Greater Manchester's club scene with an eye on constant evolution and safety. 
If even there is a venue suited to take over from Warehouse Project's spiritual Store Street home, then it's hard to trump the prospect of Mayfield; and Saturday night provided all the reasons why.
It's true that a precision-perfect live act like Bicep will never disappoint when booked – and their headline Saturday night set was nothing short of excellent, transporting the audience to a dream-like state with their own synth-led dark techno.
The two childhood friends encapsulated every feeling from their acclaimed self-titled debut album, be it love or transcendence, they toured the track list expertly with blinking periods of alternative experiment and remix in between.
But despite the usual praise Bicep are accustomed to receiving nowadays, the real winner, as cringey as it sounds, was by far the venue.
Gone were the feelings of claustrophobia and the stickiness of spilt drinks after a blindsided collision. Not even an army of pissed-off neighbours would stop you in getting from A to B.
The flow around the venue was a lot more natural and very unimposing. The 7,500 capacity main room had so much free-space towards the back of the room that the bar never seemed overly-busy, yet by no means did the event seem under-sold.
A tightly-knit crowd summed up the diversity of the Manchester electronic scene: two 20-something lads with their granddad stood next to a couple of parents granted the night off.
GAME CHANGER
This wasn't a teenage drug fest often mooted in the media and marketed by angry neighbours. This was the spirit of the Hacienda and the sound of the Warehouse Project, just under one perfectly sized roof.
The stage set up encased the two artists within flickering metamorphic blocks of colour and vibrancy, dictating the mood with every new chord and every fluctuating effect that Bicep created from their dials.
Hats off to Stuart Bailles, whose forward-thinking lighting design not only justified the huge space, but incorporated the room's size and giant steel pillars with lights flanking either side of the audience.
Despite its size however, it was the little things that made you wonder how this venue had been derelict for so long.
Crammed with incredible stories from the mists of time… If walls could speak Mayfield would be loud and proud! Find out more about our illustrious history here: https://t.co/QsLkEy5tiw pic.twitter.com/26e0s6ypDi

— Mayfield Manchester (@MayfieldMCR) November 16, 2018
A well-lit separate food market made a lot more sense than the roadside burgers on offer at Store Street. So too did the location of welfare volunteers 'The Loop', rightfully handed a separate area by the entrance and not just a dark cranny by the back door.
If you wanted to regroup in the smoking area, you were met by a sprawling urban garden and some actual fresh air, unlike the dingy underpass at Store Street.
No doubt however there will still be many heavy hearts when the Warehouse Project finally leaves the former air raid shelter next season. But if Saturday evening was anything to go by, Mayfield will quickly become synonymous not only with the Warehouse Project, but so too with the city's ability to deliver one hell of a night out.
With its location, size and nod to the northern roots it's built upon, Mayfield has everything required to be a game changer within the gig economy… and we can't wait to see what the next ten years of development will look like.
For more information about the Mayfield development project, visit www.mayfieldmanchester.co.uk