"At the age of 70 I am not ready to be extinct and invisible," says Susie Mathis, the lead singer of Britain's first three-girl pop band Paper Dolls.
Susie has lived an extraordinary life spanning six careers and involving many a famous face (we're looking at you Sir Tom Jones).
But she is definitely not done yet – she'd love to host a Sunday morning programme on radio.
"The media don't really accept women at the age of 70," she told Mancunian Matters.
"You can see men that are still there when they're 60 or 65 but there are not many women presenting at that age."
The creator of the Kirsty Appeal described the inspiration she got from the Manchester girl, who was born with a rare heart defect and given weeks to live at the age of four but died aged 20 in 2015, as "insurmountable."
Now 50 years on from the release of her record Something Here in My Heart – re-released last week to coincide with Valentine's Day – MM's Nami Aravind, Andy Garcia-Cox, Jack Unsworth, Molly Cooper and Lauren Whitehead caught up with Susie.
MM: Happy Valentine's Day Susie! What are you up to this morning?
SM: I'm trying to find time to put all my flowers and cards up that I haven't got!
Tell us about the 50 years since the release of your album and what memories that brings back?
In all my life I think I've been very lucky to have had the success in the decades that I did achieve it, because what more could you ask for really than having fame in the 60s?
Although our fame was very short-lived it was at the right time. In the 60s you really didn't think about the money or the contracts or the sponsorships that these days come with fame. We didn't earn a lot of money but we had a brilliant time and I wouldn't change that for the world.
What would be your favourite memory of your popstar days?
My favourite memory of my popstar days would be the firsts: the first time you hear your record on the radio, our first was Tony Blackburn on Radio 1, the first time you're in Top of the Pops, the first Premier you go to, it's the firsts that you remember.
I look back and I think, 'Did that really happen to me?' Since the news of this record coming out, all the memories have come flooding back.
It's so strange because some of them you can't assimilate with what really happened.
What was your main inspiration to start a career in music?
Well, the main inspiration for me I suppose was going to a stage school at the age of eight, so in some way or another you were going to go into the world of show business, whether it be as a dancer or as a singer.
I did train to be a ballet dancer, but singing was always a part of my life. The inspirations for me in those days were, as crazy as it sounds, things like Elvis' Rock-a-Hula Baby.
I mean you're talking about way, way back, and the first record I ever bought was The Kinks' You Really Got Me, so they all played a large part.
What was your first memory of music?
My first memory of music comes from my time at stage school when I was learning to be a ballet dancer. The first music I ever remember hearing was Beethoven's Moonlight Sonata, and that has stayed with me as one of my favourite tunes of all time.
In pop however, it would be the first band I loved – The Kinks. You Really Got Me was the first sort of real pop music I can remember, and of course, The Beatles.
That's why I loved the 60s, because there was a whole massive change in musical direction.
What was the significance behind the nickname 'Tiger' throughout your music career?
It was probably the same reason as the Spice Girls, apart from we did it many years earlier. To be honest, it's trying to get some sort of image.
When you're starting out, the first thing management will want to work on is 'What image are you going to have?'
We used nicknames we have always had and built on them. Was Tiger because I'm a ferocious person? Maybe it's because I don't want to become extinct.
I still have ambitions and get up every day wanting to do something. I tried to retire once at 65, but it didn't work because along came Mr Al Fayed and offered me a job to run his foundation and I found that incredibly rewarding.
If Tony Macaulay, the man who signed you, never left Pye Records, do you reckon you would have gone further in your music career?
I did continue to make records on my own, all be it, they were not hits. That's the lovely thing about this record that's being re-released: with the 29 tracks, including all my singles, the lovely thing is that at my age of 70, I have a little CD with a catalogue of my life on it.
Amazing to catch up with the legendary Susie Mathis.
I started at Piccadilly Radio the same time as her….and almost 50 years to the day she has seen the re-release of her Paperdolls album "Something Here In My Heart" pic.twitter.com/SbqfcdnsFR

— johnpickford (@johnpickford) February 15, 2018
I have no preconceived ideas of grandeur. I will not be collecting a Brit in my lifetime. I'm quite levelled and I understand that it's not going to change my life that much, but it is changing my life as it is giving me a little bit of happiness.
I would love to go back in the studios with the maturity that I've found throughout my life and record every single one again.
You were the first female daytime presenter in independent radio. What was that like?
At that time there was not a female in any role of presentership in the day time. The only way they were using females was doing the weather or the travel. And that's how I started out, but I was accepted and I don't feel I had to push against the boundaries too much.
It was only a year and then I got my own show. I don't feel like I was treated any differently. Even though there were very few women in radio I can't say I was personally discriminated against at all. I was given every chance, I just had to prove I was worthy of being where I was.
So do you think ageism is the bigger issue?
I think now, at my age, yes. You put yourself up for jobs but you don't even get an interview, because that's your age. They only need to Google these days and everyone knows how old you are and what you've done in the past.
How do you suppose we change this?
Well the whole world is changing, everything is talking about equality. It's all about equality and thank goodness it is, it's about time too!
How did you react so well to the setbacks you've had throughout your life, such as being diagnosed with cancer and the loss of Kirsty Howard?
I had created the Kirsty Appeal and it was a life changer. The inspiration I got was insurmountable, she gave me so much inspiration.
She fought against her illness and she was an adorable little girl who hadn't seen much of the world or of life.
When I was told I had cancer, it was awful. You're facing mortality for the first time and you think this might be it. But knowing Kirsty at the same time and seeing how she fought made me turn around and realise I've had an amazing life.
So Kirsty really helped me pull through that and I really wanted to pull through in order to reach the £5m for her.
Looking back, if you are told you have cancer, it really is life-changing and you want to appreciate life instead of cruising along. You spend time with people you really love.
What advice would you give to the youth of today?
The advice I'd give is to just work hard. You have to make yourself be recognised as giving a little bit more than the person next to you.
I believe that the most important thing for any human being and at whatever age and whatever job is having a passion.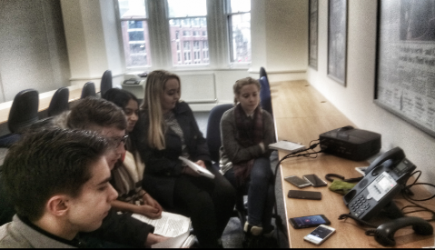 BELIEF: Susie Mathis' advice for MM's young reporters was to have faith in yourself and be passionate
I could have never ever created the Kirsty Appeal and gone on to raise £5 million if I hadn't been passionate about wanting to do it, that's the thing that's going to get you through.
I've done a lot of things in my life that have made me really see that people move towards you if they think you're passionate and you believe in what you're doing.
I worked for Mr Alfayed and went to Mongolia, to orphanages, and I went to Egypt to work with the street children.
It's fascinating to see that over there, in different countries of the world, the ones that are successful and that thrive are the ones that believe so firmly in what they are doing.