A Manchester woman has unearthed a diary written by her mother in 1940 during the Manchester Blitz, which may tell the tale of her grandparents' tragic deaths.
Janice Wilson, 66, came across the diary of her 95-year-old mother, Olive – who cannot speak after suffering from a stroke – while cleaning her bedroom.
As she glanced inside, she noticed some dates in the diary matched up with the time of her grand-parents' death during the World War Two attack, which killed almost 700 people.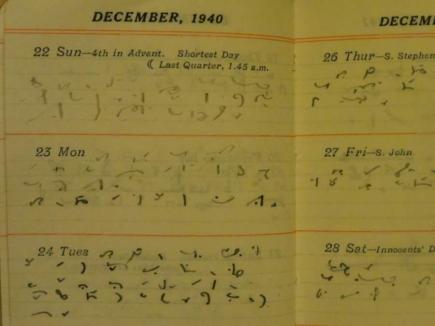 HISTORY: Yet Janice is struggling to decipher her mother's diary's secrets
Her mother, although she never shied away from telling Janice as much as she could about the traumatic event, had been unable to tell the story in full detail as she described it all as 'one big blur'.
The diary is written in Pitman shorthand, which is an older phonetic version of the speed-writing technique and was popularly used by secretaries like Olive.
Janice believes her mother must have forgotten about the diary but unfortunately it has been found too late and now Olive is unable to translate it for her.
So far, she has had help transcribing some of the most poignant days in the diary and the details Janice does have of their deaths is enough to paint a truly dreadful experience.
"On the evening of Monday December 22 1940, her parents were visiting friends in Moss Side," she told MM.
"The air raid sirens sounded and heavy bombing began early in the night causing a bit of panic.
"Usually everyone remained where they happened to be but Emily, Olive's mother, was worried about her three children.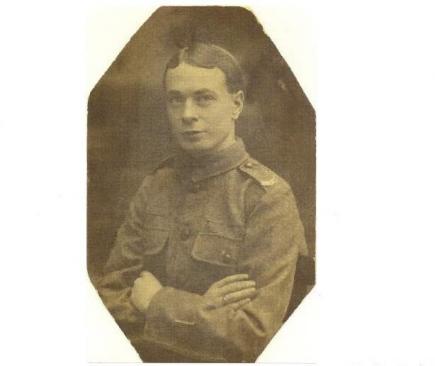 BLASÉ: Edwin's jaw bone was found at the site many years later
"She insisted that she and Edwin, her father, walked back to their home in Firswood, Stretford, so that they were there in case any of the family decided to return home.
"Her father was very blasé about the air raids and hated going in the shelter – he used to always say: 'If the buggers are gonna get me they'll get me in bed up smoking a fag'."
On this occasion, because Emily would have been alone, Edwin decided to join her in the air raid shelter in the garden along with the family dog, Judy.
The next day, on Tuesday December 23, Olive walked through the snow from Moss Side to the house in Stretford where she became concerned as the road was cordoned off.
After explaining to the police that she lived there, she discovered a lorry outside the house.
She remembers putting her key into the door and opening it to find the chain was on preventing her from entering the house.
She discovered that, in a terrible twist of fate, a bomb that had been dropped by the Nazi Luftwaffe hit the air raid shelter in the garden completely obliterating it.
The house was left without a scratch.
The neighbours' house adjacent to theirs was also destroyed, killing the two parents and their eight-year-old daughter.
Janice said: "I just think, if only my grandmother had heeded the advice she'd given her daughters that night: 'Stay where you are and don't walk home'."
Of the pages that Janice has managed to have transcribed so far, one bluntly states: "Got home to find Mother and Dad have been killed."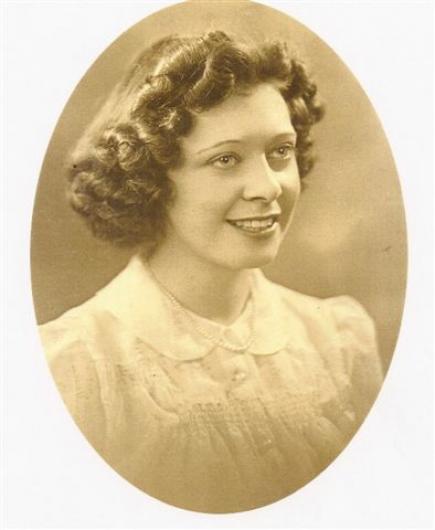 MATTER OF FACT: Olive, pictured aged 20, was 'likely in shock' at the time of writing her diary
"It was very matter of fact, I guess people were just a little more hardened to death at that time," Janice said.
"I don't know exactly when it was written – it may have been retrospectively – but she was likely still in shock too.
"It was just two days before Christmas – how on earth do you live with that as a 20 year old?"
Several years ago, Janice went to the original family home to try to found out more.
Incredibly, while the new owner was digging up the garden for the foundations for a new shed, she discovered a human jaw bone which had a gold filling.
"I knocked on the door and the woman who answered looked a little worried," she said.
"After explaining why I was there though, she was only too happy to show me around and allowed me to take photographs.
"There's no doubt about it, [the jaw bone] would have been the remains of my grandad because the shed now stands on the spot where the air raid shelter used to be and he also had a gold filling."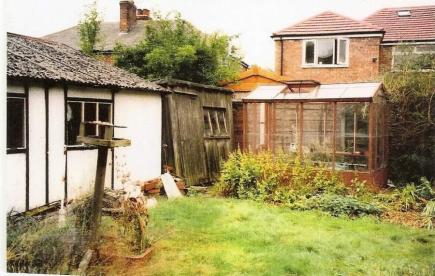 SHOCK DISCOVERY: The site of the tragedy is now home to a shed – under which Edwin's jaw bone was found!
So far, the diary has already revealed some gaps in Olive's life such as where she spent Christmas that year and that her Aunty Florrie looked after her in the days after her parents' death.
It was a period in her mother's life that – unless she is able to unlock the secrets of her diary – will be lost forever.
"Hopefully before she dies, somebody can help us with transcribing a bit more of the diary," she said.
"I'll be able to share things with her that she may have forgotten about and I'll also learn more about my mother."
If you are able to understand Pitman shorthand and are willing to help Janice, then contact MM on [email protected]