Imagine the scent of herbal tea brewing, pungent bath salts and homemade soap, new age music and eco-friendly clothing.
Chuck in some vegan and vegetarian food options, a plethora of meditative healing and massage displays and plenty of yoga.
Yes, the OM Yoga show was in town over the weekend at EventCity, Trafford, and MM went along to see why people who practice Yoga swear by its benefits.
At first, the show appeared to be intimidating with its new-age vibe that could put some people off.
Instead, it was a hub for the self-confessed healthy lifestyle gurus who all came together with one thing in mind: to promote good health, well-being and positivity.
Yoga began its long history in India, several thousand years ago, and uses breathing techniques, meditation and specific body postures to help promote good health and relaxation.
The show had a great mix of taster classes and workshops explaining the benefits of meditation, yoga and healthy eating.
Stalls boasting free samples of food also proved to be particularly popular.
There were some conspicuous yoga displays that portrayed all the characteristics of a yoga show and duly got a lot of attention.  
Particularly classes and workshops for pregnancy, sufferers of back pain, 'Doga' for dog owners and their pooch and yoga for children. 
However, Yoga4Autism stood out as the most important discovery of the entire event. 
Tucked away on a corner display stall was David Ellams who lives with Aspergers, dyspraxia and dyslexia.
David, who is the founder and managing director of Yoga4Autism, used yoga, mindfulness and meditation to change his life after finding that usual methods of support did not help his quality of life.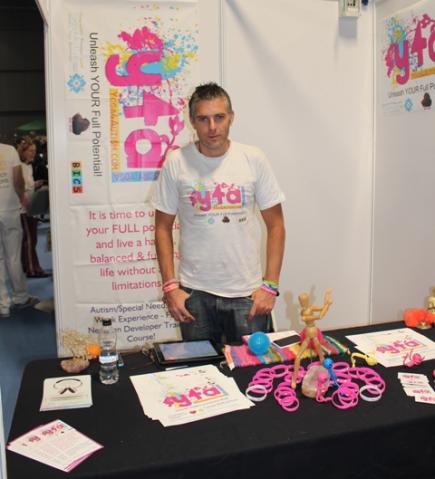 YOGA TRANSFORMED MY LIFE: David admitted that the practice helped with his wellbeing 
"I spent a whole lifetime trying to find something that worked but nothing really worked for me," he revealed.
"I was on anti-depressants, anti-anxiety tablets, sleeping tablets and I was just masking the symptoms without addressing the cause – then one day I found Yoga and it really transformed my life."
After recognizing the life changing benefits that Yoga brought, David was determined to help other autistic people.
Yoga is renowned for easing stress, anxiety and anger and helps those who practice deal with these emotional issues and the pressures of everyday life.
He continued: "It helps with so many symptoms, it helps calm me down, helps you sleep, reduces anxiety.
"Stuff that benefits everyone. Yoga is really good for everyone.
"People with autism, when things change around them find it's really hard to cope and have a meltdown.
"Yoga helps them cope with what life throws at you more.
"It's the same with everyone but people with autism are much more sensitive."
David spends his time promoting the benefits of yoga and spreads his positive story at schools, colleges and care homes throughout the UK.
Yoga4Autism aims to train Yoga teachers and offers classes to those diagnosed with autism to help them realize that there is a better quality of life.
"It gives people hope, I can see the light that shines in their eyes," he continued.
"That someone with autism can do this.
"Before I would look at the floor, then I started practicing yoga."
A big attraction was Hotpod Yoga, a specially designed Yoga tent that emits heat and humidity and enhances the Yoga experience.
"Heat allows the body to warm up and become supple," explained Nick Higgins, co-owner of Hotpod Yoga.
"The heat and the humidity inside gets the heart and lungs working a bit harder."
As well as holding public classes the company also works in a corporate environment helping to take the stress out of office life.
Modern life can be stressful and hectic with many people choosing to wind down by going to the pub, eating a take-away and watching TV.
We live in an age where we are constantly bombarded with information about how to live, what to do, what to like and what's best.
The physical benefits of yoga are renowned.
It can alleviate many common ailments such as tension and back pain and increases flexibility and strength to help overall fitness.
Yoga also teaches people how to clear their mind by focusing on their body through breathing techniques, postures and poses.
It almost forces the mind to meditate as you concentrate on what your body is feeling.
The more you practice, the easier it gets and the better you feel in mind and body – It really is that simple.
The OM Yoga Show was a great way to find out more about something that really can have a profound effect on people.
So if you're looking for a way to positively improve your life and are willing to try something new then Yoga is for you.
Bear one thing in mind: Yoga is best tried, not explained.