Manchester and southern Japanese prefecture Kagoshima came together today to commemorate the brave students who travelled to the UK – some to Oldham – in the 1860s to help further their country's development.
On the morning of April 17 1865, 19 Japanese students embarked on a voyage to Britain to gain technological advancement.
The students travelled from the small village of Hashima, in present day Kagoshima, on the west province of Japan, fully aware their journey would violate the national seclusion policy.
Three of the 19 students went to Oldham to witness the Industrial Revolution and the manufacturing technologies that were transforming Britain.
During their stay in Manchester the students learned about commerce and the industry. Their visit was such an important factor in Japan's move from an isolated traditional society to a modern economic society.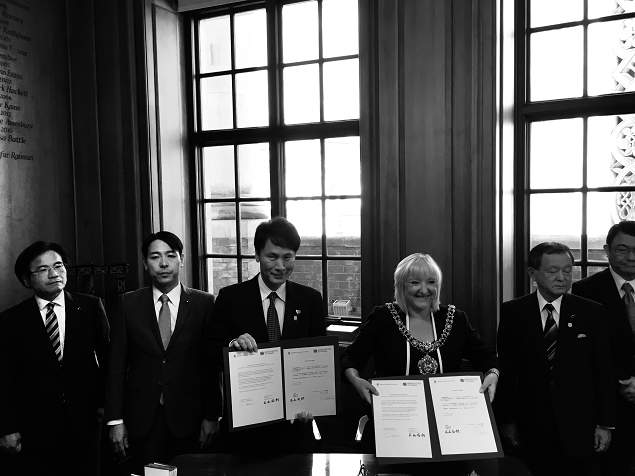 FORGING THE FUTURE: Governor Mitazono (left) and Lord Mayor June Hitchen smile with the freshly-signed friendship agreement 
These steps inspired and ignited the Japanese Industrial Revolution, recognised by Manchester's Lord Mayor June Hitchen and Kagoshima Governor Satoshi Mitazono on Thursday as they sought to re-establish the historic friendship and important link.
"Kagoshima (formerly Satsuma) went through a local industrial revolution which helped push Japan into the modern age," Governor Mitazono told MM through an interpreter at Manchester's Central Library.
"So we have this modern Japan thanks to the UK and thanks to Manchester!"
Specialist textiles remain an important industry in Kagoshima and the historic cotton mill is now a well-known tourist attraction.
The Lord Mayor of Manchester June Hitchen said cultural links alongside trade links were still a huge priority 150 years later.
"It's an absolute pleasure to be in this role but more importantly forging new links for our future and for future generations.
"We have such a wonderful history of technology and moving forward, but also being brave enough to try these new developments.
"There's a saying that 'What Manchester does today the world follows tomorrow'. I hope that's what we will always do, and Manchester will be in front leading the way."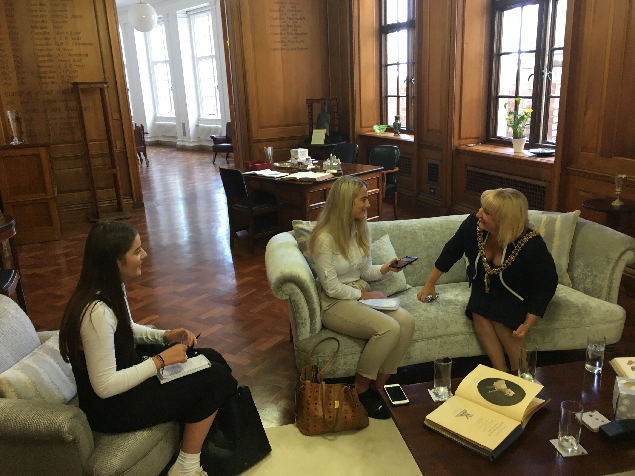 BRAVE MANCHESTER: MM's Emily (left) and Maddie chat with Cllr Hitchen about the city's proud innovative history
Cllr Hitchen signed a formal friendship agreement alongside Governor Mitazono as they commemorated the momentous voyage in 1865.
They eventually arrived in Southampton on June 21 1865 and travelled to London for study at University College London.
Meanwhile three of the students, Hisanobu Niro, Takayuki Hori and Tomoastu Godai, instead travelled to Oldham and stayed at the Platt Brothers' textiles factories and iron foundries, also visiting Manchester.
During their stay the students witnessed the Industrial Revolution and manufacturing technologies. Their visit helped begin Japan's industrial revolution and allow the country to become an economic world power.
Student Tomoastu Godai played a leading role in the industrial development of the Japanese City and set up the first modern factory in Japan.
In 1866, the three students returned to Kagoshima with four engineers from Platt Brothers to begin their technological advancement.
BEEF AND VOLCANOES
Today Kagoshima has a population of 1.5 million and has strong trade and shipping links with China and Korea.
"Kagoshima is a wonderful place, we have famous beef and cows which won a first-place prize and it's a major tourist attraction," Governor Mitazono told MM through an interpreter.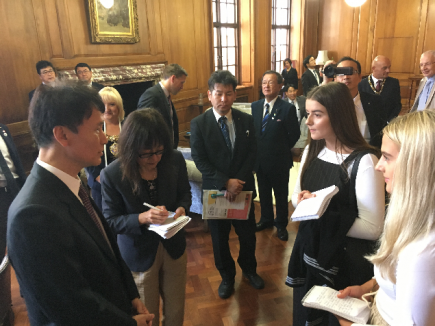 COME TO JAPAN! Governor Mitazono, a former news presenter in Japan, wished our young duo good luck and invited them to Kagoshima
"Many British tourists come to Kagoshima so I'd like to invite you to come too!"
Kagoshima had been nicknamed the 'Naples of the Eastern world' for its bay location, hot climate and is best known for Sakurajima, an active volcano that faces Kinko Bay.
Reimeikan museum is another popular attraction located in the old city castle, which allows visitors to view exhibits of Japan's history, folk custom and fine arts and crafts. The museum highlights the power of machinery and the evolution of Kagoshima.
"To commemorate the 150th anniversary we'll be sending 19 people (15 students) to UK, some to study at UICL and others in Manchester, to get a feel for it," added Governor Mitazono.