Dementia and Alzheimer's Syndrome are illnesses which most of us will come into contact with at some point in our lives.
Incurable and callous, it takes over people's lives and steals them of their memories and personalities, usually at the point when they should be enjoying the fruits of a lifetime's work.
But sometimes, the disease doesn't even wait that long to strike.
One such victim is Bill McDonald, for whom early onset Alzheimer's has changed both his and his family's lives irreversibly, despite him being just 56 years old.
His son, 23-year-old music technician Jamie McDonald, has had to watch as his father has mentally deteriorated before his eyes.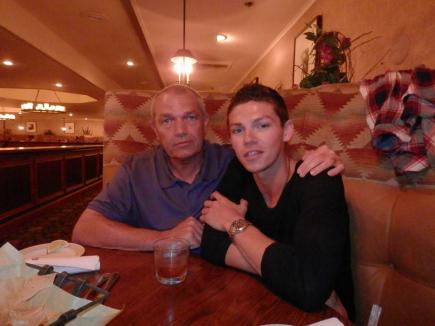 DETERIORATING: The pair enjoy a close relationship, but Bill's condition is worsening.
Jamie spoke to MM about the difficulties involved in dealing with the disease, as he prepares to complete a ten-kilometre Memory Walk in Heaton Park to raise money for the Alzheimer's Society.
"It has deteriorated a lot quicker than I thought it would," he said.
"Looking back it was probably about three years ago [that it started], but at the start you don't think anything's wrong.
"He's got a few months until his next consultation but it's one of them things where he could stay like he is now forever, or he could deteriorate even worse in the next month.
"I used to joke about it all the time, but I first started noticing it was serious because with his driving, it got to the point where it was dangerous, you'd be in a car and you'd feel scared, genuinely scared."
That fear proved to be well-founded, as last year Bill's condition put an end to his career as a delivery driver when, after a number of near misses, he had a serious crash near his home in Dane Bank, Tameside, and was advised to stop working.
And although Jamie originally believed that a break from work could prove beneficial, it has unfortunately triggered a further deterioration in his condition.
"I thought if he stopped driving and stopped working he'd get better," he said.
"He was waking up at four in the morning, and driving constantly until eight at night, so I thought that had to be messing with his head, just stuck in a van on his own, driving all day.
"But it was more like the opposite effect, it was like his job was what was holding him together, because when he stopped he was literally just at home on his own, doing nothing."
It has been a swift decline from there, leaving the family with no choice but to adjust to the reality of their new lives.
The disease means that Bill has difficulty following conversation and recalling information; Jamie eloquently described it as akin to 'growing up in reverse'.
But the family have support, and one of the highlights of their week now comes with the Dementia Group ran by Tameside Active Medlock as part of a wider disability programme – although that in itself is a sign of how much things have changed.
"There's a lot of people with different illnesses there, like Down's Syndrome," Jamie explained.
"It's something where if I'd taken him there four years ago he'd have been like 'what are you doing, there's nothing wrong with me'."
"But they are really good because as soon as he sees them he'll start laughing, smiling, joking – as soon as he sees them he'll start having a bit of banter with them, which you don't really see him have that much at home.
"That's when it really hit me just how bad it was because it goes from him being a dad taking you to places, and now suddenly you're the one taking him, and he's only 56."
Dealing with the illness is a family effort – with Jamie's younger sister and older brother, plus his brother's fiancé and sister's two friends, all taking part in the walk, which takes place on Saturday 26.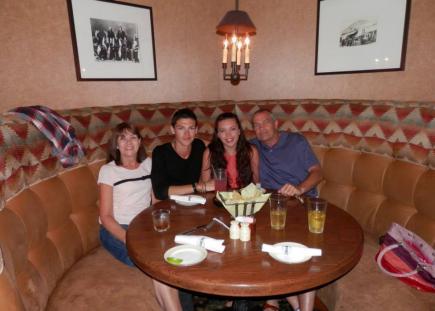 FAMILY EFFORT: But Joanne bears the biggest burden.
But Jamie acknowledges that it his mother, Joanne, who bears the biggest burden, and he paid tribute to the courageous way that she has adapted to their new situation.
"She handles it really well," he said.
"He's started to understand less and less and if he can't understand something he gets really frustrated quite quickly – which is obviously not something that he ever did before.
"My mum married my dad for the man that he was, and it's almost like the illness has made him a different person, so that must be hard.
"The first time my mum brought it up with him, they'd gone away together to get away from it all just after it all started, and she did say that he got a bit upset, which must have been really hard for her.
"And it's obviously difficult to speak to him when it's just the two of you now.
"But she just gets on with it, it shows how strong a woman she is."
The Alzheimer's Society are hosting Memory Walks all over England and Northern Ireland in September and October, raising money for 'a world without dementia'.
But they've got a long way to go to make that ambition reality, with 225,000 people being diagnosed with the disease in the UK every year, no known cure for the disease, and work on a solution to slow the process down showing only painstaking progress.
Despite these limitations, Jamie thinks that the charity does a fantastic job, especially given the fact that charities that champion other causes hold a much more prominent position in the national limelight.
"They are a great charity," he said.
"The thing with Alzheimer's, and the reason it's so hard for the charity, is there's no cure for it – rather than treating it, you just have to find a way of dealing with it.
"And it is a charity that, I've got to admit, until my dad got it I'd never paid any attention to it.
"You have huge charities that deal with cancer and things that everyone knows about and everyone knows what good work they're doing, and I think The Alzheimer's Society gets less exposure.
"And obviously, it's not like other charities where sufferers raise money and awareness, because a lot of dementia sufferers aren't aware that they have it, so it's up to families, charities and society as a whole.
"But they do great work putting things on like the Memory Walk – I've wanted to do something to raise money but you don't get round to it, but now they've done the hard work."
The Alzheimer's Society are the UK's leading Alzheimer's and dementia research charity, and their work involves 'helping sufferers and their families cope with dementia and spearheading research into possible cures'.
They have a target of £3.2million to raise through their Memory Walks, to help fund their research into the 'cause, cure, care and prevention' of the disease.
The Manchester Memory Walk takes place in Heaton Park on Saturday 26 September.
To sponsor Jamie and his family click here. 
To learn more about The Alzheimer's Society's work click here. 
Video courtesy of The Alzheimer's Society, via Youtube, with thanks.