"My friends call me Geppetto all the time.  I take it as a compliment."
Meet Kaylie Joy Black, pink-haired puppet master and creative director of Project Thunder Bucket.
This is a theatre company with a difference – all the main characters are puppets.
The bizarre and beautiful creations are the work of Kaylie, 26, and her business partner Alex Herring, 25 – the project's Punch and Judy pairing.
An exquisite dragon head that was, once upon a time, a newspaper; a ragged witch made of heat-shrunken binbags; a simple wood-hewn figure that could actually be Pinocchio; a huge, crumpled face – chiselled from rock; it is tough to resist the urge to play.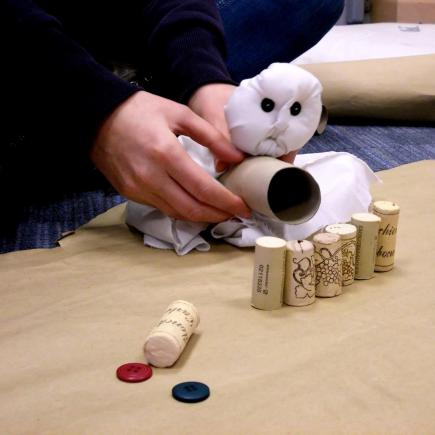 PUPPETRY IN MOTION: Project Thunder Bucket involves lots of experimentation
Kaylie and Alex's Project Thunder Bucket is pioneering a new genre of theatre: puppetry for adults.
"It's something I've wanted to do for a long time," Kaylie tells me.  "I worked with puppets in college before going on to do Scenography [designing and creating sets for theatre and film] at university and I wanted to combine the two.
"It started with little 10-minute performances in pubs and for charity events.  Puppetry for adults is a pretty new concept but there is some of it about – think War Horse but on a smaller scale."
Although Kaylie has done work with children's puppet theatre, she has also worked with the Little Angel Theatre in London and visual theatre company Invisible Thread – both of which put on puppet shows especially for adults.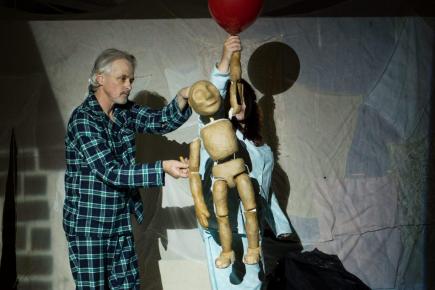 STAYING AFLOAT: Project Thunder Bucket's debut star George in action
"The Little Angel Theatre is a bit like a kind of adult Punch & Judy type thing," Kaylie says, "while Invisible Thread is very abstract and kind of surreal.
"With Project Thunder Bucket, we're aiming for somewhere in between.  Abstract is good, but we want there to be a proper plot, a story."
The company's first original performance It Begins in a Forest was based on the story of Hansel and Gretel.
It follows the tale of George, hiding from his stepmother in an attic, who begins to invent a story in which he travels through different fairytales, myths and legends on a quest to be reunited with his real mother.
It Begins in a Forest was featured as part of a brand new festival in Liverpool in October.
The On The Verge Festival was launched last year by Hope Street Ltd., a company which provides professional development for emerging artists and theatre companies, with the aim of 'presenting new emerging artists in unusual places and spaces'.
Kaylie and Alex were allocated a somewhat bizarre location – an unused space at the top of Liverpool's Gostins Shopping Mall.
"We were allowed to spend days in there beforehand setting up," Kaylie says happily.
"It was wonderful."
As she speaks, Kaylie toys absent-mindedly with some of the bizarre creations that littered her workshop desk.
It is now that Kaylie begins introducing her puppet friends, including George himself, star of Project Thunder Bucket's debut creation – the simple 'wooden' puppet that instantly recalls puppet royalty Pinocchio.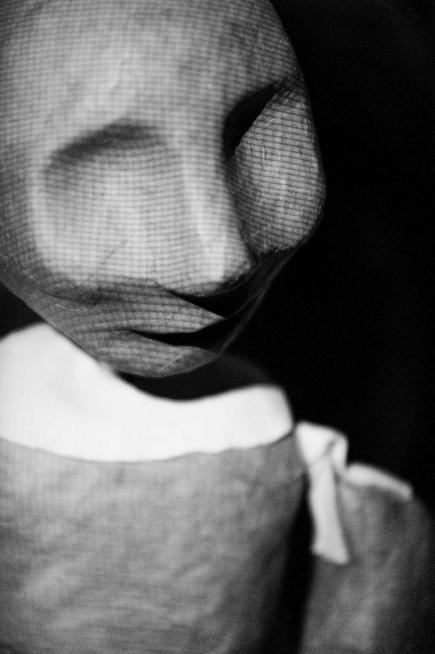 GEORGE-OCCHIO: Project Thunder Bucket's prized puppet George
Not only is George not made of wood, but the giant 'rock' face is light as a feather.  Kaylie, it transpires, is a master of papier-mâché.
After showing off George, Kaylie playfully demonstrates a number of works-in-progress – stuffed cloth creations, each with a uniquely stitched face.
"Look," she says, holding one puppet out, "you just stitch right through the head and it pulls the face into the shape you want it.
"If you hold the back of the head you can make him do all kinds of expressions.  These were just little experiments – they wouldn't look like this finished.  We just wanted to see what we could do."
The design process at Project Thunder Bucket definitely involves a lot of hands-on experimentation – and it's easy to see that Kaylie barely views it as work:  this is her passion.
"Sometimes I'll have spent the whole day here, then I'll go to the pub, and everyone else will be drinking but I'll just be sat in a corner playing with a bit of material I've found.
"They'll be like, 'why aren't you drinking?' and I won't even look up, I'll just reply, 'shush, I'm making a puppet!'"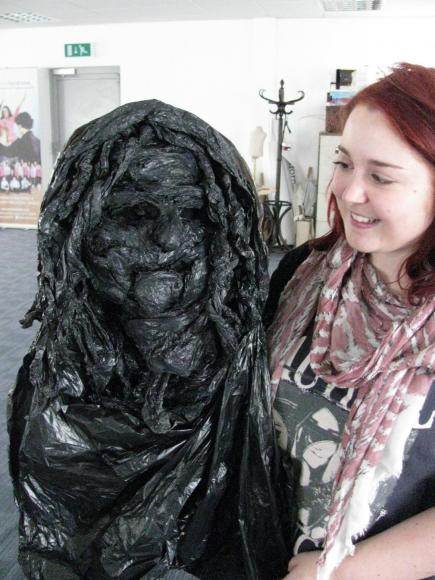 BIN-WITCHED: Kaylie show's off Alex's 'bin bag witch'
Kaylie's designs differ hugely from partner Alex's efforts. While Alex can claim credit for the 'binbag witch', it is quite a contrast to the bold, simplistic designs from Kaylie.
"I think you can always tell the difference between mine and Alex's work," Kaylie said.
 "I think our styles work really well together, though.  It makes everything visually more interesting."
One thing Kaylie and Alex's work has in common is its source – most of the materials they use to make the puppets are recycled.
While Kaylie enthuses about the weird effects and textures these materials give their work, she also romantically describes what they do as 'giving new life to old objects'.
"It Begins in a Forest was a massive learning curve," she continues.  "We thought it would take two or three months for us to be ready – it took over a year.
"And making three different versions of the same puppet was too much.  It was unnecessary."
As Kaylie introduces me to 'Little George', I'm also introduced to Project Thunder Bucket's pride and joy: the Puppet Eye Camera, developed by Alex to allow the audience to see the world through the eyes of the puppet.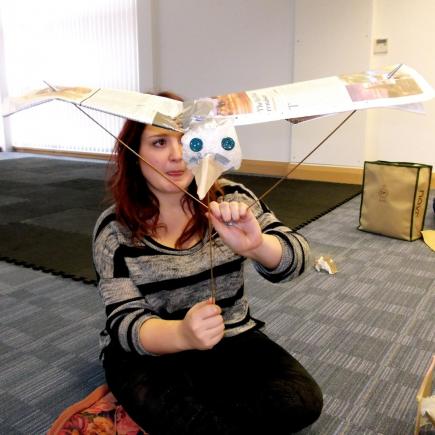 TAKING FLIGHT: Kaylie's puppets are going places
"We learnt plenty here too.  Because we used a medical endoscopic camera, the image we were projecting only comes into focus when the puppet gets really close to the object, which doesn't look great as a bigger picture.
"We're now going to experiment with different types of cameras and see if we can do better.
"But we don't want to revisit It Begins in a Forest," Kaylie continues.  "If we did it all over again, we'd never learn as much.  As a matter of fact, Project Thunder Bucket has got a new writer in, and we've already got a new project in the works."
According to Kaylie the new production – which has not yet been fully revealed to the public – will tell the story of a soldier newly-returned from war, struggling to reacclimatise to everyday life.
Kaylie has a lot of other projects on her plate this year, including set design for this week's HighTide Theatre Festival and various puppetry projects.  But it's easy to see that Project Thunder Bucket holds a big part of Kaylie's heart.
After all she's learned from her first project Kaylie is anticipating a long road to perfection – and she's determined that she and Alex can pull the strings to make their next performance even better.