The family of a baby girl who suffers from a rare condition that could leave her severely brain damaged or cause her organs to fail are fundraising for special equipment to light up her life.
Lily Limb, from Oldham, was rushed to hospital and diagnosed with Vein of Galen malformation at just seven weeks old and survived thanks to urgent treatment.
VGM is an abnormal connection between a vein near the Vein of Galen, located in the brain, and the arteries.
Her parents, Sarah and John Limb, are concerned about the long-term effects so are raising £4,000 on GoFundMe to buy mobile sensor units to help her see.
"When Lily became ill, our world turned upside down," said Mrs Limb, a 38-year-old volunteer baby massage instructor.
"Going from having a healthy baby to a baby that could have died really took it out of us."
Lily was born at 37 weeks on July 27 2015 and had no health problems until September 20 when she suffered a seizure at home.
An MRI scan at hospital showed she suffers from VGM, which affects just ten to twelve children in the UK each year.
It means that blood flows into the brain faster and at a higher pressure than usual – it can cause brain damage and failure of the heart, lungs, liver or kidneys.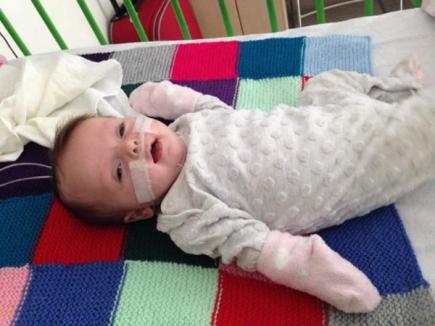 'OUR WORLD TURNED UPSIDE DOWN': Going from having a healthy baby to one that could have died took its toll on the Limb family
Great Ormond Street Hospital in London and The Royal Hospital for Sick Children in Glasgow are the only hospitals in the UK that treat VGM.
The Limb family chose Glasgow because they have relatives in Scotland, and Lily was rushed there by ambulance.
Within four hours of arriving at the hospital she was having more and more seizures and an MRI showed more bleeding on her brain.
Doctors placed a catheter in her head to drain the blood, and she was placed in critical care with a machine breathing for her.
They then found she had a blood clot in her brain, making treating the malformation more difficult because it would kill Lily if it hit the vein.
Treatment was successful, although Lily suffered over 60 seizures in total, and she is now being treated at Royal Manchester Children's Hospital.
Her family are waiting to hear what the long-term effects will be and whether they can bring her home in time for Christmas.
"Although she has been left with brain damage, to what extent and how this will affect her nobody knows, with her being so young," Sarah said.
She said Lily's ongoing treatment had 'put a big strain' on her, her husband and their other daughters, five-year-old Poppy and three-year-old Daisy as they hadn't been able to be together since Lily fell ill.
"Me and my husband have never been apart in six years," Sarah explained.
"My husband's had to cut his hours at work, at weekends I have to go home to be with the other girls and he goes to hospital."
Lily also suffers from hydrocephalus, or excess fluid on the brain, and visual sight delay – she can follow sounds with her eyes but not people.
"If you were to stand under a light, she would see you," Sarah said.
Lily's mum and dad want to buy two mobile sensor units, one for the house and one for the local play centre, to help their little one's eyes grow stronger.
The second unit will allow Lily and other children in Oldham with special needs to attend the centre.
They started the online fundraiser on October 17 and have raised £1,835 towards a £4,000 target so far.
"We are very much taking it one day as it comes," Sarah said.
"What will be, will be and no matter what we will give her a good life."
The mum has past experience of fundraising, having organised monthly charity event Kit 4 Kids to raise money for the community.
To help Lily's family raise the funds they need to get these life-enhancing mobile sensor units, click here.