Whether they are at home or in the laboratory, a husband and wife from Manchester are proving to be a successful partnership, especially in the field of medicine.
That, though, should not really be a surprise as doctor duo Ian and Lynne Hampson, both lecturers at Manchester University, are experienced researchers in the field of cervical cancer research.
A recent study using a HIV drug to treat cervical cancer has been making headlines nationwide but Ian is keen to stress that it could be used as a prevention rather than a cure.
He said: "It is not a cure but a treatment for women with existing levels of the virus that may lead to cervical cancer."
Lynne married Ian in 1993 but the pair have worked together since they met in 1989.
She said: "We're a team, a lot of people just think 'oh Ian and Lynne just agree on everything' but we don't.
"It's like having sweet and sour, they're different but they work."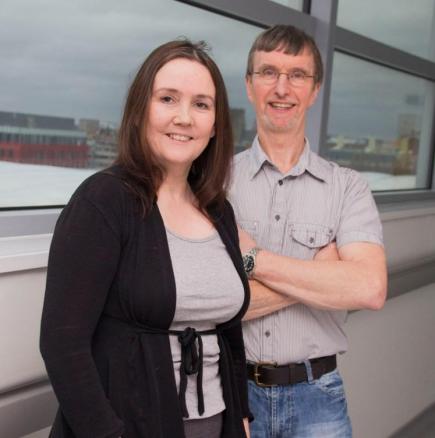 DYNAMIC DUO: Doctors and husband and wife Ian and Lynne Hampson
They conducted their study in Kenya because the need for treatment there is great.
Cervical cancer is the number one killer of women in Kenya, compared to nineteenth in the UK. It is mainly caused by an untreated infection of the sexually transmitted, human papilloma virus (HPV). 
If this figure isn't frightening enough, although 90 per cent of people in Kenya know what cancer is, only 15 per cent know that cervical cancer exists.
During the year-long study, Drs Hampson stayed in the laboratory at Manchester University to do the tests and analyse the results.
They worked in close conjunction with Dr Innocent Orora Maranga, one of Ian's ex PhD students, in Kenya who reported that the women experienced absolutely zero side effects.
Dr Maranga had studied the HIV drug lopinavir, and noticed that it was very similar to a cod liver oil tablet, meaning that it would dissolve quickly in the body.
The couple have published six research papers together since 2006. Ian said: "All the research pointed towards a positive outcome of treatment, and we finally had enough evidence to test it."
"As well as the research, it was really only made possibly by generous donations from UK philanthropist Ken Chorlton, chairman of a cancer support charity."
In Kenya even if cervical cancer is identified, they are often unable to do anything about it. If the human papilloma virus (HPV) is found in women in the UK – which is the virus that leads to cervical cancer – they are told to go away and come back for more tests later as low levels of the virus are currently untreatable.
Lynne said: "I can't speak for all women but I know if this was me I would not want the stress of going away and waiting. In 10 to 16 per cent of cases the virus will progress from a low to a high grade lesion."
Ian said: "The best thing about it is that it's a new use for an old drug which means that we saved on research expenditure, for example we didn't have to do any animal testing or make sure it was safe for humans."
"There are so many advantages to a self-administered drug especially in developing countries. Also unlike surgery, it is not invasive and there are no side effects."
As yet it is still uncertain when the treatment will be available in the UK.
Ian is hopeful that the results will convince doctors here to offer window trials of the treatment to women who are already waiting for surgery.
Ian said: "There are no negative aspects to a window trial because if the treatment works the women won't need surgery, and if it doesn't then they would receive surgery anyway."
Lynne continued: "It's no stressful working together. We've each got different skills and have differences of opinion scientifically but we always talk it through and come to a consensus."
"We each have our own offices too – which helps."
Ian and Lynne are now continuing with their research on other cancers and teaching at University.
They are planning to visit Kenya when the study progresses to the next stage of testing in larger groups later this year.