The search is on to track down a Good Samaritan who selflessly returned a provisional driving license that was dropped in Manchester to its original owner via post.
Joshua Edward, from Chorley, visited the city earlier this week but only realised his license had gone missing after returning home later that day.
Joshua was resigned to having to pay £20 for a replacement license, but to his surprise, received an envelope in the post the very next day containing his provisional driving license.
It also contained a typed letter which revealed no trace of who carried out the kind act, as no return address was included.
Joshua has appealed to people on Facebook to share the information in the hope of tracking down the Good Samaritan, with 36 people sharing his post so far.
"Who sent this back deserves a medal," Joshua said.
"It just goes to show there are still good people out there."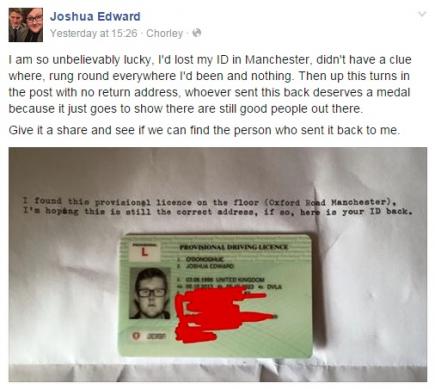 UNBELIEVABLY LUCKY: Joshua's returned driving license
Chris Jones jokingly commented: "It could be a psychopath and now they know where you live, it's the typed letter that worries me, justing putting it out there."
Gloria Dunseath also commented: "You are very lucky."