Manchester neighbourhoods are less friendly than ever which has lead to a rise in loneliness in both younger and older generations, according to a psychology expert.
Statistics from the Big Lunch – an initiative which promotes neighbours to meet up for a one-off lunch – revealed that only 35% of Manchester residents have a cup of tea with their neighbours and just 38% have borrowed or lent something to their neighbours.
Doctor Rebecca Harris, a psychology lecturer at Bolton University, believed that people were not communicating as much with their neighbours now as in the past for a number of reasons.
"People feel less safe in their neighbourhoods than they used to do," she told MM.
"Community spirit has reduced over the past 10-20 years.
"We work longer hours and have less time to spend to spend with people in our community. There are lots of contributing factors."
Other statistics revealed that only 15% of Manchester residents have given a spare key to their neighbours, with 17% admitting it is because they don't know them well enough.
Doctor Harris explained that a lack of interaction between neighbours contributed to loneliness and encouraged people to be more social.
She has created an innovation known as the 'four personalities of social interaction' to help people identify how often they should aim to have contact with others based on their personality type, helping to combat the issue.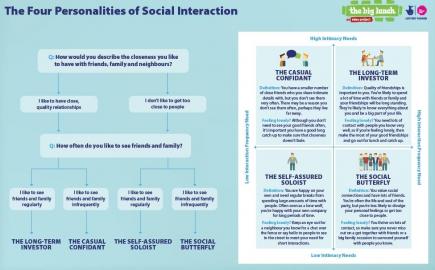 "Increasing our opportunities to have contact with other people is really important in reducing loneliness," she said.
"For some people it's about connecting with somebody that they form a really stronger friendship with and for others it might be that they might need to have lots of people around them to feel less lonely.
"What's important is that we change the mind frame that we have now where we're very insulated in our lives and don't necessarily make time to spend with other people."
A surprisingly statistic revealed that it was young people who felt more lonely than older people, with only 6% of residents surveyed saying their kids had arranged a play date with other children who live nearby.
Doctor Harris believed that children spending less time with friends outside of school could have a big impact on their lives.
"Children not being able to play outside has a massive impact on all areas of development because they're not getting the opportunity to explore and learn things in a playful way," she said.
"They are not having the chance to develop social skills and quite a lot of the interaction children have with each other is centred around more structured activities.
"They're playing less in a less structured way which means they're not having to negotiate friendships which is important to those social skills.
"Obesity is also increasing because they're living less active lives and don't play out as much as they did in the past."
Overall, Doctor Harris welcomed the Big Lunch initiative and explained that arranging a get together in your community to share food is one of the most effective methods to interact with your neighbours.
"It's a nice natural way to meet your neighbours and encourage people in the neighbourhood that aren't integrating as well as other people would," she said.
"For people who are new to the area, have young children or go out often, it's an opportunity to get to know their neighbours in a very informal way."
The Big Lunch is an initiative run by the Eden Project that aims to bring communities closer together by encouraging people to get together with their neighbours to 'do lunch' on Sunday 7 June.
You can find out more information and request a free planning pack by clicking here.
Image courtesy of ITV with thanks.