George Foreman has astounded many due to his perseverance in the face of overwhelming odds.
A new film focusing on his two major comebacks does not just look at his time inside the ropes, but also at the remarkable fairytale of a man who simply would never give up.
This year marks 30 years since he fought Jimmy Young in 1977 in Puerto Rico. He ended up losing by a unanimous points decision after 12 rounds.
However, it was not the fight but what happened afterwards which many people remember.
Following the fight, Foreman suffered what can only be described as a mental breakdown in the locker room. He then went through a transformation with religion being his guiding light.
It was the second of his two comebacks and he saw it, as the film depicts, as the key moment in his life for changing both his view of boxing and how he should handle his personal life.
However, to many casual fans, Foreman will be remembered for his role as the villain in the Rumble in the Jungle fight against Muhammad Ali.
Speaking to director Chris Perkel about his new film, he offered a fascinating look at the boxer's life following that fight.
Foreman's public role in that story as the bit-part character seemed in part to be created through Leon Gast's popular documentary When We Were Kings.
"George was always the villain and we were really interested in starting the film with Rumble in the Jungle and decided that it didn't work for various reasons," Chris told MM.
"Ali was such a ridiculously good showman and was able to spin narratives, he was the one writing the story.
"In many ways George, 'Big George', was a sort of unwitting character in a play that he wasn't writing."
After establishing a strong bond with Foreman and his circle, Chris instead decided that he would look at both of Foreman's comebacks.
THE BULLY GETS BULLIED
He particularly looked at both the professional and personal transformation which took place at the end of Foreman's first return.
Chris was certain that the implosion during that fateful night in Puerto Rico was key to Foreman's identity change.
"I really think it was a catalyst. 
"The way I see it is he had so much self-identity in being the toughest guy in the room.
"When he got bullied by the bigger bully in Ali, he said that he went out on a mission to re-assert himself.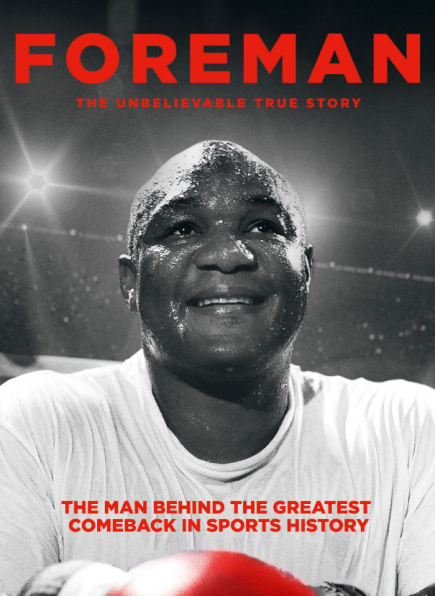 PERSONAL, AFFABLE, ENGAGING: George Foreman went from a dark and difficult place emotionally to rediscovering himself
"His ambition to re-assert himself was coming from such an insecure and dark place within him that eventually the weight just overwhelmed him.
"He just needed to get away."
In that time Foreman was able to rediscover himself and realise that this mirroring of the brooding Sonny Liston was not the real him.
The most important part of that discovery was his adoption of religion. Becoming an ordained minister he learned to reintegrate himself into his home community.
"While he was away and became that street preacher in Houston he learned how to engage with people," said Chris.
"He learned to how to sell and he also learned to how become a personal, affable, engaging human being.
"Upon his return back to the ring, many parts of the media were shocked to encounter a likeable, eloquent character in the shoes of a man who would frighten anyone in attendance.
This important shift from 'Big George' to Friendly George, Chris attempted to look at in his film.
"People thought it was a con, they thought he was so different from the man they remembered when he disappeared," Chris added.
"It was hard to know and over time he really won everybody over.
"That guy America really fell in love with."
This unexpectedly created the desired effect in the ring where Foreman became the oldest champion ever at the age of 45. This was 20 years after the Rumble in the Jungle fight. 
Foreman, who was 19 years older than Michael Moorer, shocked the world with a 10th round knockout.
One of Chris' other famous films, based on the boxer Chuck Wepner and called The Real Rocky, was a tale of an unknown fighter who came within 15 seconds of taking Muhammad Ali the whole distance.
It soon became what Sylvester Stallone based his film on and to Chris the comparisons between both fighters was unique.
"Chuck Wepner is the kind of story of a man who falls in love with the kind of idea of himself and suffers the consequences.
"Foreman is a much more uplifting, inspirational tale of someone who comes to realise that they can achieve greatness by becoming a better person. 
"It's more like Rocky than the real Rocky."
Foreman is available now on Digital Download and from November 27 on DVD.