Baywatch star Jeremy Jackson was sensationally removed from the Celebrity Big Brother house for pulling glamour model Chloe Goodman's dressing gown open and exposing her breast last week.
The 21-year-old former Page 3 model had rushed to comfort the American actor after he became intoxicated on wine and vodka and began vomiting in the toilet. Although the alleged incident was not aired by Channel 5 bosses, Chloe was heard saying 'that's not okay, I'm leaving now', before exiting the bathroom in floods of tears.
The scenes that followed made for uncomfortable viewing and fans quickly took to Twitter to air their 'shock' and 'disgust' at Jackson's behavior. But for every viewer alarmed by the incident there were ten others who jumped to the American's defence and said 'well, she does get her bazookers out for a living'.
Although that may be true, the model made it clear she did not give her consent – a matter which one Bolton woman is campaigning tirelessly to promote.
Gemma Aitchison, 28, set up the Yes Matters movement in 2013 after her sister, Sasha Marsden, was brutally murdered and set on fire in an alleyway in Blackpool, aged 16.
The campaign group aims to tackle the lack of knowledge of consent, effects of sexual objectification and damage of gender stereotypes through education.
"With what's been happening on Big Brother and the Ched Evans case it's become so apparent to me that people don't understand the matter of consent," she said. "Sexual assault doesn't necessarily mean that you have to be dragged into a bush kicking and screaming. If somebody touches your body without permission then that is wrong.
What Jeremy Jackson did on Big Brother was vile, no one should behave like that

— Charlotte Scott (@chaarrlottelol) January 14, 2015
"We are currently living in a very sexualised society with advertising and music videos all sexually objectifying females and this is sending a damaging message to young people.
"We want our children to grow to be respectful, capable adults with healthy attitudes towards themselves and in their relationships."
Having become fed up with current attitudes in society in recent months, Gemma is now  preparing to lead a mass march to parliament on April 15 as part of her 'Enough' campaign to make those in charge sit up and take notice.
"Last year we had the Oscar Pistorious trial and the police releasing statements saying there are too many paedophiles for us to convict and I just thought this is all coming from the same thing and I've absolutely had enough of it," she said.
"I was really angry and annoyed and then I went to go and meet a friend in a local pub to have a chat and let off some steam and some guy thought he could grope me in the middle of the bar and I just shouted this is it, I've had enough of this!
"So obviously the guy got a big telling off and then I just thought right, this is something that is absolutely everywhere and it affects everyone and it's just getting worse but the people in charge aren't doing anything about it."
The mother-of-one is currently rallying up support on social networking sites to help take the issue to Westminster and call on MPs to introduce compulsory PSHE which covers things like sexual objectification and gender stereotypes.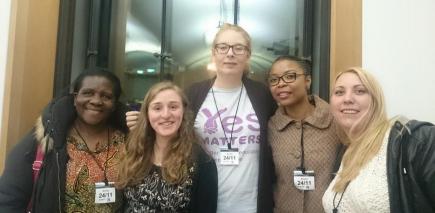 CAMPAIGN TRAIL: Gemma Aitchison (centre) with fellow supporters
The campaigner has previously had meetings with Labour Party leader Ed Miliband and Bolton West MP Julie Hilling about the sexual objectification of women in society but revealed she is yet to receive any support from David Cameron, despite raising the issue with him at Prime Minister's Questions.
"Ed Miliband has been very supportive and has given public statements of support which has been very useful," Gemma said.
"I raised the issue with David Cameron when I went to Westminster last year but I didn't get an answer, he just gave me a smirk," she said. "I told him he was a disappointment so I don't suppose I will be getting support from him any time soon."
But Gemma is keen to make her voice heard and is now urging other women to join the campaign and push for change.
"They say evil only happens when good men do nothing and that is very true. Don't just read a feminist article and nod your head or see something you don't agree with but don't say anything," she said. "Things will only change if people make them change.
"We have this 'boys will be boys' mentality but I think that's very insulting to men because it's saying that they can't control themselves and that it's our job to prevent them from carrying out sexual offences, which is nonsense.
"Men are perfectly capable of being decent human beings but I would say women need to be bolder. If somebody tries to grope you in a bar don't just brush it off, you need to say I'm not having this, this is unacceptable."
She added: "If anyone has a daughter in the UK, like Chloe Goodman, they are going to be a victim of a sexual assault at some point in their lives and that's ridiculous that we still don't matter enough for somebody to do something about it."
"If you want to help our children to have better healthier lives were their safe and happy and not in danger then get yourself down to parliament and do something about it."
Main image courtesy of This Morning, via YouTube, with thanks.