Couples across the country have exhausted all video calling platforms, become experts at quizzes, and baked their way through lockdown.
Since the lockdown was imposed on 23 March, people have been separated from loved ones and endured months of loneliness.
But the wait was finally over for those who have been living alone and away from their other half.
Some restrictions were eased when the Prime Minister Boris Johnson announced that single adult households could form a 'support bubble' with one other household from Saturday 13 June.
London-based couple, Darren, 34 and Nicola, 29, have been separated since Sunday 22 March.
Darren was living alone whilst NHS worker Nicola isolated with her sister.
Whilst living apart, the couple spoke on the phone every day, met at the park when safe to do so, and enjoyed socially distant picnics.
Speaking of his experience, Darren said: "My girlfriend is an NHS worker so the whole situation hasn't been great but we both feel it's made us stronger.
"The relationship is still new, a year this weekend but we are still in such a good and happy place.
"It was just extremely hard going from being together all the time to having zero contact."
However, last weekend the couple were reunited for the first time since March.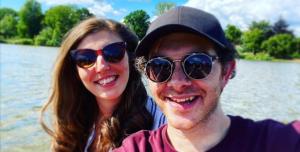 FUN: The couple enjoying a day out at Hever Castle
"Being able to hug her this weekend for the first time made me so happy with emotion. We went to Hever castle, so a lovely day out, rowing and then back to mine to cook a lovely meal together", Darren said.
Speaking of their future plans, Darren said: "We might move in with each other next year and have lots and lots of holidays (hopefully)."
Things finally felt "back to normal" for the couple and they were able to pick up from where they left off.
However, the specific criteria surrounding the 'support bubble' has left many couples feeling isolated as they still cannot enjoy close contact with one another.
Becky Hall, 25, of Cornwall, has been apart from her boyfriend Luke, of Derbyshire, since the beginning of lockdown.
Becky, who lives at home with her parents and brother, is still unable to form a 'support bubble' with Luke due to the strict government guidelines.
"The support bubble I think is a great idea and I understand that it must be difficult for people who have lived alone for the duration of lockdown. However, it's not just those that are alone who feel lonely, even those who live with people can still feel lonely if you're not in the right head space," Becky said.
Chartered psychologist Daria Kuss told the Independent that being able to see loved ones face-to-face can not only alleviate loneliness, but also "reduce stress levels and raise mood and general wellbeing."
With 300 miles between them, Becky and Luke have had to rely on different ways to communicate throughout lockdown.
Becky said: "We rely on Facetime to get us through this time, we speak every day, making sure we make time for each other. We have date nights where we watch Netflix or Disney+ together and have a drink. It definitely helps!"
"When we are reunited, we are going to start our house hunt so we're not stuck in this situation again, go to Chester zoo – our favourite place and get a Nando's!"