On Valentine's Day last year, South African athlete Oscar Pistorius shot dead his girlfriend, model Reeva Steenkamp, in what he claimed was a tragic accident.
During the lengthy trial which has gripped the country and the world, Pistorius' defence team maintained that he fired through a bathroom door in panic after waking in the night and believing there was an intruder in the house.
The athlete was yesterday sentenced to five years in prison after Judge Thokozile Masipa found him guilty of culpable homicide – the South African legal equivalent of manslaughter – but not guilty of murder.
The Blade Runner's legal team have said they expect he will only spend 10 months in Pretoria's Kgosi Mampuru Prison, as the South African norm is that felons can appeal for release after serving a sixth of their sentence – if they show good behaviour behind bars.
The televised case has been watched across the world and MM asked:
Do you believe Oscar Pistorius' sentence was too lenient?
The Mancunian verdict was that five years seemed a light sentence for a man found responsible for the death of his girlfriend.

GAMES OVER: Pistorius won't compete again insists Chris Nutting
Liverpool-based rail worker Chris Nutting, 35, took a mixed view, thinking the seemingly light sentence could send a poor message, while also having long-term repercussions for the athlete's career.
He said: "It does seem fairly lenient and when you hear it was only five years for shooting a woman it just sounds bad.
"My women friends would be much more vocal about what a disgrace the case seems. But, having said that, five years in a South African jail might be quite brutal.
"Of course he shouldn't be able to compete in sport for the next five years, but after that I don't think you can believe in the justice system and not believe in rehabilitation.
"Once he's served his sentence I think he should be able to do whatever he wants to do.
"Although it might be different if he was a member of the South African shooting team."
Gillian Bradshaw, 52, a cleaner from Old Trafford, was also critical of the sentence.
She said: "If I shot someone I think I'd be inside for rather more than five years.
"I think it'll be an outrage if he's out in 10 months. She's lost her life and he gets to return to his privileged lifestyle. It's not right."
Ian Johnson, 52, who works in human resources in Salford, saw the sentence as illustrative of society's priorities.
He said: "The Oscar Pistorius case reminds me of another famous Oscar – the case of Oscar Wilde.
"He went to prison because he was gay due to the views and hypocrisy of Victorian society. He would never even go to court today.
"Likewise Oscar Pistorius has gone to prison, but for what I think is a much too limited amount of time. I think this shows he was tried in a society which does not take violence against women seriously as an issue. It sends a very poor signal."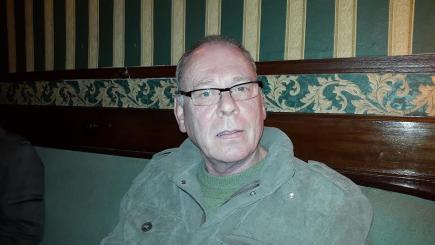 CURIOUS: Phil Griffin found the lack of a jury to be strange
Phil Griffin, a 60-year-old writer who lives in Wythenshawe, insisted he found the entire case 'very curious'.
"It's a very, very curious legal case. It's been bizarre to see the South African legal system laid bare," he said.
"It was strange to see such a case going before a judge and not before a judge and jury and regardless of the gender and background of the judge, to me it seems a very flawed legal system.
"Five years seems very lenient and to me – it seems inappropriate. But then that's contradicted by the bereaved family who seem to think it's totally valid and that they've been completely vindicated."
Gary Penman, 56, who manages a housing association based in Bolton said: "My first reaction is I thought it should be a longer sentence. I believe in a life for a life and if he's going to be out in 10 months that's very lenient.
"He also seems to getting preferential treatment due to who he is. I heard he's being kept separately from the other prisoners, and I believe the head of the South African prison system had to testify that he wouldn't be in any danger.
"I doubt that happens with most prisoners."


LIFE FOR A LIFE: Gary Penman insists he would have been treated differently
Ayodele Uzuwuro, 44, a street vendor from Hulme, was less conservative in his criticism.
He said: "The Bible says an eye for an eye. He has taken a life so he should not see the light of day again as his victim won't. Only five years in prison is a joke."
Sophie Bridger, a 19-year-old geography student from Fallowfield, was also forthright about what she saw as an overly lenient sentence.
She said: "It's outrageous. I think people are sympathetic to him because he's a successful athlete and say 'aww, he's got no legs, give him a break' but he killed a woman.
"I think in terms of justice for Reeva Steenkamp he should go to prison for much longer. Five years suggests her life had less value than others."
Dan Longman, a 26-year-old trainee lawyer, who commutes from Birkenhead, also felt the sentence was adequate – but only if it was served in full.
He said: "When I think about it five years is a long time.
"If you say you'll do something in five years' time you think 'wow, that's ages away' but that's only if it's the full five years.
"In general, I think full sentences should be served. I think the judiciary should interpret statutes and decide on appropriate sentences. They should then be served. I don't think he should be allowed out after 10 months.
"I believe the same about the UK when people serve half their sentence. If they were always going to halve the sentence then make it 10 years and let him out in five."
However, Marit Hoegen, 28, from Utrecht in the Netherlands and visiting Manchester for her work as a financial consultant, could see another angle of the case.
He said: "It really comes down to whether you accept it was manslaughter. If the judge found him guilty of that and, if she really believes he didn't know what he was doing and, therefore it wasn't murder, then actually five years is quite severe.
"But, of course, murder should have a different conviction. If you believe it was murder, it's a very light sentence."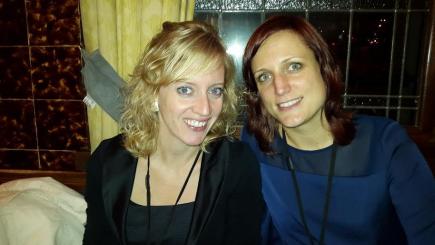 NOT SO LENIENT: Marit Hoegen claims the sentence was actually severe for manslaughter
James Smith, 23, a sales rep from Ancoats, had some sympathy for Pistorius.
He said: "I think five years is an adequate sentence as it was ruled not to be murder. That's how the law works.
"I think it depends how he deals with it. If he says 'I made a terrible mistake but here's what I learnt from it and here's how I've changed my life' it could be a positive thing.
"He's a role model and inspiration to a lot of people. He shows disabled people they can achieve anything."
Image courtesy of BBC News via YouTube with thanks