Skateboarding, more so than any other sport, is connected to a culture.
The skate scene is inspired not by an adoration of highly paid celebrity ambassadors, in the way football or rugby may be, but by a sense of community that is unique from city to city.
Manchester is no exception, and is renowned as a hub of European skateboarding, drawing not just enthusiastic local skaters to its streets and parks but also skateboard tourists looking for great spots and thriving skate shop culture.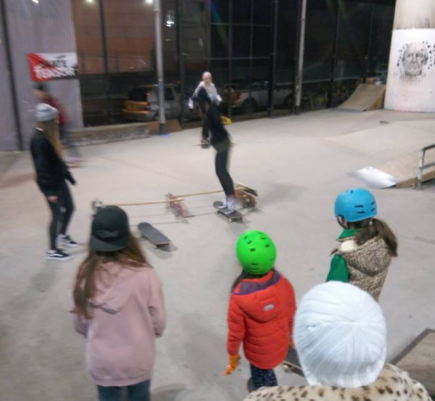 WATCH AND LEARN! YouGov's findings that only 30% of UK skaters are female prompted Projekts MCR to start their own girls' nights
Yet despite its many draws the skateboarding scene in Manchester is heavily male dominated, with female skaters still for the most part ostracised by a macho and insular culture.
One skatepark is looking to change all this and grow the skating community in the city by providing monthly girls only skate evenings.
Projekts MCR resides in a space directly below Mancunian Way, and you can still hear the clatter of wheels and clinks of trucks hitting rail over the noise of the overhead traffic.
Skaters of all ages mill in and out of the park, greeting each other with a fistbump or an embrace as they pass, and immediately you get a sense of what it means to be part of this close knit community.
We're starting a new photo album of the monthly girls nights for 2017. We've added a few from the January new… https://t.co/hWJPve5f1F

— Projekts Skate Park (@projektsmcr) January 12, 2017
They all know each other, and there seems to be no divide in terms of age, with teenagers competing in games of SKATE with park veterans.
This is by no means an individual sport; skateboarding is meant to be enjoyed as a collective. A rejuvenated shipping container serves as an office-cum-cafe and sits between the old wooden park and a more popular concrete incarnation to its left.
"I still prefer the wooden park," Projekts skateboard coach and coach manager Jonny Rose tells MM as we briefly tour the grounds.
Jonny has worked with Projekts for the past two years and says he has seen a shift in the park's focus during that time.
"Originally the idea was to have just a space for skaters, it was for people who skateboarded.
"There was already quite a good skateboarding scene in Manchester, as there is today, and it was about facilitating that in whatever way and giving those people a space to grow," he says.
"As we've progressed as an organisation and the park itself has grown bigger, our focus has shifted in that we are more about introducing skateboarding to new people.
"The skate scene itself is quite good at self-motivation and natural growth, and the people who fall into skateboarding and gravitate towards those scenes seem to do that regardless of what's on offer.
"We are about seeing if we can use skateboarding to help other people and give it to people who may not ordinarily be attracted to it; whether that's based on gender lines or based on economics or where they live."
A YouGov Profiles report shows that women make up just 30.9% of skaters in the UK, and while that number is on the rise, there is no doubt in Jonny's mind that the skate scene for the most part remains a boys club.
"It's interesting because when you are coaching at schools and when we run sessions with young kids it's almost always a 50/50 split (male to female)," he says.
"It's only as you get older that the park regulars become teenage and early 20s males, that seems to be the demographic that is either most attracted to skateboarding, or more likely the group who are attracted and then feel comfortable to stay on and do more of it."
Evidently then something had to change if Manchester was to expand its skateboarding community to reach girls and boys alike, and so it occurred to the management at Projekts to reach out to female skaters and get their opinions on what would encourage attendance.
"Speaking to the female skate scene in Manchester it was a girls' night they wanted and that's how that got started," Jonny explains. 
"We started running the sessions once a month for two hours, and then received funding from Access Sport to run them every two weeks and they stayed at a similar level of success with somewhere between 15 and 30 people turning up to each session.
"When we tried to run the session on a weekly basis we found that the numbers reduced significantly, so we have tried to compromise and run the session once a month but for double the amount of time, meaning the girls get the full evening to themselves.
"Once a month now it's ladies night, and we get new people coming along to every session, so it is obviously something that women are interested in and it seems that the separate session is a lot more appealing to girls.
"Thanks to these nights we have seen more female skaters showing up during regular hours as well and forming their own friendship groups within the park which is cool to see.
"As Projekts all we are doing is putting on a night. It's the girls who are skating and forming that scene that are driving the sport forwards, so respect to them."
As the numbers increase at Projekts, so does the skateboarding community. Excitement over skateboarding's inclusion at the 2020 Olympics is justified, and seeing some of the world's most talented female skaters take to the park should inspire young girls to buy a board and get involved.
However developing interest in the sport has never been the problem. The real challenge is carving out a space for women in the skateboarding community in a way that will ensure a lasting interest in the scene.
Here's hoping that Projekts ladies nights are a step in that direction.
Image courtesy of Projekts MCR via Facebook, with thanks.